IT Modernization Bill Could be Reintroduced in Congress This Week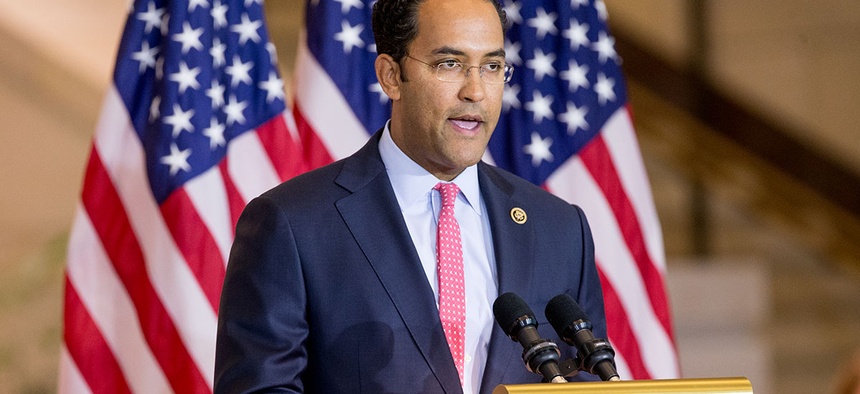 One of the tech-savviest congressmen is ready to reintroduce legislation to tackle one of the federal government's greatest technology problems.
Sources on Capitol Hill tell Nextgov Rep. Will Hurd, R-Texas, could this week introduce a tweaked version of the Modernizing Government Technology Act, which passed the House in September but stalled in the Senate during the lame-duck session.  
Hurd, along with Rep. Gerry Connolly, D-Va., sponsored MGT in September as a means to combat the federal government's aging IT infrastructure, whereby systems citizens depend on for integral services—like Social Security benefits—are as many as five decades old. On average, agencies spend around 80 percent of their IT budgets maintaining old and sometimes outdated systems, meaning most of the $90 billion spent on IT annually goes toward aging technology.
Hurd's legislation was also meant to be an alternative to legislation introduced earlier in 2016 that sought to create a $3.1 billion IT modernization fund through which agencies could borrow against to upgrade their IT systems. At the time, then-U.S. Chief Information Officer Tony Scott championed the modernization fund, claiming $3.1 billion in seed funding could fund $15 billion worth of new applications. But Republican lawmakers took issue with the creation of another pot of money for agencies to draw on.
Hurd's plan included the creation of such a fund, but didn't automatically fund it—thus increasing its bipartisan popularity—and additionally called for the creation of working IT capital funds in CFO Act agencies. Such funds would have been sourced through reprogramming or transfers from existing funds previously used for operation and maintenance of legacy systems. 
And while the bill easily passed the House last year, its Congressional Budget Office score snuffed its progress through the Senate. CBO estimated the bill's price at $9 billion over five years. Lawmakers on both sides have been exploring tweaks to the legislation that would reduce that cost. 
The legislation is likely to be one of the few truly bipartisan efforts within Congress during the first few months of the Trump presidency, and its timing could be fortunate. Today, President Trump announced the creation of the White House Office of American Innovation to bring business ideas to government technology challenges. Modernizing old government systems—including those that service veterans and handle nuclear codes—appears to be an issue both political parties want to address in a meaningful way.