Tech Recruits Serve the People, Not the President, GSA Official Says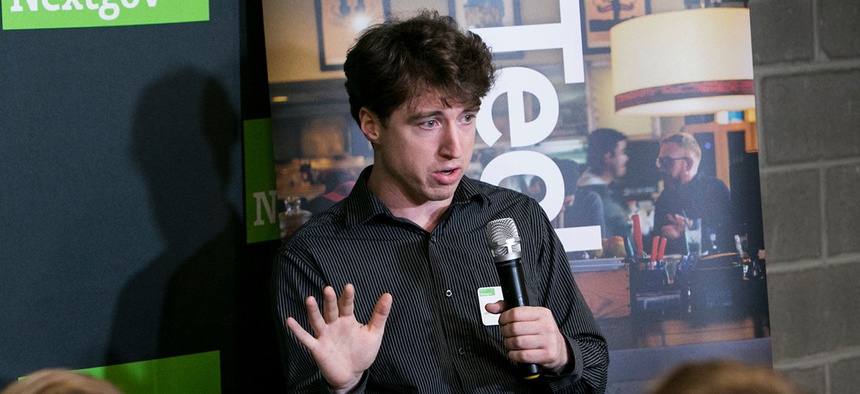 Since the Nov. 8 election, there's been rumored consternation among many tech recruits who came into public service through tech wings like 18F, the U.S. Digital Service and the Presidential Innovation Fellows.
All created under the Obama administration, questions swirl about whether those entities might be altered or shuttered during a Trump presidency, or perhaps whether current recruits might bolt because they disagree with the incoming president. At a November event, U.S. Chief Information Officer Tony Scott asked these folks to stay in government.
Yet, it appears the election may actually have hardened the resolve of civil servants in places like 18F.
Speaking Thursday at a Nextgov meet-up event, Eric Mill, senior adviser on technology policy and strategy at the General Services Administration, said he'd spoken to several people "who are more interested now than ever in joining government."
» Get the best federal technology news and ideas delivered right to your inbox. Sign up here.
"When I look around my group that I'm in, I see people from a wide variety of backgrounds," said Mill, responding to an audience question about whether Trump's election win might stifle talent pipelines from private to public sector. For example, 18F—the tech unit Mill works under—is composed largely of talented techies on civil service tours of duty. Most are not bound to stay in public service and can leave when they so choose.  
"I don't see many people from Silicon Valley actually, despite the media narrative," Mill said. "I don't see many people personally there for the president and not civil service. I see people from different religions and political persuasions. Civil service is just that: it's called that for a reason, and it's something bigger than any administration, and I see around me a lot of people who understand that."

Mill's take mirrors others in 18F who've voiced their opinions. Noah Kunin, director of delivery architecture and infrastructure services at GSA, published a post last month declaring, "My oath to this country was not to a particular office, or person, and certainly not to a political party. It was to the Constitution and to the people."
Aaron Snow, former executive director at 18F, told Nextgov in a recent interview 18F's mission to help agencies build and buy better technology was independent of partisan politics. People on both sides of the aisle, Snow said, want to improve the way veterans receive care.
Those comments echo the vision laid forth by new Technology Transformation Service leader Rob Cook. TTS includes 310 personnel across 18F, the PIF and the Office of Products and Programs.
"The work we're doing here is the nuts and bolts of making government work better," Cook told Nextgov last week. "I don't think that is a partisan issue. Our job is making the government serve the American people better quality services and more efficiently. It's an important job for us to do."