Biden administration angles to 'lead the world' with upcoming AI policy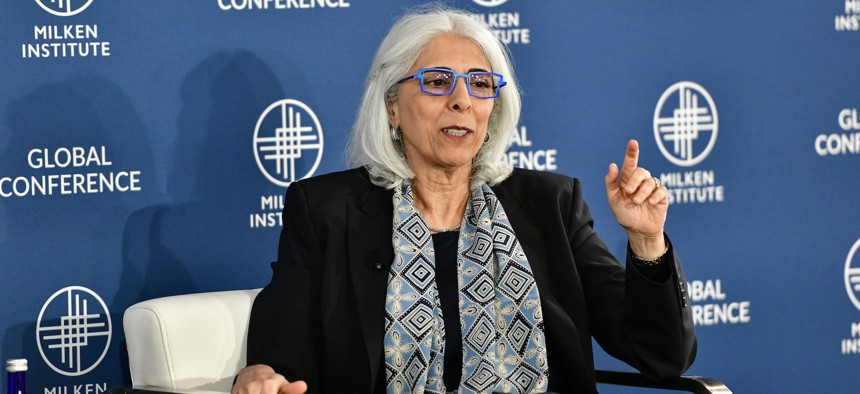 The White House is focused on establishing the U.S. in both AI collaboration and competition.
Geopolitical tensions with China remain a driving force in the Biden administration's steps to create a strong national research and development posture for artificial intelligence, White House officials said on Thursday. 
Speaking during a Washington Post Live event, Arati Prabhakar, the director of the White House's Office of Science and Technology Policy, discussed the administration's AI agenda ahead of the forthcoming executive order that aims to establish a national strategy for the largely unregulated industry. 
Prabhakar said collaboration and competition are both at play as the U.S. seeks to foster and maintain global leadership in AI innovation and regulatory standards setting. Leading in both these arenas is crucial to instill a sense of civil rights and safety in how AI systems are designed and deployed, she added.
"I think for AI, it really comes back to the fact that this powerful, broad technology is: everyone around the world is grabbing it to use it to build the future that they think expresses their values," she said. "If we are going to lead in the world as we must, we must lead an AI that's part of this moment. That's really what underpins everything that we're doing."
The Biden administration's AI policy seeks to keep a competitive edge by attracting and maintaining a strong workforce, working with industry  and increasing federal testing of AI models — a job the National Institute of Standards and Technology is set to helm.
"NIST is going to have a huge role to play, along with the industry and the research community," Prabhakar said. 
The broader goal of the forthcoming executive order –– anticipated to debut early next week –– will be how best to leverage federal agencies' existing authorities to establish helpful national AI programs and guidance. 
Prabhakar said that the Office of Management and Budget will also be issuing guidance for how the government should be making use of AI technologies, calling it a "tremendous opportunity for leadership" in establishing codified AI protocols, and she hopes that complimentary legislation would follow closely. 
"The president has been clear: we have to get this right. And what you'll see as we do, the actions that have already taken place –– the EO, the OMB guidance, all of which is to come –– with all of that in place, I think you will really see a broad cohesive, comprehensive approach to getting AI right," she said.