White House to issue 'broad' executive order addressing AI risks and standards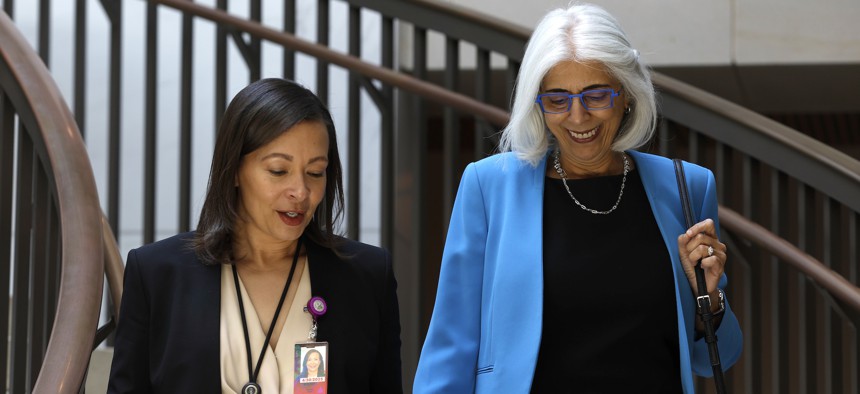 Top science advisor Arati Prabhakar said the forthcoming executive order will address a wide swath of potential AI dangers.
The Biden administration's top science advisor teased a forthcoming executive order on artificial intelligence during a virtual talk hosted by the Information Technology Industry Council on Thursday.
Arati Prabhakar, the director of the White House's Office of Science and Technology Policy,  said that the administration's conversation is centered on understanding how AI systems operate in individual contexts and applications, and what private sector companies are doing with AI software. 
"That's really why we're trying to wrestle with the risk from the problems that come with AI because we want to seize the great power that this technology has to solve some of our hardest problems," she said. 
The Biden administration is focusing on the "full breadth" of issues that could emerge when AI technologies are incorporated into systems that handle critical data and processes, according to Prabhakar. Some examples include how exposing personal health information and diagnoses or cybersecurity information to large language models could lead to civil rights or privacy violations.
President Biden himself teed up the order in remarks opening a Wednesday meeting of the President's Council of Advisors on Science and Technology in San Francisco.
"This fall, I'm going to take executive action, and my administration is going to continue to work with bipartisan legislation so America leads the way toward responsible AI innovation," Biden said.
Prabhakar drilled in on the plans for the order, saying, "It'll be broad. It really reflects everything that … the president really sees as possible under existing law to get better at managing risks and using the technology."
Prabhakar added that the executive order will contribute to other conversations the White House wants to continue with Congress on advancing bipartisan legislation that supports sustained AI research and development efforts. She said a draft bill has already been composed to augment both industry-led research and federally-funded efforts. 
Internationally, aligning standards is also a crucial regulatory component for the White House to establish global consensus surrounding AI usage and development. Prabhakar said that the White House's goal is to take a values-led approach to prevent authoritarian regimes from driving innovation and standards in new technologies. 
"Every huge advance that we have ever had that shaped our world came because industry, and government and academia, and civil society all came together and wrestled with each other and argued and figured out how to move forward," she said. "It's really constructive because this is how we're going to chart our course."