Commerce head envisions innovation pathways under the CHIPS Act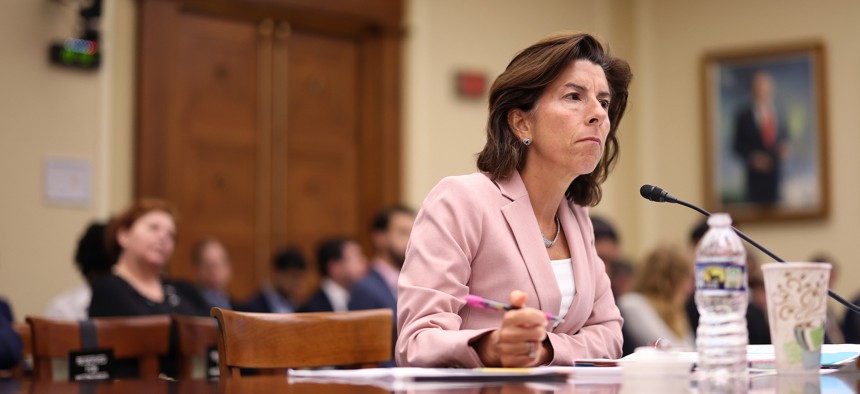 Over a year after the landmark CHIPS and Science Act was passed, Secretary Gina Raimondo said the U.S. needs to "embrace innovation" in semiconductor production.
Department of Commerce Secretary Gina Raimondo gave Congress an update Tuesday on progress under the landmark 2022 CHIPS and Science Act, noting that other emerging technologies aside from semiconductors are on the docket for the agency ahead of the year's end.
Speaking before the House Committee on Science, Space and Technology, Raimondo spent part of her testimony discussing how the federal government is focusing on research and development efforts in the U.S. for economic and national security needs.
"We need to embrace innovation, including artificial intelligence, which will bring down the cost of a lot of this [chip] production in a way that it could enable us to keep it in the United States," Raimondo said.
She noted that the White House has taken proactive steps to secure voluntary commitments from leaders in the private sector to help ensure the permeation of trustworthy AI systems, but added that they should act "as a bridge" to further mandatory regulation.
On the R&D level, Raimondo noted that keeping innovation and research close to U.S. universities is key to both security initiatives and developing more diverse tech hubs in the country. As part of the CHIPS and Science Act's Tech Hubs Program, Raimondo said that investments in academia will help the U.S. continue to lead in AI, quantum computing, biotechnologies and other emerging fields.
From that base in academia, Raimondo envisions a strong spin-off culture that takes an idea born in a lab and turns it into an opportunity for economic growth.
"So the point of the Tech Hubs is to have a whole network of these…beehives of innovation where you bring together universities, with companies, with innovators and entrepreneurs, and add some money to catalyze that kind of cutting edge, which ultimately leads to jobs," she said.
Another pivotal area of focus for Raimondo and Commerce's CHIPS Act agenda is setting tech operational standards on an international level. These standards, which largely govern user identity management in popular hardware and softwares, will play a crucial role in which countries can lead the global economy.
Raimondo said Commerce's strategy has been to fill international standards groups with ample U.S. representation. 
"I worry a lot about this," she said. "It sounds not sexy and boring, except when the Chinese write the standards to favor them, then we get locked out. And so I have put a huge priority on reinvigorating our presence at standard setting bodies all over the world."
Helping former U.S. diplomat Doreen Bogdan-Martin become the secretary-general of the International Telecommunication Union was part of that push.
"We focused on it, put a campaign in place because, you know, standards really matter," she said.