FCC wants to use AI to measure commercial spectrum use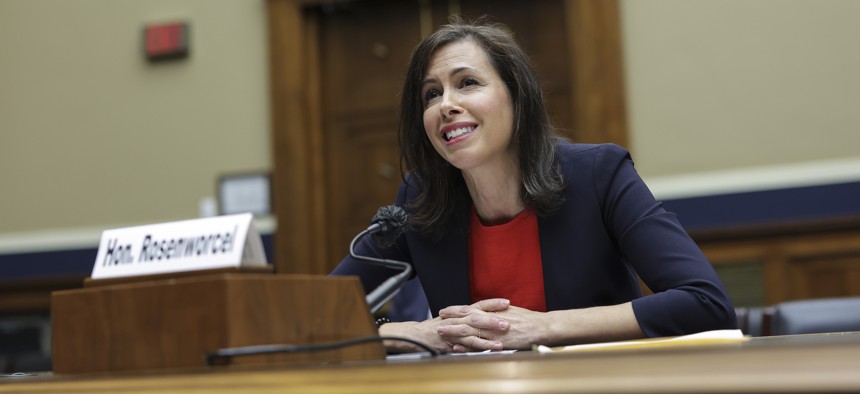 The Federal Communications Commission unanimously voted on Thursday to launch a notice of inquiry into how artificial intelligence tools and other emerging technologies can be leveraged to better understand how commercial spectrum is used. 
The FCC said in a press release that the request for public input — which was approved during the agency's monthly meeting — is designed to advance its understanding "of non-federal spectrum usage and take advantage of new data sources, methods and technologies to do so in a cost-effective, accurate, scalable and actionable manner."
The inquiry comes as the nation's spectrum bands continue to grow more congested, with federal agencies and private carriers alike jockeying over a limited amount of available bandwidth.
Lawmakers and others have also expressed concerns about spectrum usage affecting adjacent bands, with the bipartisan leaders of the House Science, Space and Technology Committee pressing the FCC in November over the potential implications of a proposal to share the spectrum band used by the National Oceanic and Atmospheric Administration with commercial wireless carriers. 
As the notice of inquiry highlighted, the FCC's spectrum management policies heavily rely "on third parties for metrics regarding actual spectrum usage." Since this usage information "is generally non-public and made available infrequently," the agency believes it can harness AI's potential to enhance its own understanding of how spectrum is used. 
"Leveraging today's tools to understand tomorrow's commercial spectrum usage can help identify new opportunities to facilitate more efficient spectrum use, including new spectrum sharing techniques and approaches to enable co-existence among users and services," the notice said. 
The FCC has recently begun to take a closer look at how AI will impact the nation's communications networks, and the agency held a workshop with the National Science Foundation last month to discuss some of the opportunities and challenges of bringing high-tech tools into this space.
Ahead of the commission's vote, FCC Chairwoman Jessica Rosenworcel said "I am much more hopeful about AI than pessimistic" and added that the inquiry would enable the agency to "understand this kind of potential and help ensure it develops here in the United States first."
"For decades in this country, we have licensed large slices of our airwaves and come up with unlicensed policies for joint use in others," Rosenworcel said. "This scheme is not truly dynamic. But with demands on our airwaves growing with the internet of things, we want to better understand spectrum utilization in geography, frequency and time. This is the kind of data that could help make our policies smarter and more effective."
FCC Commissioner Geoffrey Starks also said that using AI to boost the agency's understanding and management of spectrum could benefit researchers, academics and government officials by enabling them to "unlock opportunities for coordination and efficient spectrum transactions and develop and deploy new wireless technologies."