Establishing international tech standards is 'the issue of our time,' lawmaker says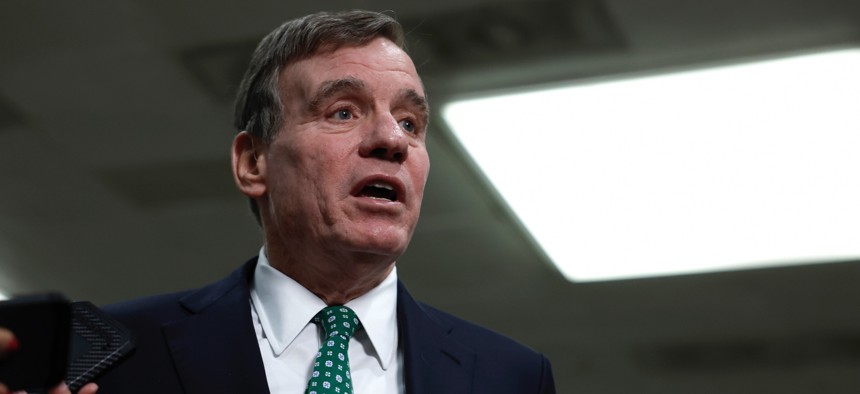 Taking a stronger federal approach to global leadership in regulation on emerging technologies, particularly for artificial intelligence, is critical to both domestic and international security across several rapidly evolving fields, according to one lawmaker.
Sen. Mark Warner, D-Va., spoke about the United States's history with tech regulations at the German Marshall Fund on Friday, and how past mistakes should influence present decisions amid geopolitical turmoil that increasingly intersects with technological dominance.
Citing China as a primary economic competitor and technological innovation rival, Warner said its sprawling telecommunications company Huawei served as a "wake-up call" to further US interests and investment in technology development. 
"This level of technology competition, I think, is the issue of our time," Warner said. "The approach that we took in this country on social media, which was, 'you guys go out and break things and we'll figure out the rules after the fact,' I think it was a complete disaster."
Echoing federal regulators' calls for more U.S. participation in setting the standards––or design and deployment industry rules––for emerging technologies, Warner suggested the U.S. government encourage sending more representation to standards conferences worldwide.
"The Americans in particular were so used to setting all the standards that we stopped sending people to the international standard-setting entities, businesses stopped sending people," he said. "China would flood the zone and in many of these standards-setting bodies, who shows up gets to set the rules." 
Warner said U.S. officials are beginning to notice these trends and are course correcting, but noted U.S. tax law does not incentivize or aid technology companies to participate, particularly smaller businesses.
"If you send an engineer to a standard-setting body that meets in the United States, you can totally write off the expenses of that engineer," he said. "If it happens to be in the Philippines, or in Milan, you don't get the same tax treatment. So small companies don't send their engineers."
In addition to more public and private sector collaboration across emerging tech fields, Warner added that keeping up with European Union and Chinese counterparts in issuing AI regulations is vital to maintaining U.S. competitiveness in the tech sector. 
"We don't have a privacy legislation," he said. "If we can't even get there, how are we going to put some guardrails on AI?"
Absent more sweeping legislation, Warner advocated for a strong framework for large language model regulation focused on designing tech products with built-in security and a potential independent "AI entity" to interface with federal regulatory agencies like the Federal Aviation Administration or the Food and Drug Administration as AI systems continue to evolve. 
Having the U.S. actively engage in standards development has emerged as a major component of emerging technology discourse, as input into these rules translates to both ideological and economic leadership worldwide. 
The earlier release of the White House's National Cybersecurity Strategy implementation plan included action items devoted to increasing federal participation in international cybersecurity standardization in tandem with other sectors. 
A new report from the Brookings Institution also identified the need for the development and adherence to technological standards set by government officials, corporate entities and the general public in an AI-dependent Metaverse.