Senate Bill to Train Acquisition Workforce on AI gets House Counterpart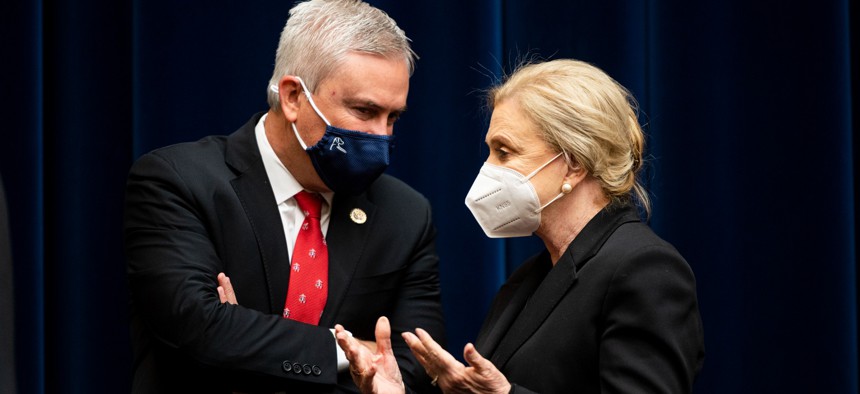 The AI Training Act, which passed the Senate last December now has a House companion from Reps. Carolyn Maloney (D-N.Y.) and James Comer (R-Ky.).
Congress is inching closer to passing a plan to require artificial intelligence training for the federal acquisition workforce. 
A bill establishing the new requirement cleared the Senate in Dec. 2021, and last Friday a House version was introduced by  Reps. Carolyn Maloney (D-N.Y.) and James Comer (R-Ky.), the chairwoman and ranking member of the House Committee on Oversight and Reform.
The AI Workforce Act would require the director of the Office of Management and Budget to provide training on artificial intelligence for the acquisition workforce. That training could include how AI works and its potential use and benefits for the federal government, but also its risks, especially the potential for discrimination and privacy issues.
The bill also encourages the OMB director to work with technologists, scholars and other experts from in and out of government in creating this training program. 
The measure's Senate backers cited the recommendation from the National Security Commission on Artificial Intelligence, created to give recommendations to Congress and the White House on AI, for more training in the federal workforce on AI to offset risks associated with AI at the time of the bill's passage in the Senate.
The House Oversight and Reform Committee is scheduled to mark up the bill during a business meeting on May 11. 
Other bills scheduled to be considered include the LGBTQ Data Inclusion Act, which would require agencies to assess how to incorporate questions about sexual orientation and gender identity into surveys, and the NextGen Feds Act, a bill that would establish a center at the Office of Personnel Management to better the process of hiring people who've completed internships in federal agencies into government as permanent employees