How NATO's Transformation Chief Is Pushing the Alliance to Keep Up in AI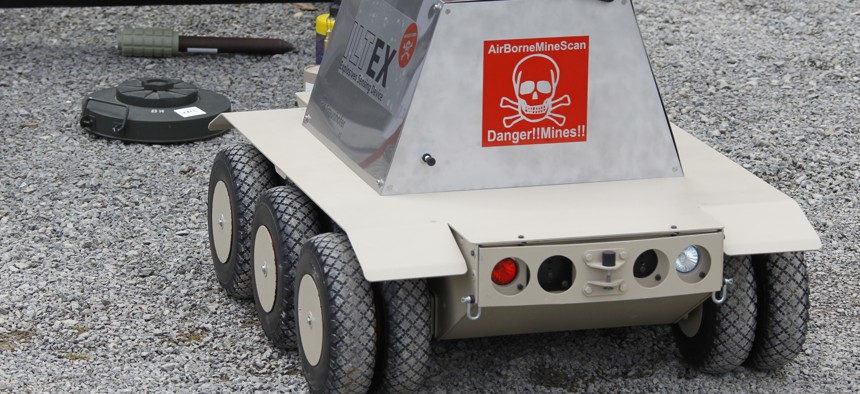 Experimental robot medics and autonomy-driven base protection highlight NATO's race to keep up with China, Russia, and the U.S. in emerging technology.
BRATISLAVA, Slovakia — It's never been easy to get all of NATO's members on the same technological page, but it may never have been this important. With Russia and China pouring resources into artificial intelligence, the alliance's transformation chief is pushing his forces to keep up.
NATO's next major exercise — Trident Juncture, to be held in Norway in October and November — will involve more than 20 AI-related experiments, including an effort to autonomously detect, diagnose, and deliver care to wounded soldiers.
"We will test for the first time…with sensors on the soldiers, real-time measurements of stress. With this type of sensor we can detect when a soldier is wounded and then, with a certain level of artificial intelligence, we can deliver medical care to this soldier," Gen. Denis Mercier, Supreme Allied Commander of Transformation for NATO, said Wednesday.
Speaking at the GLOBSEC forum here, Mercier said the medical system illustrated how the military could use AI to relieve humans out of some nonlethal decisionmaking.
"We do not need a man in the loop for that. If you add a man in the loop, you will slow down the process," he said.  
Another experiment will explore how AI might help detect and identify people attacking a logistics base, he said. Others will deal with robotics, human-machine teaming, and information warfare.
The United States, Russia, and China — in varying ways — have described artificial intelligence as central to the way they intend to develop weapons and fight. In September, Vladimir Putin famously said that the leading player in AI will rule the world. China is sprinting forward with a massive plan to become the world's center for AI innovation by 2030.
NATO is rushing to keep up, said Mercier. But as an organization of nations — as various in wealth and technological capability as they are in language and culture — the alliance can't move as quickly as individual great powers to adopt emerging technologies and integrate them into operations. Some NATO members, such as Estonia, punch well above their weight in AI and robotics. Other NATO member states… less so.
On top of that, any artificially intelligent tool or process is only as good as its data. Military leaders have highlighted repeatedly the central role big data will play in AI tools that advise commanders. The U.S. military is broadly committed to building its effectiveness by sharing data across services and commands.
But many NATO members are reluctant to share the sort of intelligence and data that could lead to better AI. Mercier is looking to change that in the coming year by developing a proof-of-concept demonstration to woo AI-skeptical NATO members. The demo will ingest open-source data on various militaries, and output suggestions for operating more efficiently, in greater unity with the rest of NATO, and at less cost. Having shown what AI can do with data freely available, Mercier hopes to convince them to start sharing more sensitive, classified data.
"If you give us the right data, we will improve speed," he said.