Trump's Pick for NSA/CyberCom Chief Wants to Enlist AI For Cyber Offense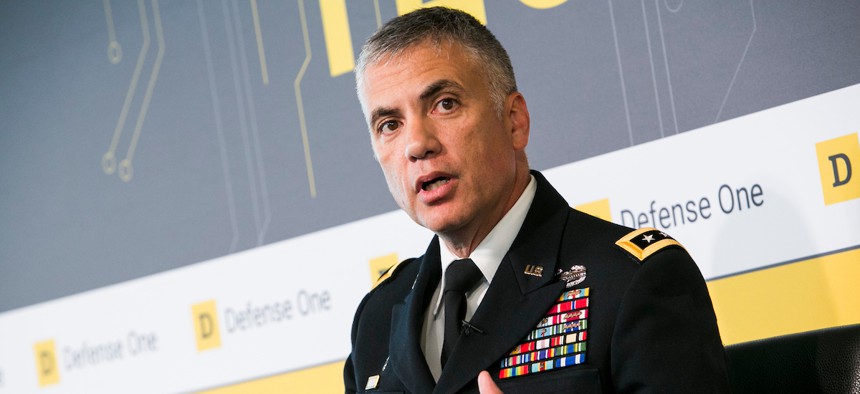 A look at Lt. Gen. Paul Nakasone's public statements about artificial intelligence, offense, and defense.
The Army general likely to be tapped to head U.S. Cyber Command and the NSA has some big plans for deploying cyber forces and using artificial intelligence in information attacks.
Lt. Gen. Paul Nakasone, who currently leads U.S. Army Cyber Command, is expected to nominated in the next few months to replace Adm. Michael Rogers, as first reported by The Cipher Brief (and confirmed by the Washington Post and a Pentagon source of our own). 
Update: On January 30, Nakasone's nomination was further confirmed by Politico. 
How does Nakasone differ from his predecessor? The Army general's public comments suggest he would use artificial intelligence aggressively in offensive cyber operations, (read hacking activities.) That could mean a lot more offensive cyber activity to achieve an overwhelming effect and that, in turn, is a big shift from where the Defense Department was in 2016 when it treated public talk of cyber offensive operations with great delicacy. 
Nakasone has pointed to the 2016 DARPA Grand Cyber Challenge as emblematic of how artificial intelligence will change both offensive and defensive operations, replacing human hackers with software that can heal its own bugs and vulnerabilities while simultaneously searching for and exploiting bugs in adversary systems.
"It's really easy to say, 'I'm going to get on this network, achieve presence, have a persistent ability to go after whatever I do in the future.' But what if you had a machine that did that? That was able to rapidly find a vulnerability? Identify a vulnerability? Have an implant? Put down a persistence presence? And do that at machine speed? You've taken away a ton of the work we do today," he said.
He said in June that he would send non-commissioned officers to grad school in artificial intelligence.
Background
Nakasone, who helped stand up U.S. Cyber Command under Gen. Keith Alexander, "provided indispensable leadership to help define, organize and build the U.S. cyber forces, providing the blueprint to build the workforce, to improve the training and to expand the capabilities required to conduct full spectrum operations," a retired DoD senior technology official wrote Defense One in an email.
Under Nakasone, the Army's Cyber Mission Force teams achieved full operational capability a full year ahead of schedule. But just how good are the U.S. military's information operators? It depends on whom you are talking to. Last year, unnamed officials quoted by the New York Times and Washington Post described poor performance against ISIS.
Nakasone told a different story at June's Defense One Technology Summit, where he said,"We are contesting ISIS's use of force in cyberspace on a daily basis." He expanded the message in August at the Army's CyCon conference: "A year ago, the common narrative was that ISIS is uncontested across virtual space. They could tweak their ideas and share their propaganda rapidly. Over the past nine to 12 months, we've taken that on and that narrative is no longer true."
Nakasone has spoken favorably of the idea of embedding cyber operators at the battalion level and conducting work outside of traditional network defense. "We've empowered brigade combat teams with elements that go after social media" along with more traditional roles like network defense, he said at CyCon.
Training 41 Army Cyber Mission Force teams helped Nakasone realize something about information warfare operators: the smartest person in a unit is rarely the one with the highest rank.
"It's interesting to command an organization where the power is...the lieutenants, sergeants, the young captains who have this remarkable talent," he said in June. "The talent, the technical ability is at the lower level…It will be that way for a generation."
Like his predecessor, he's a big fan of information-sharing partnerships with the commercial tech sector to gain "early warning" of new threats, hostile actors and vulnerabilities.
Of course, his job is also to develop holes and exploits into commercial computer products, which can undermine those relationships. This was illustrated by the disagreement between Microsoft and the intelligence community on the WannaCry virus, discovered by the NSA and later (after wide revelation) used by North Korea to launch ransomware attacks around the world.
The next head of Cyber Command will also take charge of NSA, but not for long. The two are to be separated, as mandated by the 2017 National Defense Authorization Act, after the new chief believes that Cyber Command is ready. That recommendation will go first to the Defense Secretary and then to the President. Look for intense questioning on the topic during the nominee's Senate confirmation hearings.
Editor's note: This post, originally titled 'How the (Likely) Next NSA/CyberCom Chief Wants to Enlist AI' was updated with additional confirmation of Nakasone's nomination.