If You've Been Stuck in an Airport Because of Delays Recently, You Already Know How Bad a Highly Automated Society Will Be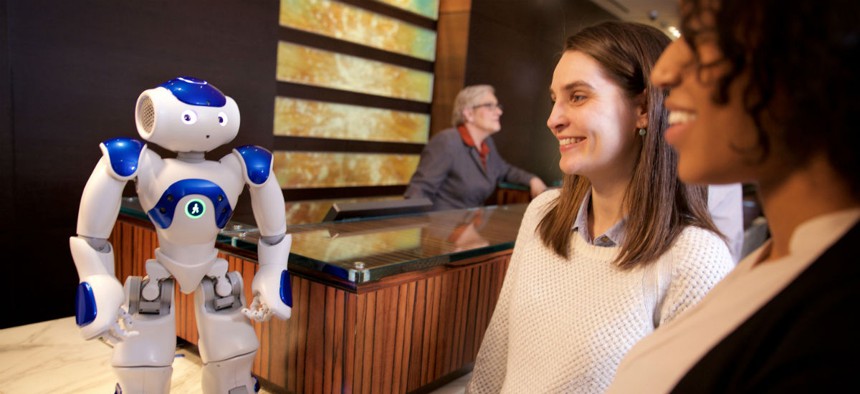 We, in the U.S. at least, live in a world where we often can't talk to humans, even when we want to.
We're already in purgatory.
Last month, I wrote about Amazon's new concept for a grocery store, Amazon Go, where you would be able to walk in, pick up what you want and leave, as computers and sensors track you and your phone's every move. I argued that it, combined with increasingly algorithmic social media platforms, apps that can apparate anything you desire at the push of a button and chatbots that depersonalize the experience of dealing with companies points to a bleak future where we won't have to talk to or hear from anyone we don't want to.
But sitting frustrated late last night along with 200 other humans at Las Vegas' McCarran Airport after our flight to New York was canceled, I realized a worse future may already be here: We, in the U.S. at least, live in a world where we often can't talk to humans, even when we want to.
When I arrived at the airport (in an Uber I hailed without talking to anyone), I dropped my bag at check-in—had I had less luggage, I would've just walked right into the security line without talking to anyone, as I'd already checked in on my phone.
Walking around the airport, I saw a screen that said my flight was delayed for 6 hours, although the airline's app told me my flight was still on time. I went to look for a customer service desk, and there wasn't one. I went to my gate, and was brushed away by an attendant there who was trying to get people onboard a different, earlier flight. I walked aimlessly.
Eventually, I found another gate with fewer people, and an attendant who tried to get me on standby for another flight. I walked to another airline's terminal, hoping to buy a ticket on its flight, but no one was there yet. I opened that airline's app, which wouldn't let me book a ticket for the same day. I called its 800 number, where an automated voice told me to go to its website.
I decided to walk back to the attendant who had been helping me, and in the intervening time, I got an email telling me my flight had been canceled. This was the entirety of the content of the message:
We wanted to let you know that Flight #948 on Jan 7, 2017 at 10:03 PM, departing Las Vegas, NV (LAS) and arriving in New York, NY (JFK) has been cancelled. We apologize for any inconvenience this may cause.

For further assistance, please see a crewmember at the airport or contact us by phone to speak to a representative.
There were no crewmembers apart from those boarding flights, and unsurprisingly, with at least 200 people (and probably many more, as many flights were canceled Jan. 7 because of weather) calling the airline's customer service line at once, my wait time to speak to someone who could tell me how I was going to be released from the purgatory of an empty desert airport in the middle of the night as all the shops and restaurants were closing was about an hour.
I managed to find (and thoroughly annoy) the attendant I'd spoken to before. After issuing me a refund, she told an assembling crowd she would not be able to deal with any other passengers, and for them to call the 800 number listed in their emails. She then resumed boarding the other flight we were all delaying by talking to her.
As I stood downstairs waiting for my luggage to be returned to me, I opened my phone, downloaded an app to find the best deals on last-minute hotels and booked one. Then, I opened another airline's app, booked a flight for the next day and then called up an Uber.
In the span of about 20 minutes, I'd witnessed the best and the worst of the automated society we already live in. I'd managed to effectively book an entire vacation within minutes from my phone—all without speaking to a soul—and been left stranded by an airline with no customer support options apart from unanswered emails and tweets, and an impenetrable phone number.
Other passengers started to trickle in, confused of where they were meant to go. Someone asked me if I was waiting my bag, and I explained what I knew, and then others crowded around to hear. No one from the airline, or really anyone else at all, was around to explain anything. We were all relying on my chance encounter with a human; me with the attendant, and they with me.
I had been in Las Vegas for the past week to document the highlights of this year's Consumer Electronics Show, an annual bacchanal in Sin City where most major electronics manufacturers (and those that knock them off) show off their newest products for the forthcoming year.
One of the biggest trends my colleague Dave Gershgorn and I noted at this year's show was the increase in automated technologies, such as the myriad self-driving car demonstrations, personal robots and tie-ins for voice assistants like Amazon's Alexa.
All these technologies, breathlessly covered by many of the media outlets in attendance, push us further away from a world where we can (or should) interact with humans in our daily lives. But we're already experiencing the worst parts of this automated existence, especially when routine procedures break down: endless sinkholes of phone calls, website refreshes and text message updates.
Businesses seem intent on replacing support staff with screens, chatbots and 800-numbers run by robots, regardless of how well their software works. McDonald's, one of the largest employers in the U.S., is experimenting with replacing attendants with giant touchscreens. Cost-saving exercises like these may seem good to businesses on paper, but they shouldn't come at the expense of their customers' satisfaction.
Perhaps the approach companies are taking to automation is similar to the casinos that blight the Las Vegas Strip. The software, with their unending lists of menus to work through just to speak to a human, are rather like casino floors: Flashy, intricately confusing and designed to make customers resign themselves to never leaving or trying to change things because it's just so frustrating to do so. In the case of casino layouts, it's to keep people gambling or spending money, and with the software designed by other service-sector businesses, it often seems to be to frustrate customers into leaving money on the table.
I've been on hold with JetBlue, the airline I was originally flying, the entire time I was writing this post. My estimated wait time is still 20 minutes.