NOAA Invests in a Second Round of Commercial Weather Data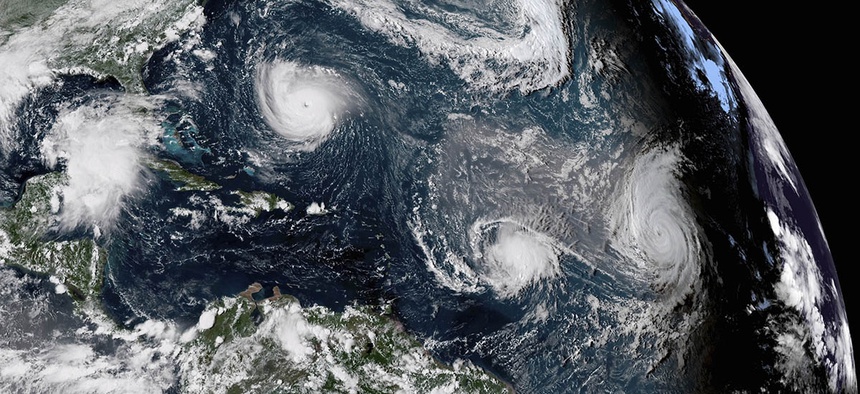 The agency announced a second round of awards for its Commercial Weather Data Pilot as it preps for a third.
The National Oceanic and Atmospheric Administration announced nearly $8.4 million in contract awards to private satellite operators for the second round of its Commercial Weather Data Pilot.
An entire commercial sector has been built around weather data obtained and disseminated by NOAA. But as commercial satellites proliferate, the agency is turning that model on its head.
For the last two years, NOAA has been purchasing and analyzing weather data from commercial satellites to determine whether and how private sector companies can augment the agency's data collection.
On Monday, the agency announced the pilot's largest award to date to three companies: Spire Global for $1,425,000, PlanetIQ for $3,500,000 and GeoOptics for $3,439,999.98.
The three companies will begin transmitting data to NOAA for testing, with a July 31 deadline to deliver all required data. NOAA researchers expect to take up to a year to analyze the data and plan to issue a report by mid 2020, according to a release announcing the award.
"These contracts represent another step toward bringing commercial sector innovation to NOAA's mission of delivering life-saving weather forecasts and warnings," Karen St. Germain, director of the Office of Systems Architecture and Advanced Planning for NOAA's Satellite and Information Service, said in the award announcement. "By collaboratively testing commercial sector capabilities and new business models, we continue to optimize the impact of our observations and reduce costs for taxpayers."
NOAA awarded just over $1 million in the first round just over two years ago, on Sept. 15, 2016. The first awards went to Spire Global for $370,000 and GeoOptics for $695,000.
As NOAA officials evaluate the second round of data, a third-round solicitation is in the works. The agency issued a request for information on round three in May, with a response deadline in July. Officials are currently reviewing those responses to inform a pending round three RFP.