Lawmakers push Biden for an order to root out dark money from federal contractors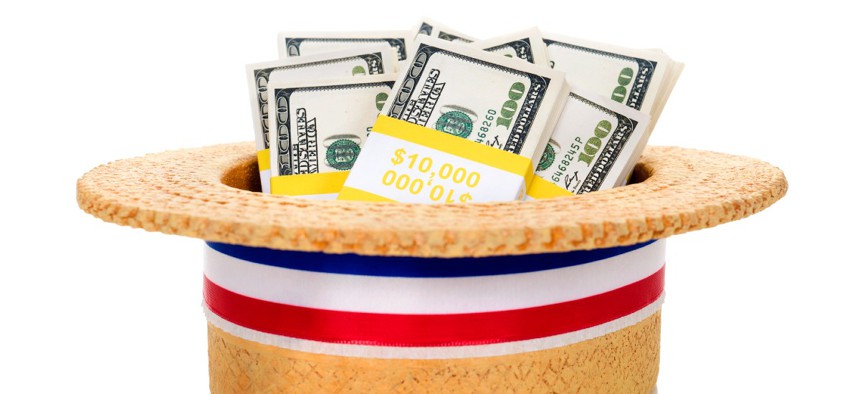 A group of lawmakers want the White House to issue an executive order requiring large federal contractors to disclose their political spending – but not everyone is in support of the idea.
The White House has a powerful tool in its arsenal to begin chipping away at dark money in national elections – and its impact could transform the way major corporations conduct business with the federal government.
That's according to more than 60 lawmakers who recently signed a letter to President Joe Biden urging him to use his executive powers and require large federal contractors to disclose their political spending. They describe the potential move as one way to deal with "undue corporate influence" in politics and to "repair the damage to our democracy caused by secret political spending."
Rep. Andy Levin (D-Mich.) and Rep. Jason Crow (D-Colo.) led the 63 House members in calling for an executive order that would mandate political spending disclosures for large federal contractors, many of which spend millions on political action committees during election cycles to get around federal laws barring contractors from making political expenditures. The letter said "corporations have had the ability to spend a nearly limitless amount of undisclosed funds to influence elections and other political activities" since the 2010 Supreme Court ruling in Citizens United vs. Federal Election Commission. 
Rachel Curley, democracy advocate at the progressive nonprofit Public Citizen, told FCW the executive order would mark the first action the federal government has taken in combating "secret political spending" since the Citizens United decision. 
"In the decade following that decision we've seen an incredible increase in secret political spending, and it has distorted our political landscape," she said, adding: "Disclosure is critical, especially for federal contractors where the temptation for pay- to- play is high."
Public Citizen published a report on dark money in federal contracting earlier this year that called attention to specific examples of businesses using dark money groups to influence politics, including one case in which it said the Ohio utility company FirstEnergy "spent about $60 million in dark money last decade in pursuit of a $1.3 billion bailout from the Ohio legislature."
But not everyone supports the calls for an executive order to expand federal contracting disclosures. 
The Professional Services Council (PSC), which represents organizations within the government technology and professional services industries, said current PAC rules are "sufficient" and that the letter "misidentifies the problem."
"With millions of federal contract actions each year, reporting burdens such as those proposed in this letter would be unworkable and would add no value," PSC President and CEO David Berteau told FCW in a statement. "In addition to providing no new information, the proposed reporting would slow down a contracting process that is already too slow in meeting government needs today and might actually undermine trust rather than increase it."
Berteau also noted the reporting requirements "would fall disproportionately on small businesses" at a time when the federal government is aiming to expand small business participation in the federal marketplace.
The Public Citizen report found that the 10 largest federal contractors received $213.8 billion in revenue 2020, while in that same year their PACs spent $24.8 million in the national election cycle. PACs are seen by some as a loophole to federal laws barring government contractors from having political expenditures because the committees are financed by their employees.
Scott Amey, general counsel for the Project on Government Oversight, told FCW that even though laws prohibit federal contractors from providing direct contributions to candidates, "contractors can spend unlimited amounts to elect or defeat candidates with no disclosure and no oversight" due to PACs and the proliferation of secret political spending. 
"An executive order or legislative fix would ensure that contributions by federal contractors are publicly disclosed," he said, adding that such disclosures "would reveal a lot about the pay-to-play system and help restore some integrity in the procurement process."
Trevor Potter, president of the Campaign Legal Center and former Republican chairman of the Federal Election Commission, also said in a public statement that an executive order mandating political spending disclosures for large federal contractors "is needed today."
"Transparency in elections is a pillar of a vibrant, inclusive democracy," he said. "The American people deserve to know that their tax dollars are not being funneled to a company simply because of that company's political spending."
Whether or not the president moves forward with an executive order, Congress could still plan to take its own action. Last year, Rep. David Cicilline (D-R.I.) introduced the Democracy Is Strengthened by Casting Light On Spending in Elections Act, otherwise known as the DISCLOSE Act. The bill – which currently includes 197 cosponsors – expands the ban on foreign nationals spending in campaign cycles and requires various additional disclosures around campaign and election expenditures.
The lawmakers acknowledged in their letter to the president that "the best way to deal with issues of good governance and unchecked political spending" would be for Congress to pass a comprehensive bill like the DISCLOSE Act. 
"However, an EO to mandate disclosures for large federal contractors would be a critical and welcomed step," the letter read. "Low trust in government is a grave threat to our democracy. If the American people believe the government does not have their best interest at heart, then the institutions that act as guardrails for our way of government will atrophy."
The White House has not indicated whether it plans to issue an executive order and did not respond to a request for comment.