Labor Department rolls back Trump-era religious exemption for contractors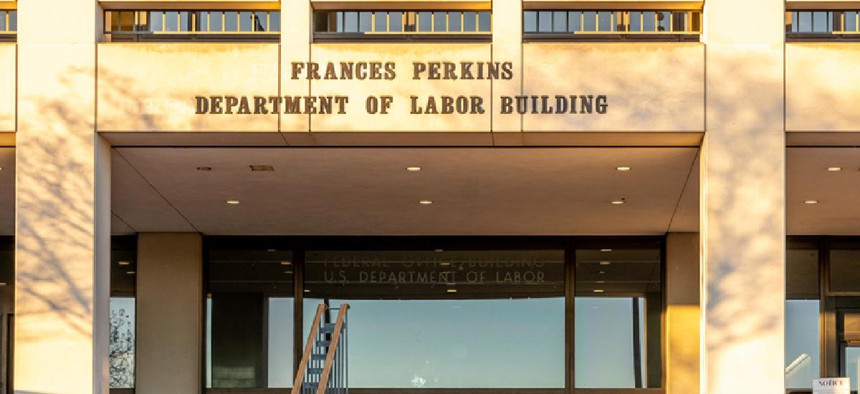 DOL announced it would undo a rule that was criticized by civil rights activists as easing the ability of some federal contractors to discriminate when making hiring decisions.
The Department of Labor is rolling back a rule made during the Trump administration that clarified religious exemptions for federal contractors organized around faith-based activities that would allow them to discriminate against certain groups in hiring decisions.
A proposal to rescind the rule will be published in the Federal Register on Tuesday. DOL will be accepting comments on the proposed rescission until Dec. 9.
The department had already signaled its intent to rescind the rule after facing lawsuits opposing the rule, which went into effect on Jan. 8, 2021.
Since its proposal, civil rights groups had opposed the rule, saying that it stoked confusion about nondiscrimination laws and encouraged those wanting to discriminate to seek federal contracts. They also warned that it could usher in discrimination against lesbian, gay, bisexual and transgender people in particular.
The Biden administration said the rule had been a departure from "long-standing policy and practice" of how the department had interpreted an existing religious exemption for contractors.
The Trump-era rule "retreats" from the principle that religious employers can't take employment actions "that amount to discrimination on the basis of protected characteristics other than religion, even if the decisions are made for sincerely held religious reasons," reads the department's proposal for recession.
The policy being rolled back "undermines the government's interest in ensuring equal employment opportunity by federal contractors," and stokes confusion about how the religious exemption for contractors works, DOL's rulemaking document states.
Overturning the rule back will mean that existing religious exemption policies are the same as they were in the administrations of presidents George W. Bush and Barack Obama, DOL says.
Chairman Bobby Scott (D-Va.) of the House Education and Labor Committee said in a statement that the Trump-era rule "gave companies receiving taxpayer dollars the power to hire and fire employees for discriminatory reasons under the guise of religious freedom" and that he applauded the OFCCP's action to change the rule.
Committee ranking member Virginia Foxx (R-N.C.) said in a statement that the Biden administration's action was a "direct attack on every employer who dares to follow their faith."