Carper says he won't run for fifth Senate term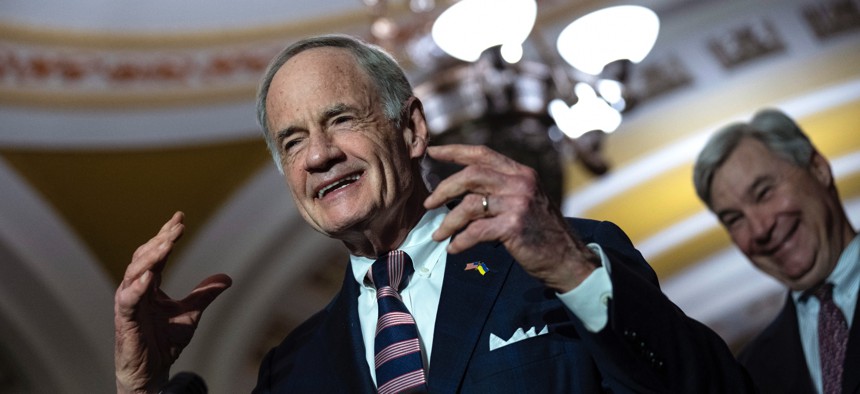 Tom Carper (D-Del.) said Monday that he will seek a fifth term in the Senate, ending a more than 20-year tenure in the legislative chamber. 
Carper announced the news during a Monday press briefing, where he said that he decided with his wife Martha that he should "run through the tape" of the time left in his term "and finish the important work that my staff and I have begun on a wide range of fronts.
"At the top of the list is to oversee the implementation of major portions of our Bipartisan Infrastructure Law," said Carper, who was first elected to the Senate in 2001 and is also a former Delaware governor. 
He's currently the chair of the Senate Committee on the Environment and Public Works and also chairs a subcommittee on international trade, customs and global competitiveness in the Finance Committee.
Carper's departure will leave the Senate with one less lawmaker keenly interested in government technology, something that's been a focus of the Delaware Democrat.
Carper won a Fed 100 in 2009 for his work as the chair of a subcommittee of the Homeland Security and Government Affairs Committee focused on government information and services.
In 2011, Carper railed against budget cuts to Data.gov and the Federal IT Dashboard, and the following year, he zeroed in on agencies' lack of progress at the time on data center consolidation planning at the time.
During his career, the senator also pushed for election systems to be designated as critical infrastructure, which happened in 2017, and also had an eye on ransomware in federal networks.
"Information technology is not the end in itself [but] a means to the end," Carper later told an FCW reporter in 2011, a year when Congress went back and forth with the Obama-Biden White House over the debt ceiling before agreeing to future spending cuts alongside raising the debt ceiling.
"Information technology done well can enable us to manage through this budget deficit and still [deliver] a modicum of service that our citizens need and deserve. Our challenge is to figure out how to make that happen," Carper said at the time.
Senate Majority Leader Chuck Schumer (D-N.Y.) called Carper "a conscientious, hardworking, honorable and effective Senator" in a statement following Carper's announcement.
"So many important pieces of legislation from postal reform to reducing the poisonous effect of methane in our atmosphere would not have happened without Tom's diligence and persistence," said Schumer.
As for who will take Carper's seat, the senator told reporters that he hopes Rep. Lisa Blunt Rochester (D-Del.) runs for his seat, according to news reports from the briefing where he announced his plans to step down.