House Republicans offer proposal to claw back unemployment modernization funding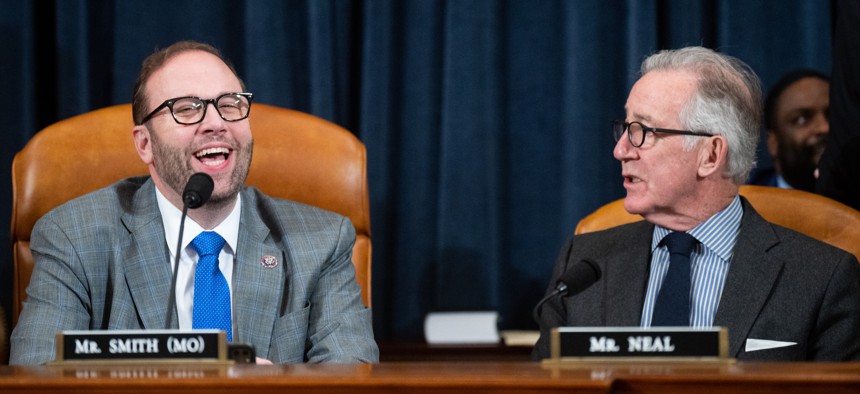 House Ways and Means Chairman Jason Smith (R-Mo.) and James Comer (R-Ky.), chair of the House Oversight and Accountability, are backing a new bill they say is meant to push states to recover unemployment money lost to fraud. 
One of their proposals: to repeal a provision that gave the Labor Department $2 billion for equity, payment timeliness and anti-fraud efforts in the jobless aid program via Democrats' American Rescue Plan Act. The bill would rescind around $400 million of currently unobligated funds, Smith said during a Tuesday markup on the House Ways and Means Committee. He said that the funding has "proven to be wasteful and ineffective at combating fraud."
Democrats clashed with Republicans over the measure during the meeting, criticizing the clawback provision and other proposals in the bill that they say would target jobless aid claimants who received overpayments because of state mistakes, not fraud.
The bill follows recent oversight hearings focused on unemployment fraud — which increased during the pandemic — held since Republicans took over the House.
"It's time for Congress to go after fraudsters and recover the dollars that have been lost," Smith said Tuesday. The proposal "will recover stolen taxpayer money. It will help states ensure this scale of fraud never happens again and help bring to justice those who committed these crimes."
His Democrat counterpart said that the clawback of existing funding runs counter to efforts to cut down on fraud.
"State UI systems have been underfunded for far too long, and Republicans' attempts to further weaken these systems only leave them more vulnerable to bad actors in the event of future recessions or crises," Ranking Member Richard Neal (D-Mass.) during the markup. "Instead of reinforcing these vital systems to prevent future errors, the majority has laid their focus on surprise-billing American workers while cutting funding to agencies actively holding those who committed identity theft and fraud accountable."
The Labor Department is "deeply concerned" that a repeal would "throttle essential, ongoing efforts to strengthen and protect the UI program from fraud," Brent Parton, acting assistant secretary of the employment and training administration at the Labor Department, wrote to Neal in a Monday letter about the bill obtained by FCW. "The repeal of [American Rescue Plan Act] funding would directly undermine the intent of this proposed legislation."
Republicans and Democrats also argued over other parts of the bill that would increase the time period states have to go after overpayments in federal, pandemic-era jobless aid programs like the Pandemic Unemployment Assistance from the three years to 10 years. 
States would be allowed to keep a cut of recovered fraudulent payments to use for program integrity efforts like tech modernization and hiring fraud investigators. States would have to use certain data-matching systems meant to prevent fraud by making sure payments aren't made to deceased individuals, for example, to keep the money. 
The Labor Department's watchdog has recommended that Congress require states to cross-check with databases and allow them to keep 5% of fraud recoveries to use for program integrity.
The bill would allow states to keep 5% of recovered state unemployment overpayments – except for overpayments made as a result of state errors – and 25% of recovered overpayments of federal funds that are attributed to fraud.
Democrats expressed concern that the change would result in beneficiaries who got  overpayments due to state mistakes or other non-fraud related reasons having to go through fraud investigations. 
Parton expressed a similar worry, writing that "we have concerns that this provision extended to non-fraud overpayments may incentivize states to recover overpayments that are not the fault of individual workers."
Republicans said that their proposal focuses only on fraudulent overpayments.
"We're only going after fraud, not improper payments," said Smith. "Only if… the unemployment was made due to fraud is what we're going after."
The proposal follows concerns expressed by several Republicans during a recent hearing about Labor Department's blanket waivers for overpayments made where the claimant isn't at fault. 
Other provisions in the bill include extending staffing flexibilities around the use of contractors through 2030. 
The bill would also extend the statute of limitations for criminal charges or civil actions from five to 10 years, according to the Ways and Means announcement of the new bill. The Labor Inspector General and other oversight officials have previously asked Congress to extend the statute of limitations as they have for other pandemic-era programs.