Gillibrand subs military-services style cyber academy idea for DOD scholarship program in NDAA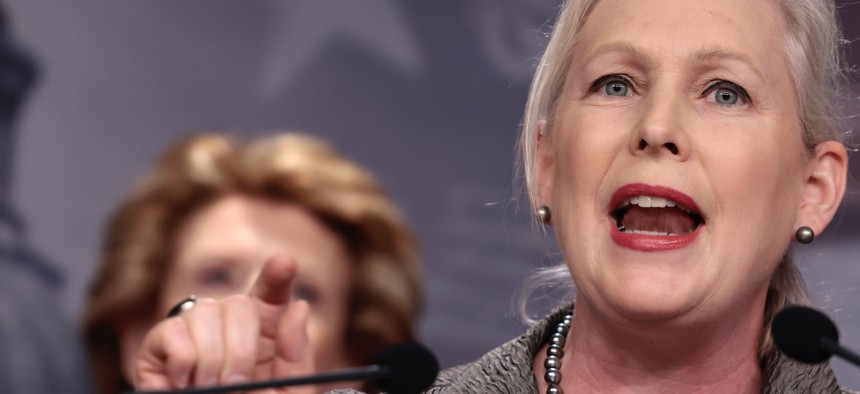 Draft text for the fiscal year 2023 National Defense Authorization Act released on Tuesday includes a new Defense Department program meant to develop more cyber workers by offering academic scholarships in exchange for work with the department.
The proposal is a shift from the military services-style academy that Sen. Kirsten Gillibrand (D-N.Y.) and House Armed Services Committee ranking member Rep. Mike Rogers (R-Ala.) had previously supported. 
The idea had been to set up a government-funded university that would be a civilian, cyber and tech-focused mirror of military service academies like West Point. 
Former Google CEO Eric Schmidt had also endorsed the idea, Axios reported earlier this year, as had the final report by the National Security Commission on Artificial Intelligence, which Schmidt chaired. 
Rogers told Bloomberg Government in 2021 that the academy could potentially be a public-private partnership with involvement from companies like Google.
In a January op-ed in the Washington Post, Gillibrand pointed to provisions she said she secured in the fiscal year 2022 NDAA that required the Defense Secretary to assess the feasibility of establishing such an academy.
The latest NDAA draft text, though, would instead establish a DOD Cyber and Digital Service Academy with existing universities and colleges. 
"The provision was introduced by Sen. Gillibrand and is a progression of her efforts on the subject," a Senate Democratic aide familiar with the matter told FCW.
Rep. Chrissy Houlahan (D-Pa.) backed the idea in the House, according to a House source who said that the idea originated from the National Security Commission on AI recommendation, but "has been modified substantially."
Students studying certain cyber and digital service disciplines, such as cyber-related engineering, law and policy, could receive up to five years of tuition and room and board. After graduating, they'd be on the hook to work at DOD for the requisite number of years of the scholarship benefits they received.
The bill text directs the Defense Secretary to start the program no later than fall 2024.
A Gillibrand spokesperson told FCW in an email that the scholarship program "is instead more a bridge" towards the senator's initial effort of establishing a separate cyber service institution. 
"She still has the long term goal of an academy, though it will take years to get to a brick and mortar establishment. But in the meantime, this is way to make progress on the gap we have in the workforce and ultimately this program would augment a brick and mortar academy."
The House NDAA bill that passed in July and in the version passed out of the Senate Armed Services Committee in June both included similar provisions to set up this scholarship-for-service style program.
If passed into law, the arrangement would reflect existing government scholarship-for-service programs.
The National Science Foundation has run the CyberCorps Scholarship for Service Program since 2000, placing over 4,500 recipients in government organizations including DOD, the National Security Agency and state and local governments in return for their scholarship.
DOD also has a Cyber Scholarship Program that includes recruitment and retention scholarships and capacity grants for schools. The NDAA text mandates that at least half of the funding authorized for the new academy be spent at schools that have already used this grant funding.
Dave Hinchman, acting director of information technology and cybersecurity at the Government Accountability Office, told FCW that for the new program to be most effective in a field crowded with cyber talent initiatives, it will need to work "in concert with CyberCorps and not in opposition."
Mark Montgomery, executive director of the offshoot of the Cyberspace Solarium Commission, CSC2.0, told FCW via email that the proposal would give DOD "another great vehicle to recruit, develop and retain cyber talent." In addition to the opportunities for students, the initiative would "help develop cybersecurity programs at scores of civilian universities," he said. "These are all big wins."
The NDAA draft text still has to be passed and signed by the president to become law. Rogers' office didn't immediately respond to request for comment.
Editor's note: This headline was updated to reflect continued interest on the part of Sen. Kirsten Gillibrand in establishing a military academy for cyber training.
NEXT STORY: Recruiting Crisis? Not at Space Force