Senate chairman presses for details on deleted Jan. 6 texts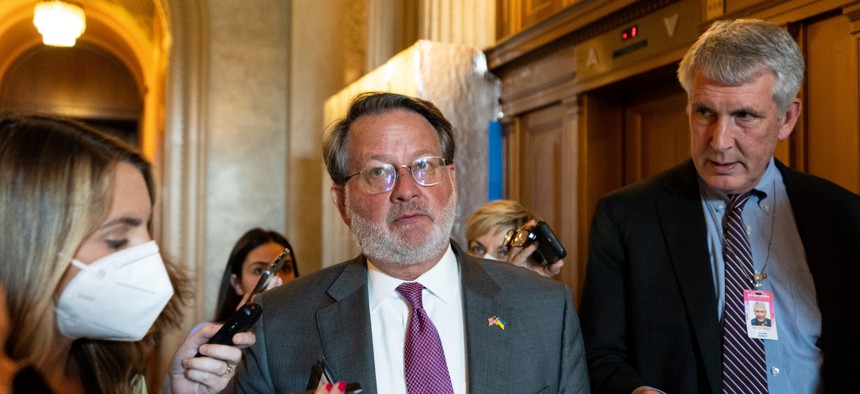 Sen. Gary Peters (D-Mich.), chairman of the Homeland Security and Government Affairs Committee, wants officials to explain what they know about the deletion of texts potentially relevant to ongoing inquiries into the Jan. 6, 2021, insurrection and why seemingly routine records management directives were ignored.
The chairman of a key Senate committee is seeking answers from multiple agencies about the deletion of text messages relevant to ongoing congressional and law enforcement inquiries into the storming of the Capitol building on Jan. 6, 2021.
Sen. Gary Peters (D-Mich.), chairman of the Senate Homeland Security and Government Affairs Committee, sent letters on Aug. 10 to the heads of the U.S. Secret Service, the Department of Homeland Security, the Department of Defense and DHS Inspector General Joseph Cuffari for information on the loss of the text messages and asking why seemingly routine records management directives from the National Archives and Records Administration were ignored.
Peters' ire stems from the failure of multiple agencies to preserve text messages from key officials. At DHS, a planned mobile device migration conducted over four months left multiple devices sought by lawmakers wiped of all data without backups. As Peters notes in his letter to USSS Director James Murray, the Secret Service "left it up to individual personnel to preserve text messages sent and received on government phones, which appears not to have happened, raising serious questions about records preservation at your agency. It is also concerning that the agency chose to conduct a cell phone migration resulting in the loss of data during a timeframe that included a presidential transition."
Peters is seeking detailed information on the cell phone migration, including names of contractors and guidance they received on records retention and whether the Secret Service took steps to back up old data.
Additionally, Peters is looking to get to the bottom of discrepancies between the Secret Service's and the DHS Office of Inspector General's accounts of the timeline of the agency watchdog's awareness of the missing texts and steps OIG took to investigate the deletions and to keep Congress up to date.
In his letter to Cuffari, Peters recounts press reports that suggest the IG knew about the deletions of Secret Service texts as well as deleted texts from DHS Secretary Chad Wolf and acting Deputy Secretary Ken Cuccinelli "much earlier" than he reported in communications with oversight committees.
"These are serious allegations and diverge from the information that you previously provided me and my team," Peters writes.
In his letter to DHS Secretary Alejandro Mayorkas, Peters seeks information about the deletion of texts from Wolf, Cuccinelli and other senior agency leaders, as well as details on records management training provided to employees. DHS updated its records management policies in an Aug. 4 memo from agency CIO Eric Hysen and General Counsel Jonathan Meyer that was first reported by CNN. That memo announced an end to wiping devices before first backing them up and alerted DHS leaders to the formation of a working group to focus on making sure department technology is managed with records management in mind.
Finally, Peters is seeking information from Defense Secretary Lloyd Austin on the deletion of text messages from former acting defense chief Chris Miller, former DOD Chief of Staff Kash Patel, former Army Secretary Ryan McCarthy and other officials. Those messages may yield more details about the military's involvement fielding requests from congressional leadership and others to support law enforcement response to the insurrection as it unfolded. 
DOD also directed in an Aug. 3 memo that text messages must be retained on all agency devices when users turn them in. 
Cuffari was asked to answer Peters' questions by Aug. 17. The other three recipients have until Aug. 31 to respond.