New bill sets federal penalties for drone misuse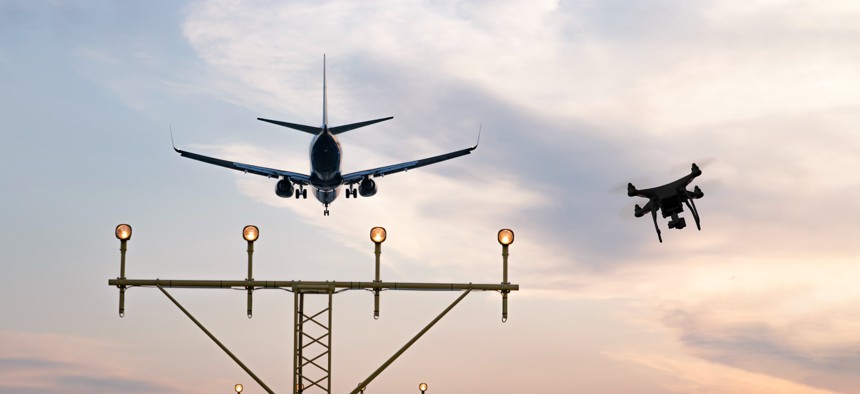 The Drone Act of 2022 would set new federal penalties for drone operators who weaponize drones, disrupt emergency operations or use the technology to deliver contraband into prisons.
A bipartisan group of lawmakers have introduced a new bill which seeks to establish comprehensive federal criminal laws prohibiting the dangerous and violent misuse of drones. 
The Drone Act of 2022 would provide federal guidelines to an emerging industry amid increased commercial and public use of drones. The bill adds criminal penalties for weaponizing drones with firearms, electromagnetic pulse devices and for interfering with aircraft, cars and boats. 
Rep. Mike Gallagher (R-Wis.), who introduced the bill last week with Rep. Dina Titus (D-Nev.), Rep. Josh Gottheimer (D-N.J.) and Rep. Peter Meijer (R-Mich), said in a statement that drones can pose a threat to national security when "in the hands of terrorist organizations, drug traffickers, or irresponsible operators."
"The Drone Act would create federal guidelines to ensure this technology is used responsibly and that bad actors are held accountable," he added. 
Drones have increasingly been used in recent years by organized crime including drug trafficking an human smuggling, as well as the delivery of contraband into prisons. Under the bill, those who attempt to smuggle contraband into a prison by way of a drone would be subject to a 10-year prison sentence. 
The legislation also penalizes drone operators who remove identification tags from their devices or disable transmissions and anti-collision lights. Ad and subject those who attempt to interfere with emergency response or law enforcement activity with two-year prison sentences. 
There are over more than 850,000 drones registered in the United States, according to the Federal Aviation Administration, including 314,689 commercial drones and 538,172 recreational drones. Currently, adding deadly weapons to a drone is a civil offense subject to $25,000 fines. 
Drone sales reportedly topped $1.25 billion in 2020 and forecasters predict increased growth for the use of delivery drones in the coming years. 
"Drone technology has the potential to transform the way we conduct business in our country," Meijer said in a statement. "At the same time, we must ensure that bad actors cannot use drones to facilitate illegal activity and cause harm to our society."