Buttigieg Underscores Urgency of Transportation Infrastructure Investment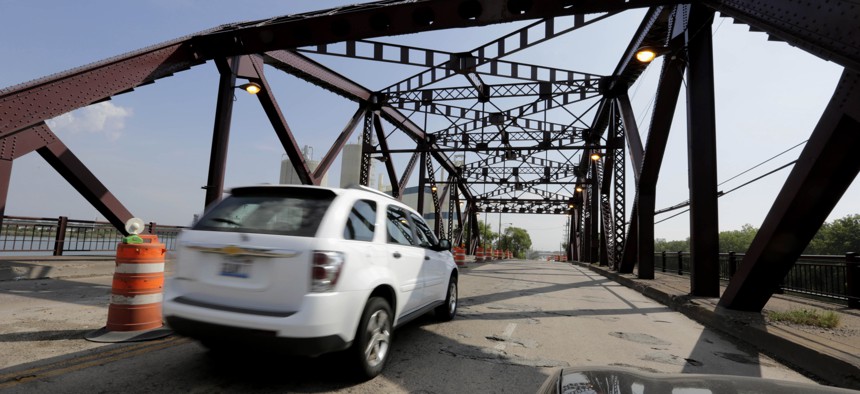 Republican lawmakers are skeptical of the scope of the Biden administration's planned infrastructure package, which the president is expected to provide more details on next week.
Transportation Secretary Pete Buttigieg warned congressional lawmakers Thursday that failure to address the nation's $1 trillion backlog of infrastructure projects poses "a threat to our collective future."
Buttigieg's first appearance on Capitol Hill, before the House Transportation and Infrastructure Committee, comes as the Biden administration is preparing a $3 trillion, two-fold investment package that focuses on infrastructure and domestic priorities.
"Across the country, we face a trillion-dollar backlog of needed repairs and improvements, with hundreds of billions of dollars in good projects already in the pipeline," Buttigieg told the committee. "We see other countries pulling ahead of us, with consequences for strategic and economic competition."
President Biden is expected to detail the infrastructure plan next week during a trip to Pittsburgh. Biden said Thursday that the initiative is necessary to rebuild "both physical and technological infrastructure of this country, so that we can compete and create significant numbers of really good paying jobs."
While Republicans and Democrats agree the country's roads, bridges and transit need significant investment, Republicans have signaled they will push back against a plan that strays too far afield from core transportation spending priorities.
The dynamic was on display during Thursday's committee hearing.
Buttigieg gave a broad overview of the administration's priorities, highlighting how the right investments in resilient transportation infrastructure could help address climate change.
Rep. Sam Graves, the ranking Republican on the transportation committee, said the bigger and broader a transportation bill gets, the less likely it is to garner bipartisan support.
"A transportation bill needs to be a transportation bill not a Green New Deal. It needs to be about roads and bridges," Graves said.  
Earlier this week, Senate Minority Leader Mitch McConnell said Biden's "so-called" infrastructure proposal "may actually be a Trojan horse for massive tax hikes and other job-killing left-wing policies."
Another test for the Biden proposal will be how the administration intends to pay for the infrastructure package. Prior transportation bills, which had bipartisan support, have gotten hung up as lawmakers struggled to figure out how to replace dwindling gas tax revenues to pay for major investments.
"I've heard loud and clear from members of Congress that an infrastructure bill needs to have at least a partial funding source," Buttigieg said.
Dwindling gas tax receipts due to more fuel-efficient vehicles are a chronic problem, eroding revenues flowing to the Highway Trust Fund, a major source of federal money for roads and transit.
Offering no details on the administration's funding strategy, Buttigieg said he was open to tapping user fees, general fund revenues or borrowing to finance the plan. A user fee system could rely on logging the number of vehicle miles travelled rather than gas consumption, but Buttigieg acknowledged there are still unresolved privacy concerns involving that strategy. A number of states have piloted VMT programs and Buttigieg said the federal government should study their findings.   
Rep. Daniel Webster, a Florida Republican, asked Buttigieg whether he would consider the idea of a national infrastructure bank as a way to finance such spending.
"It would be a mistake to neglect the possibility of mobilizing private capital," Buttigieg said. "The concept of an infrastructure bank is among the attractive ideas."