Bill allowing past cannabis users to become feds advances in House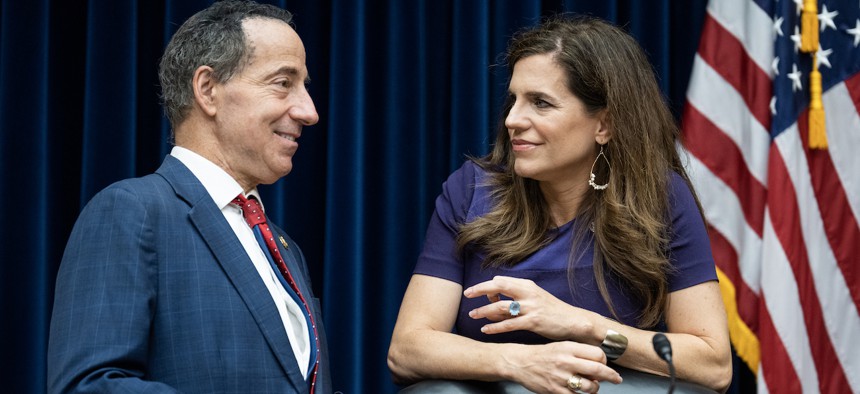 A House panel on Wednesday voted 30-14 to advance bipartisan legislation that would allow past marijuana users to qualify for security clearances and serve as federal employees.
The Cannabis Users Restoration of Eligibility Act (H.R. 5040), introduced by Reps. Jamie Raskin, D-Md., and Nancy Mace, R-S.C., would end the practice by which a job applicant's past cannabis use are unable to apply for jobs in the federal government and can be the basis of denying them a security clearance. The bill also would allow those who have been previously denied a federal job or security clearance to see reconsideration of that decision, provided it occurred in 2008 or later.
The rapid expansion of both medicinal and recreational marijuana programs at the state level in recent years has put pressure on the federal government to ease regulations barring federal workers from having ever used marijuana. Currently, 38 states and Washington, D.C., allow for the use of cannabis for medicinal purposes, while 23 states and D.C. enacted laws legalizing the sale and consumption of marijuana recreationally.
On the federal level, movement has been much slower, although it has picked up in recent years. In 2021, Director of National Intelligence Avril Haines issued guidance to agencies stating that cannabis should no longer be a "determinative" factor that leads to an automatic rejection of security clearance application. And last year, President Biden announced that his administration would review marijuana's status as a federal controlled substance.
Raskin said Wednesday that he introduced the legislation after a constituent of his was denied a job opportunity at the Centers for Medicare and Medicaid Services a week before their start date because they had admitted to using cannabis for medicinal purposes.
"Despite the rapid expansion of all of these laws across the country, thousands of our constituents every year are being denied a federal security clearance or are losing the chance of obtaining federal employment solely because they admit honestly to having used marijuana in the past, even when it was completely awful for them to do so," he said.
When it was first introduced, the CURE Act also barred the government from denying applicants for federal jobs or security clearances based on current cannabis use. On Wednesday, the House Oversight and Accountability Committee amended the legislation to remove those provisions.
But some conservative Republicans on the committee remained opposed to the measure, citing the alleged danger of marijuana and reciting old—and often debunked—myths about cannabis, such as contentions that it is an addictive "gateway drug" or causes users to become violent.
"We're seeing more and more research all over the world that excessive use of marijuana with higher levels of THC causes psychosis, depression and violence," said Rep. Gary Palmer, R-Ala. "This is a serious issue."
Proponents of the bill countered that federal policymakers did not rely on evidence when they first pushed to have cannabis labeled a Schedule I dangerous substance, instead moving to ban marijuana for racist motives, and argued that cannabis is less destructive than alcohol.
"If we are concerned about dangerous substance use or abuse, we ought to look first to alcohol, alcoholism and the addiction that runs there," Mace said. "It was Harry Ainslinger the bureaucrat who led the prohibition effort against marijuana many, many years ago. So lets quote him today: 'There are 100,000 marijuana smokers in the U.S., and most of them are n-words, Hispanics, Filipinos and entertainers. Their satanic music—jazz and swing—result from marijuana use. This causes white women to seek sexual relations with n-wrods, entertainers and many others.' The whole premise of prohibition of marijuana and cannabis use way back when was racist, and I'm not going to peddle in any future racism on that prohibition."
Rep. Clay Higgins, R-La., said he was opposed to the bill, albeit not for the same reason as most of his colleagues. He argued that Congress should first move to reclassify marijuana as a Schedule III drug, a move that is currently under consideration by the Biden administration, before taking ancillary steps like adjusting the federal hiring and security clearance processes.
"I was a cop for a long time . . . and had to deal with difficult situations, including fighting and arresting American citizens that were under the influence of probably every controlled substance and every combination of controlled substances that you can possibly imagine," Higgins said. "And I'll tell you, I never had to fight a guy who was smoking a joint. They're too busy sitting on the couch, eating Oreos and watching cartoons . . . Our real obligation as Congress, having allowed states to establish precedent now for many years, it is incumbent on the federal government to follow the lead of the states and we should take action to change the schedule of marijuana from Schedule I to Schedule III . . . or IV."
The bill now heads to the House floor for consideration.