USDS alum Lynn Overmann talks priorities in new role as Beeck Center's director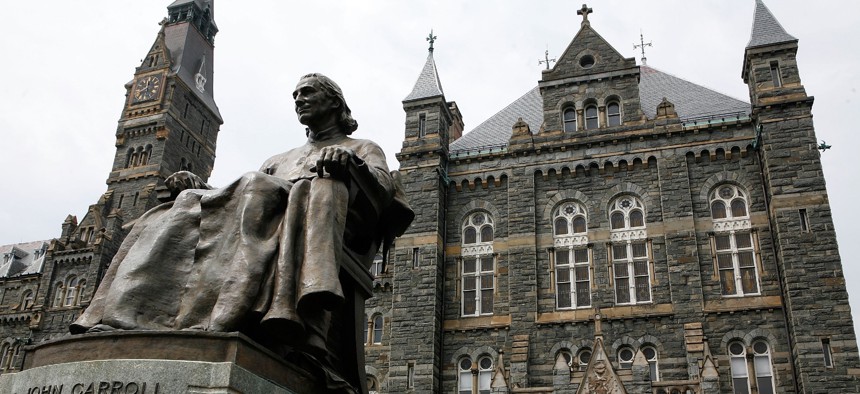 Just over half a year after Georgetown University's Beeck Center for Social Impact and Innovation lost its former director Cori Zarek to the deputy director post at the White House's U.S. Digital Service, another USDS-er, Lynn Overmann, is joining the center as its new leader. 
Overmann began leading Georgetown's interdisciplinary hub focused on tech, policy, data and design last week, taking over for the center's interim director and 18F co-founder, Aaron Snow, and arriving after it recently received $11 million in new funding combined from organizations like Bill & Melinda Gates Foundation, the Ford Foundation, the center's namesakes and others for its work to find technological solutions for societal challenges. 
She comes to the center having previously served as USDS' senior advisor for delivery, where she was working in the White House Domestic Policy Council as an advisor to its director, Ambassador Susan Rice, and USDS administrator Mina Hsiang. 
Overmann recently sat down with FCW to talk about her recent work at USDS and her plans for the Beeck Center.
Editors note: the following interview has been lightly edited for length and clarity.
FCW: Why are you moving to the Beeck Center?
This honestly was the only job that would pull me away from my past job. This last stint that I had in the federal government – I really, genuinely feel like it was the most impactful I've ever been able to be because I have that combination of being able to work on the Domestic Policy Council with Ambassador Rice, who is just an amazing leader, and I had the resources that were available to us from USDS. That combination of senior level support, and being able to identify the right policy priorities, plus actual capacity to deliver was a little bit magical.
I think the opportunity that the Beeck Center presents is somewhat unique for a number of different reasons… The fact that we've gotten such substantial support in the past few weeks … [and] I genuinely and really think that the way that the Beecks teed up with impact as our goal is a unique mission. 
Data, technology and delivery are not the solution, but they are very underutilized resources. So I think that combination of your mission is to drive towards impact and this set of tools that we're using right now is what made me most excited about coming here.
FCW: What are your biggest priorities?
So many of the critical safety net benefits that we know vulnerable populations rely on are delivered by states, so the levers at the federal level were a little bit limited, in that we had funding and we had guidance. I definitely think that there are ways that the feds can continue to maximize those tools to help support states as they're delivering these services. But really, the action is at the state level and I think the Digital Benefits Network is a really critical resource in that space, and I'm eager to help that team continue to grow and expand.
The other observation… continues to be that both at the federal and state and local level, we just don't have enough embedded capacity within government…I'm really interested in trying to figure out what are the next steps that we can take in this world to help agencies at all levels of government understand what they need, how to hire for it, and then how to successfully deploy those teams.
FCW: Let's talk about your last job at USDS and the Domestic Policy Council. My sense is that you were in a tech role, but you were using tech and data to address non-tech problems, like the infant formula shortage. 
To me, the magic sauce that we are starting to build better muscles around is that when you're looking at policy priorities and implementation, where and when do you bring in these delivery skill sets? My argument is you bring them in as early as possible, because oftentimes having technical people at the table will help you identify, actually… there's language that can go into bills or into appropriations that will make things more feasible to implement and some that will make them less so.
The infant formula crisis was a really interesting one. It was a very challenging one for the feds to tackle because this is an entirely private sector-driven process. One of the key challenges that we were really struggling with was the reality that the consolidation in the infant formula industry was what was at the root of the shortages... What USDS brought to the table was actual, real data assessment and ground truth that directly informed policy decision making in a way that would not have happened if we weren't there. 
FCW: What are the biggest challenges in this space as you see it? 
The biggest challenge that I have seen overall is problem identification. So I'm operating under a couple of assumptions. One is there is literally almost no policy problem where these sets of skills will not be helpful, and yet resource constraints are going to make it so that we can only really work on a few. That's another reason why we want to build up the pipeline. 
So where is that magic combination of high policy priorities that are most likely to have the most impact on the people – and I would argue that we should be really focusing on the most vulnerable in our communities – where digital service skills are most likely to maximize that impact?
One of the things I'm really interested in is figuring out ways that we at the Beeck Center may be able to help senior leadership get to that next level of understanding. Is there some kind of executive training that we could put in place, or we plus partners, or whatever that might look like for current leaders? And then one of the joys of sitting at a university is we've got the leaders of the future… Nobody should graduate from a policy school with a policy degree and not understand these skill sets and how to use them.
FCW: Do you have any examples of that prioritization work at USDS from your time there?
The reality of my last job, and this is very appropriate, was that Susan decided where we worked… She gave me my high-level direction, and then I would figure out where we should target the more granular work, and that, to me, is as it should be…. That was interesting, because I spent my first year at [U.S. Department of Agriculture] in a similar role, a senior advisor for delivery role, and I think the difference between my role at the DPC and my role at USDA was I didn't have the resources at USDA, so I can do the problem identification, but I couldn't do the execution.
FCW: What did those decisions look like in practice at USDS? 
It was very much a partnership. Susan had her priorities that she asked [former colleague Clarence Wardell] and I to figure out how to execute on. Some of them, candidly, Clarence and I just did ourselves… Then obviously, Mina Hsiang, the administrator of USDS, had a lot of thought and insight. It wasn't a blank check… It was, here are the policy priorities, here's where I identify that I think teams could be super helpful, and then a negotiation process with USDS as to what those resources look like and whether they should deploy resources.
FCW: What did you learn from seeing it from the agency side and then the White House side?
First of all, USDA is an amazing department… I learned that USDA is basically every other agency combined for rural communities. 
So it was interesting to me. This is an agency that has such tremendous resources, but… they, like many agencies, have some foundational technology needs that need to be addressed. And a lot of the ways that the programs were administered were largely implemented through outside contracts. So there was a lot of kind of core technology that was very much in need of updating and then there were a lot of kind of one step removed relationships on the kind of technology and delivery side that meant that it wasn't just a matter of convincing Secretary [Tom] Vilsack that we should be doing something – and he was 1,000% on board with it – it was a multiple steps to try to figure out how to kind of navigate with the existing contracts and with existing contractors. 
What I realized at USDA was that it is not just procuring the right technology, it is managing that once it's in. 
FCW: What else are you excited about at the Beeck Center?
I'm curious to try to figure out, what is the next thing over the horizon for civic technology? That is not an answer I have right now, but I would love to engage in asking those questions.