Trump vows to 'shatter the deep state,' revive Schedule F and move more agencies out of D.C.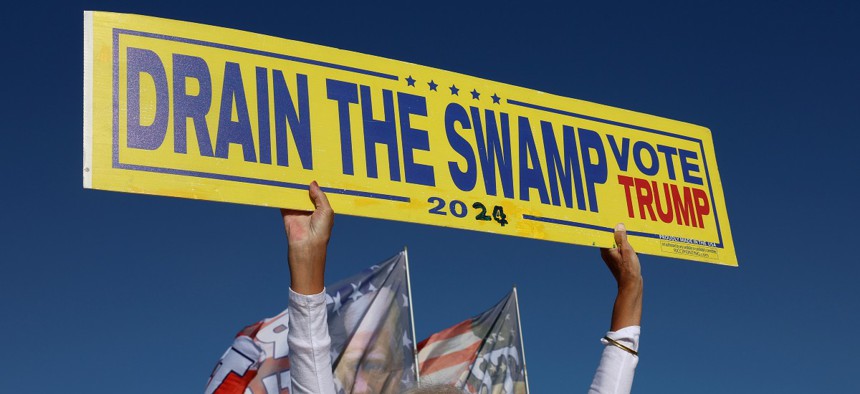 Former President Trump on Tuesday renewed his pledge, made a year ago, to revive an initiative to strip tens of thousands of federal employees of their civil service protections and "shatter the deep state" if elected again. 
In October 2020, the then-president signed an executive order establishing a new Schedule F within the federal government's excepted service for federal workers in policy-related jobs and exempting their positions from most civil service rules. The edict ordered agencies to identify positions that would qualify for the new job classification and convert employees in those jobs to Schedule F, effectively making them at-will employees.
Although some agencies had begun work on the process of finding and requesting permission to reclassify employees to Schedule F—and the Office of Management and Budget received the go ahead to convert 68% of its workforce to the new job classification—ultimately there wasn't enough time to implement the order before President Biden was inaugurated. Biden then quickly rescinded Trump's edict.
In a video message posted to Rumble, a YouTube alternative popular among members of the right that also hosts Trump's Truth Social social media platform, Trump, who declared his candidacy for president last year, vowed to revive Schedule F immediately upon his return to the White House and to remove bureaucrats in national security and law enforcement agencies, whom he claimed without evidence are "persecuting" conservatives.
"Here's my plan to dismantle the deep state and reclaim our democracy from Washington corruption once and for all, and corruption it is," he said. "First, I will immediately re-issue my 2020 executive order restoring the president's authority to remove rogue bureaucrats. And I will wield that power very aggressively. Second, we will clean out all the corrupt actors in our national security and intelligence apparatus, and there are plenty of them."
Accusations by Republicans that federal law enforcement have been "weaponized" against conservatives have come into vogue over the last two years, as prosecutors have pursued criminal charges against participants in the violent insurrection at the U.S. Capitol on Jan. 6, 2021. Trump himself is the subject of multiple investigations into his efforts to subvert the results of the 2020 presidential election and potential involvement in fomenting the deadly uprising.
Since leaving office, a cadre of former Trump administration officials have continued to work on Schedule F so that it can be reinstituted under a Republican president. The activists last year told reporters that they had already identified 50,000 federal employees who could be immediately moved to Schedule F and threatened with removal. And last month, Florida Gov. Ron DeSantis, who is widely expected to announce a run for the Republican nomination for president in the coming weeks, similarly endorsed reviving the initiative.
"Well, there was a proposal that I think a lot of us wanted to see under the prior administration to do a Schedule F," DeSantis said. "So anyone who has any policy role is classified as a Schedule F, and they can be removed by the president. The left would litigate that, but I honestly think we would win on that in the Supreme Court."
Trump on Tuesday also proposed a "crackdown" on whistleblowers at federal agencies, as well as plans to move more agency headquarters out of the Washington, D.C., area. During his term, a pair of science agencies in the Agriculture Department relocated to Kansas City, Mo., a decision that led to a mass exodus of employees and a loss of productivity from which the agencies only recently recovered. The Trump administration also moved the Bureau of Land Management to Colorado. The Biden administration has since announced plans to move BLM back to Washington, D.C.
"We will launch a major crackdown on government leakers who collude with the fake news to deliberately weave false narratives and to subvert our government and our democracy," Trump said. "When possible, we will pursue criminal charges . . . We will continue the effort launched by the Trump administration to move parts of the sprawling federal bureaucracy to new locations outside the Washington swamp . . . And I mean immediately out of Washington to places filled with patriots who love America, and they really do love America."
Trump also said that if reelected, he would move to make agency inspectors general "independent and physically separated from the departments they oversee. Currently, inspectors general are statutorily and budgetarily housed under the auspices of the agencies they oversee, although they are practically independent in that they can only be fired by the president and agency leaders are barred from interfering in their investigations.