Labor Secretary set to leave post for NHL players union, reports say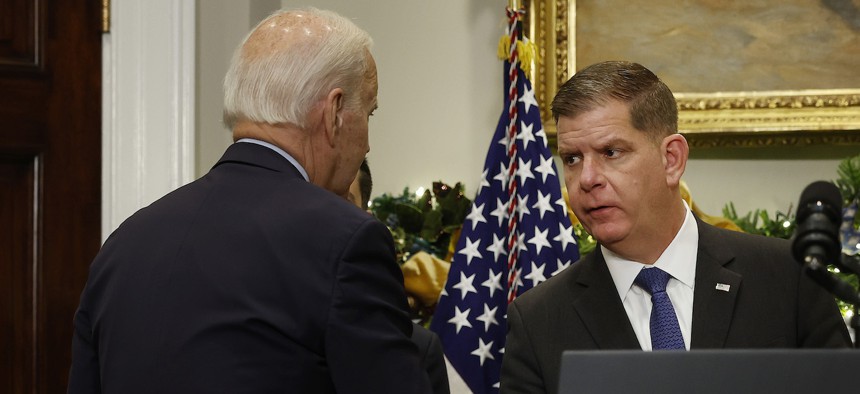 The news comes as some House Republicans set their sights on oversight for fraud in pandemic-era benefits programs including enhanced unemployment insurance.
Secretary of Labor Marty Walsh is reportedly leaving his post to lead a union of pro hockey players after just under two years on the job. 
Walsh, former mayor of Boston, union member and official, has been at the Labor Department since being confirmed in March 2021.
His plans to accept the role of executive director of the National Hockey League's Players Association were first reported by the hockey website Daily Faceoff. Multiple news outlets confirmed the report with sources familiar with Walsh's plans.
Walsh's departure comes as House Republicans are ramping up oversight of fraud in the unemployment program and other pandemic-era benefits, in addition to other investigations.
The House Oversight and Accountability Committee held its first hearing of this Congress last week on fraud in COVID relief programs, and the House Ways and Means Committee is set to probe unemployment insurance fraud later this week.
The Government Accountability Office estimated last month that at least $60 billion was lost to fraud in the jobless aid system from April 2020 to October 2021. 
The Labor Department has been working with funding from the American Rescue Plan Act to develop tech for states to use in the unemployment systems and push other efforts to prevent fraud and ensure access to benefits.
During Walsh's tenure, the department has also been pushing to restaff its worker protection agencies and implement an executive order to up the federal contractor wage. In its tech shop, the Labor Department has pursued efforts to boost the availability of the agency's data with funding from the Technology Modernization Fund, implement White House zero trust policies and more. 
Reached by email, a Labor Department spokesperson declined to confirm the news with FCW.