New ranking member could shake up a key Senate oversight committee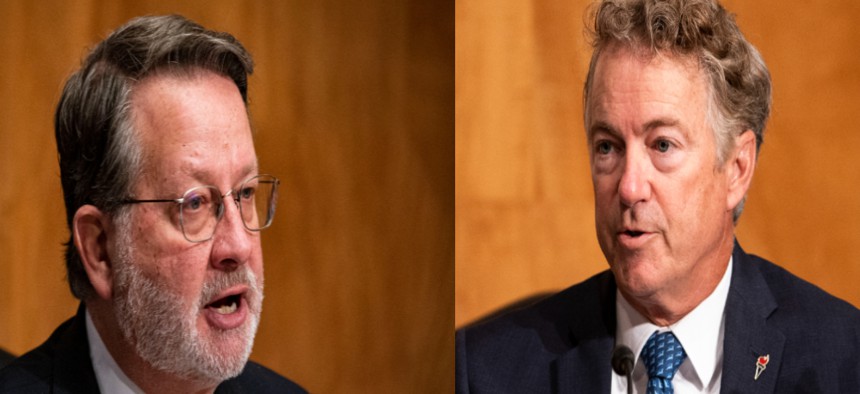 The libertarian-leaning Sen. Rand Paul (R-Ky.) has often butted heads with his own party and the opposing one, denounced federal spending and questioned agency authorities.
The Senate committee with the broadest oversight of federal agencies and their workforces will see a significant shakeup next year thanks to the reshuffling of a key leadership position. 
Sen. Gary Peters, D-Mich., will once again serve as chairman of the Homeland Security and Governmental Affairs Committee and recently told Government Executive he will focus on cybersecurity, domestic terrorism and other issues. Peters has largely led a committee without controversy, holding non-contentious hearings and working frequently across the aisle. He will face a new reality in the new Congress, however, when Kentucky Sen. Rand Paul takes over as the top Republican on the panel. The libertarian-leaning senator has often butted heads with his own party and the opposing one, denounced federal spending and questioned agency authorities. 
Paul last month gave few details on his priorities for the committee, but suggested he would work with Democrats.
"The Homeland Security and Governmental Affairs Committee's mission of oversight and investigations is critical to Congress reasserting itself, and as ranking member, I look forward to continuing the storied history of this committee's leadership in consequential bipartisan oversight and investigations," Paul said.
His pledge to lead investigations could stress his relationship with Democrats and create a more cantankerous environment than the one the committee has experienced in recent years. He vowed to uncover the origins of COVID-19, recalling his combative interactions with Biden administration officials who have testified about the pandemic. Paul told Government Executive he also wanted to spend time on border security, but said the lack of committee focus on COVID origins "boggles my mind" and stressed it would be his "number one" priority. 
Peters said he has already sat down with Paul to discuss potential areas where the two can work together. 
"I look forward to it," Peters said of working with his new ranking member. Asked if can continue the relationship with Paul that he had with retiring Sen. Rob Portman, R-Ohio, the chairman said, "I'm hoping." 
Peters and Portman helped shepherd two-dozen pieces of bipartisan legislation into law in the 117th Congress, with additional measures getting included in annual funding packages, defense authorization bills and the infrastructure agreement. Those included several reforms to federal disaster response, updates to cybersecurity at federal agencies, changes to federal property and efficiency policies, government transparency initiative and the first overhaul of the U.S. Postal Service in 15 years. They cosponsored many more bills and often worked together to usher through President Biden's nominees. 
Portman said he and Peters accomplished "a lot together"—with bills often getting out by unanimous consent—and he expects Paul can continue that trend.
"I think it's that kind of committee where, most of the work we did in committee, I viewed as nonpartisan," Portmans said, adding Paul is looking to take advantage of HSGAC's oversight role. 
Paul had seniority on two committees, HSGAC and the Health, Education, Labor and Pensions (HELP) panel. Ultimately, he chose the former. 
"He wanted to be able to do the oversight, which I completely understand," said Sen. James Lankford, R-Okla., who has for years served as the top Republican on HSGAC's panel on government operations and could have stepped up to ranking member for the larger committee if Paul had opted not to do so. "It is very necessary."
Lankford said Paul can find areas of bipartisan agreement and that he and Peters will "have to be able to work through" key issues. He suggested there could be major differences in how to resolve them, but anticipated that Paul could find success in at least allowing for broader ranging discussions. 
"Our frustration has been the lack of oversight in a lot of areas, border, immigration, so many different aspects," Lankford said, calling for more hearings on those topics. "When you see problems, you should all address it. You may disagree on how to solve it, but you all should be able to bring it up." 
Not all Republicans on the panel were as optimistic. Sen. Mitt Romney, R-Utah, noted Republicans' hands were tied because Paul had seniority. 
"He is what we got," Romney said. Asked if Paul would be able to work across the aisle, Romney said, "I just don't know," and added, "We'll see how he works." 
Democrats will once again hold the majority, but, with 51 votes in the Senate, will have to rely on Republicans less at the committee level. Still, they hope to continue with bipartisan achievements. 
"I work across party lines with whoever I need," said Sen. Maggie Hassan, D-N.H., who sits on the committee and plans to do so again next year. "I've worked with Sen. Paul in the past and I hope to again." 
Asked if he could maintain a good working relationship with Peters, Paul was non-committal. 
"We're gonna try," he said.