AI training bill becomes law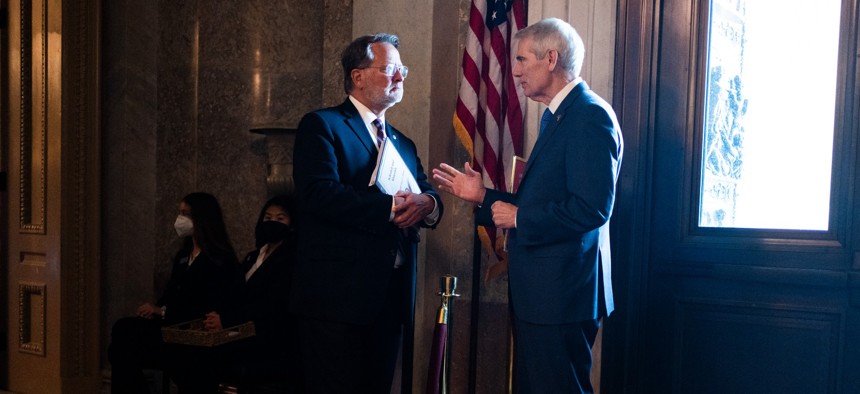 The measure is meant to ensure that feds understand the risks and benefits of artificial intelligence.
President Joe Biden signed a bipartisan bill to create an artificial intelligence training program for acquisition workforce into law on Monday. 
The proposal, called the AI Training Act, cleared the Senate in late 2021 after being introduced by the top Democrat and Republican on the Senate Homeland Security and Governmental Affairs Committee Sens. Gary Peters (D-Mich.) and Rob Portman (R-Ohio). 
The bill passed the House in September and was sponsored by the chair and ranking member of the House Committee on Oversight and Reform, Reps. Carolyn Maloney (D-N.Y.) and James Comer (R-Ky.).
"This commonsense, bipartisan legislation will train our federal workforce to better understand this technology, and ensure that it is used ethically and in a way that is consistent with our nation's values," said Sen. Peters in a statement when the bill cleared the House.
Now, the Office of Management and Budget is required to set up the training program, meant to ensure that federal employees know both the privacy and discrimination risks of AI, as well as the potential benefits of its use for the government. 
The training is meant for employees charged with program management, procurement and more.
"When the government purchases AI to improve government functions, we need to know that the AI we buy actually works and meets standards for ethics and safety," said Sen. Portman. 
Portman and Peters say that the bill also falls in line with recommendations for more AI training from the National Security Commission on Artificial Intelligence, which was chartered by Congress in the fiscal year 2019 defense policy bill.