'Stay vigilant:' Agencies issue warnings, take new steps to combat wave of threats against feds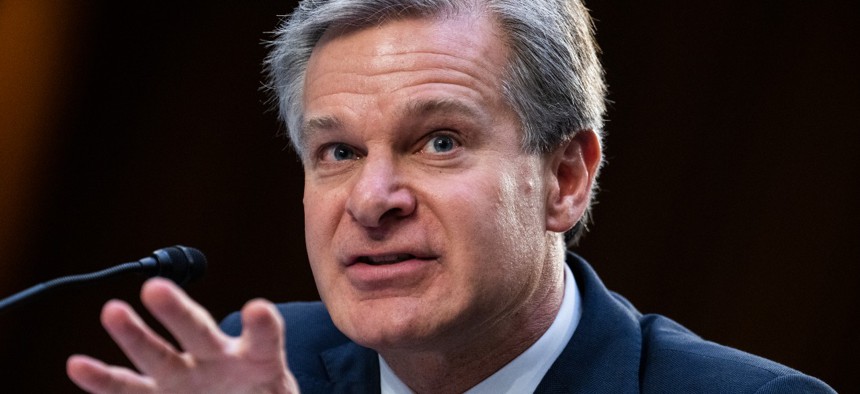 Federal agencies are taking precautions to protect employees in the face of growing threats against them, announcing security reviews and encouraging other steps to stave off potential danger. 
The threats, issued largely through social media, appeared to ramp up following rhetoric from conservative officials after a search for documents at President Trump's residence in Mar-a-Lago and the passage of a recent Democratic measure that will provide new staff and authorities to several agencies. Some lawmakers and employee groups subsequently sounded the alarm on the rising hazards federal employees were facing and the Biden administration has subsequently heeded the call to boost security efforts. 
The Environmental Protection Agency on Friday sent a message to employees cautioning them about increased risk to government officials. The agency, which will face a slew of new responsibilities under the Democratic Inflation Reduction Act, said it is committed to keeping employees safe and will "continue to work to address the well-being of our employees." It advised employees to keep an eye out for—and potentially contact law enforcement about—anyone expressing knowledge of violent activity, purchasing unusual weapons or body armor, expressing belief in conspiracy theories or attempting to radicalize others. 
"It is important to stay vigilant, be aware of your surroundings, and immediately report any suspicious activity to your local FBI Field Office," the agency said in its message to employees, telling them not to tolerate any threatening behavior while conducting work duties. "If you fear imminent harm or violence, remove yourself from the situation as quickly as possible and contact agency security and/or local police." 
Charles Rettig, commissioner of the Internal Revenue Service, said in a message to employees on Tuesday that recently there has been "an abundance of misinformation" related to the agency, which has been coupled with threats "directed at the IRS and its employees." He announced a comprehensive review of the agency's safety measures, including an examination of perimeter security around facilities, exterior lighting, security around entrances and other factors. The agency is working with its inspector general, the Homeland Security Department and local law enforcement to prepare for any issues and track "threat intelligence," Rettig said. He encouraged employees to do their part by reporting any signs of trouble. His message was obtained by Government Executive and first reported by The Washington Post. 
"For me this is personal," Rettig said. "I'll continue to make every effort to dispel any lingering misperceptions about our work. And I will continue to advocate for your safety in every venue where I have an audience."
Anti-IRS rhetoric skyrocketed in the run up, and subsequent, to the passage of the Inflation Reduction Act, which will provide the agency with $80 billion over 10 years. IRS will hire up to 87,000 employees with the funding, though most of that will go toward backfilling vacancies and countering future attrition. Still, many Republican lawmakers and conservative officials have attacked the hiring, calling it a danger for Americans and falsely describing the new staff as primarily law enforcement personnel. 
Rettig did not specify the nature of the threats against IRS employees, but noted that individual facility managers would be following up with specific guidance. The commissioner's message followed a letter from National Treasury Employees Union President Tony Reardon, who on Saturday requested the security review. IRS employees reported increased concern about their safety, Retttig said, adding those simply doing their jobs "deserve to be protected." He called on the agency to minimize employee field work while the dangerous rhetoric continues to circulate. 
EPA's Office of Enforcement and Compliance Assurance sent a second email to its inspectors offering additional warnings and reissuing guidance on "avoiding hostile situations." The office pledged to work with headquarters and others to solicit ideas for keeping field employees safe, review the proposals and put the best ideas into place as soon as possible. 
"We recognize that field staff, such as inspectors, may sometimes be subject to greater risk due to the nature of their work, physically being out of the office and interacting with the public," Larry Starfield, the head of the office, said in his email. "We want to do what we can to try to keep these field staff safe."
The EPA and IRS warnings followed a joint bulletin from DHS and the Justice Department that warned of "an increase in threats and acts of violence, including armed encounters, against law enforcement, judiciary and government personnel, in reaction to the FBI's recent executive of a court-authorized search" of Trump's home and social club in Florida.
"Out of an abundance of caution and to ensure the safety of our workforce and the security of federal facilities, we are encouraging you to remain vigilant and aware of your surroundings and to exercise caution as you go about your daily routine," the bulletin read. 
Attorney General Merrick Garland and FBI Director Christopher Wray have condemned the harassment and employee groups have called on lawmakers to tone down their rhetoric. An armed man was fatally shot earlier this month after attempting to breach an FBI building in Cincinnati. Reps. Carolyn Maloney, D-N.Y., who chairs the House Oversight and Reform Committee, and Stephen Lynch, D-Mass., who chairs its national security panel, wrote letters to several social media companies last week asking them to "take immediate action to address any threats of violence" against federal personnel posted on their platforms. They cited examples of posts in which individuals called on followers to "be ready for combat" and said FBI personnel "deserve to die."