Key agencies are shedding the exact employees they need to spend new infrastructure dollars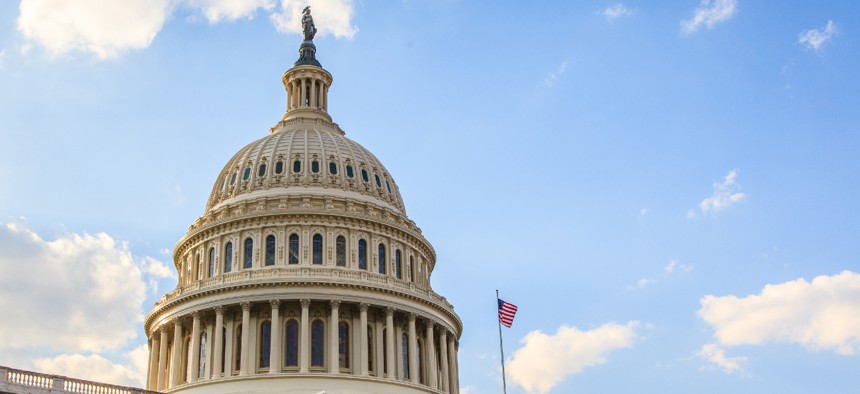 As agencies prepare to spend quickly send billions of dollars out the door to improve the nation's infrastructure as part of one of President Biden's signature legislative accomplishments, watchdogs are warning the administration is facing staffing shortages that could undermine the law's success. 
The General Services Administration, for example, received $3.4 billion under the Infrastructure Investment and Jobs Act, which will go toward constructing or modernizing 26 land ports of entry around the country. The changes are aimed at improving border security and the flow of travel and trade across the nation's borders. The agency is facing several obstacles before it can deliver on that mission, which administration officials have hailed as a key provision of the law the White House has repeatedly held up as one of President Biden's key legislative accomplishments. 
"America's land ports are vital to our economy and our security, with billions of dollars in goods and services crossing our borders each and every day," GSA Administrator Robin Carnahan said earlier this year. "These bipartisan investments are a historic opportunity to modernize our land ports in ways that will create good-paying jobs and strengthen supply chains, while enhancing safety and security."
Staffing needs related to implementation of the infrastructure projects will present "one of the most immediate challenges" GSA's Public Building Service will face in doling out the money, the agency's inspector general said in a recent report. Those workforce requirements will include qualified project managers and contracting officers, who will keep projects on time and on budget, in compliance with a myriad of rules and regulations, and within reasonable pricing constraints. GSA is entering the project with severe staffing shortages in those areas, however. 
PBS has seen nearly 13% of its project managers leave just since September 2021. The office lacks the requisite guidance and experience to implement the law, the IG said, including steps for calculating cost estimates for new construction. Contracting officers have demonstrated a lack of understanding of their responsibilities in awarding and managing contracts, the auditors added. During implementation of the American Recovery and Reinvestment Act, for example, the agency's contracting officers routinely failed to comply with competition and pricing requirements on major projects that exceeded $100 million. The IG cautioned that supply chain disruptions, inflationary pressures and difficulty in procuring land for new construction would all present increased challenges that GSA employees must confront as the agency begins spending on the port projects. 
The Biden administration previously warned agencies to prepare for significant hiring efforts to meet the requirements of the infrastructure law. 
"To achieve IIJA's goals, and to mitigate risk, agencies will need to engage in substantial efforts to hire qualified program staff and professionals to carry out the work at headquarters and field offices, as well as mission-support staff including human resources, contracting officers, grants managers, and data scientists," Office of Management and Budget Director Shalanda Young said in a memorandum earlier this year. 
Federal agencies across government are planning to hire for 8,000 positions to meet the demands of the infrastructure law, many of which will be filled using special authorities. Office of Personnel Management Director Kiran Ahuja told Government Executive earlier this year that her agency had launched a "big push" to help agencies set up strategic workforce plans and to get the new employees in the door. OPM created a special Schedule A expedited hiring authority to get thousands of climate scientists, structural engineers and clean water experts into agencies. While also working with individual agencies on their specific needs, OPM created a "talent surge playbook" to help agencies assess already available tools to quickly boost hiring.
GSA said it is taking steps to improve its workforce challenges related to the infrastructure law, which the IG said was critical to effective oversight of the new onslaught of spending.
"As it does so, PBS must focus on hiring, training, and retaining qualified staff, including project managers and contracting officers, to achieve the IIJA's goals and mitigate risk," the IG said. 
The Environmental Protection Agency's watchdog similarly warned about its parent agency's capacity to dole out the $55 billion it was allocated for state and tribal grants that "strengthen and rebuild the nation's infrastructure programs." In a report issued Monday, the IG highlighted staffing concerns as a key deficiency in the agency's grants administration and oversight. Its grant workforce has seen "high turnover and heavy workload" and was "already overworked." As of 2019, EPA's grant specialist positions were understaffed by 15%. 
Without addressing its staffing concerns, and preparing the new employees to properly oversee the vast new spending, the agency could fail to deliver on its requirements under the infrastructure law. 
"As the EPA increases its grant award workload and staffing under the IIJA, implementation of program controls over grants and planning for adequate resources could help to identify and address associated risks with the requirements under the IIJA, so that the agency achieves intended program results," the IG said. 
Other agencies have already begun the process of staffing up for infrastructure law implementation. The Energy Department has onboarded 100 staff as part of its Clean Energy Corps—a cadre of workers spread across 12 offices focusing on spending the $62 billion the bipartisan law allocated to the department—and plans to hire up to 1,000 total. House Republicans have criticized Energy for failing to release more details justifying the hiring and are seeking more information from the department.