The Biden administration ends COVID-19 testing aimed at unvaccinated workers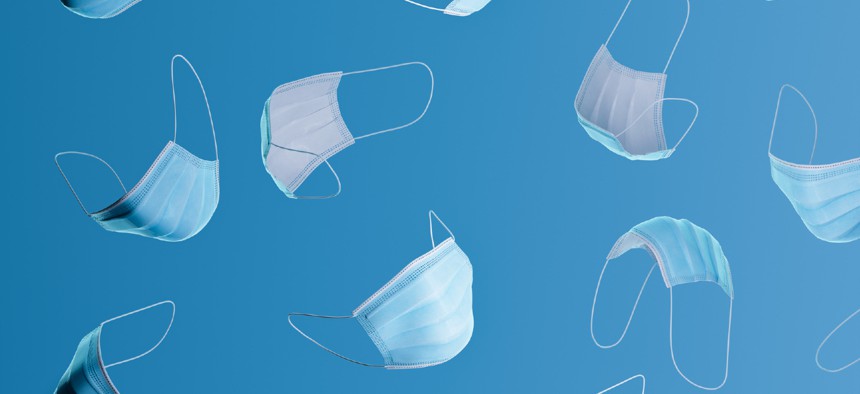 The Biden administration is instructing agencies to cease all COVID-19 testing aimed specifically at unvaccinated employees, marking a new approach in the fight against the coronavirus and the push to get all federal workers inoculated. 
Agencies will no longer conduct "serial screening testing" based on vaccination status as they shift away from differential treatment based on whether employees are up to date on their shots. They will also stop asking employees, contractors and visitors if they are vaccinated before entering federal buildings as they will no longer differentiate safety protocols based on vaccination status. The administration distributed the guidance in an email from the Chief Human Capital Officers Council, which was obtained by Government Executive and first published by Federal News Network. The changes will go into effect by Aug. 22. 
Some facilities in settings that require it will continue testing all employees. Agencies will not, however, initiate any new testing programs that are not already underway. Similarly, some agencies at certain sites can continue requesting vaccination information, but the council told agencies to stop using the governmentwide vaccination certification form. 
Unvaccinated employees with potential exposure to COVID-19 will no longer face different isolation requirements. Instead, they will follow the same protocols as their vaccinated colleagues. That means the workers will not have to stay home and quarantine after an exposure, so long as they remain asymptomatic. 
The administration is instructing employees to continue masking up in areas with high levels of COVID-19 transmission. They will also have to follow any requirements from local jurisdictions. 
The instructions come from the Safer Federal Workforce Task Force, which has yet to update its website with the new guidance. The CHCO Council said the group, made up of officials from the Office of Personnel Management, General Services Administration and White House, will do so soon. The guidance is intended to bring the federal government in line with new recommendations that the Centers for Disease Control and Prevention issued last week, which similarly reduced many of the distinctions in the steps vaccinated and unvaccinated individuals should take.  
Echoing CDC, the task force through the CHCO Council said vaccination is still critical, but the government's fight against the outbreak has evolved. 
"Compared to earlier in the COVID-19 pandemic, today the nation is in a stronger place with more tools—like vaccination, boosters, and treatments—that can protect us from severe illness from COVID-19," the council said. "Staying up to date with COVID-19 vaccines, including recommended booster doses, remains the best way to significantly lower the risk of severe illness, hospitalization, and death from COVID-19."
President Biden has not revoked his requirement that all federal employees are vaccinated, but the mandate is currently paused as a federal appeals court prepares to hear a lawsuit. Oral arguments are scheduled to take place next month. More than 100,000 federal employees were not vaccinated when the injunction went into effect, most of whom had requested a religious or medical exemption from the mandate. The Veterans Affairs Department has continued enforcement of its vaccine requirement, but as of July had disciplined just 74 employees in relation to it. 
The administration instructed agencies to work with labor groups to implement the changes. Tony Reardon, president of the National Treasury Employees Union, said he welcomed the new policy and had asked the White House's task force to implement it. 
"It has been clear that the screening testing of unvaccinated employees does little to protect the federal workforce when vaccinated and boosted individuals can spread the virus as well," said Reardon, who continued to call on employees to get vaccinated and for the administration to provide staff with masks and well ventilated workspaces. "The pandemic has proven to be a nimble foe and we must constantly reassess the actions being taken to keep federal employees safe and on the job. This screening testing program reflected circumstances that were no longer applicable to the current environment."