Ferriero to retire from National Archives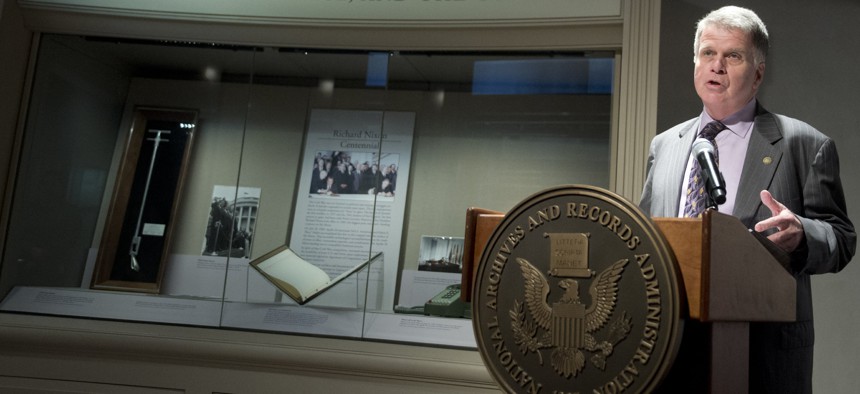 Archivist of the United States David Ferriero is retiring from his post in April after 12 years in the position.
David Ferriero, is retiring from his post as Archivist of the United States and head of the National Archives and Records Administration.  
In a Thursday announcement, Ferriero wrote that he'll be leaving in mid-April. He was first appointed by President Barack Obama and confirmed by the Senate in 2009. Deputy Archivist Debra Steidel Wall will be leading NARA until a new agency head is confirmed. 
"It has been the honor of a lifetime to serve my country once more, this time to lead the Executive Branch agency charged with ensuring that the American people can hold their government accountable and learn from the past by accessing the records of our country," Ferriero wrote in the blog post announcing his retirement.
"We have become a leader in the government's transition to a digital future, electronic records management, and the principles of Open Government," he continued. "We've served you, our customers, in new and innovative ways, including increasing public access and engagement through the online catalog and social media; streamlining how we serve veterans; expanding access to museums, exhibits, and public programs in person and virtually; and establishing civic literacy initiatives."
During his 12 years at the National Archives, Ferriero has overseen efforts to digitize its holdings. In an interview with FCW soon after taking the job, he said that he wanted the agency to be "recognized as the leader in managing electronic records — recognized within the government but also nationally and internationally."
And a deadline set in 2017 to stop accepting non-electronic records submissions from agencies in 2022 looks like it's still holding fast at NARA - budget documents for FY 2022 ask for funding to support a Dec. 31, 2022 deadline. 
In the last two years, Ferriero has also had to confront swelling backlogs in requests for veterans records, complicated by the pandemic's impact on the in-person work needed to access the paper records.