DHS launches new program to recruit, train climate professionals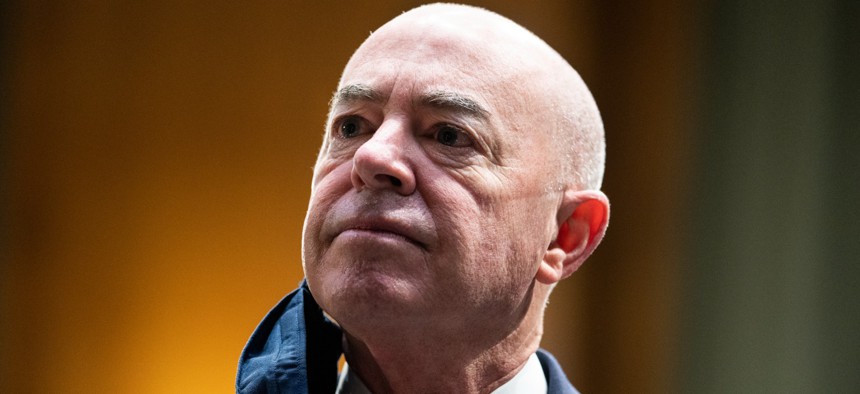 The program, designed to recruit recent graduates as well as current federal employees, is one of the department's efforts meant to focus DHS on adapting to climate change.
The Department of Homeland Security has a new program to bring in employees to work on its climate change efforts, called the Climate Change Professionals Program. 
The program is designed to recruit recent graduates and current federal employees alike, the department said in an announcement on Wednesday. Participants will be working on DHS initiatives to increase resilience and to adapt to climate change by addressing climate-related risks like flooding. 
The new cohort is one of several actions the department is pursuing under a "DHS Climate Change Action Group" established last year by DHS Secretary Alejandro Mayorkas. 
This coordinating group, composed of senior leadership, is currently working on a strategic framework for the department's climate change efforts, which include five priorities from making DHS facilities and infrastructure climate-resilient, including electrification efforts of the DHS vehicle fleet, to using climate adaptation planning in homeland security missions. Another priority is educating the DHS workforce on climate change issues.
The new Climate Change Professionals Program will be "instrumental" in DHS's climate efforts, Mayorkas said in a statement.
"This program will develop the next generation of climate experts, improve climate literacy throughout the Department, and help us execute our Climate Action Plan to remain mission-resilient while reducing our own impacts on the environment," he said.
This latest program will bring the new employees in for two years. It's to be run out of the DHS Office of Chief Readiness Support Officer. When participants finish, they'll get accreditation from the Association of Climate Change Officers as Climate Change Professionals. They'll also be eligible to be hired into permanent, full-time positions at DHS.
These efforts aren't DHS' first in recruiting hard-to-get talent into the department. The Climate Change Professionals Program is actually happening under an existing Secretary's Honor Program, which started in 2021.
The new, climate focused cohort is the second in that Honors Program, which launched a cybersecurity initiative last year.