Biden administration confirms it will mostly pause punishment of unvaccinated feds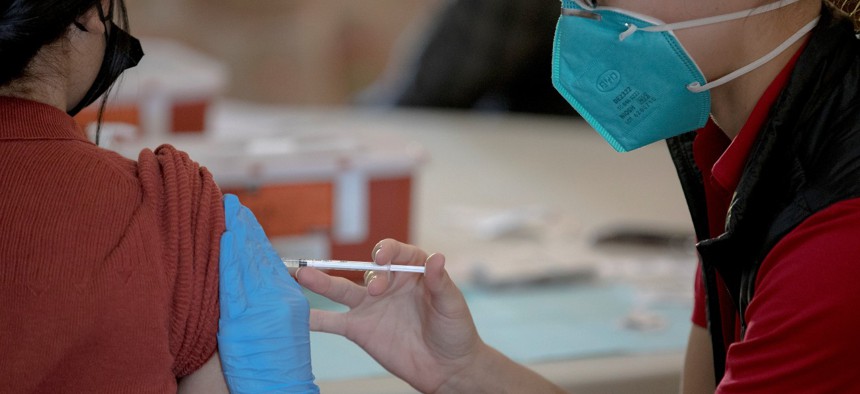 Just as the Biden administration was preparing to suspend thousands of employees across the government for failure to comply with its COVID-19 vaccine mandate, it has issued a notice that it will pause nearly all enforcement. 
The updated guidance brings the administration in compliance with an injunction from a federal court in Texas on Friday, which found that President Biden had overstepped his authority in issuing the executive order last September. The Biden administration had told the court that Friday was the first day that suspensions for some unvaccinated federal employees who had not requested a medical or religious exemption to the mandate would have begun, after it delayed those penalties late last year. 
"To ensure compliance with an applicable preliminary nationwide injunction, which may be supplemented, modified, or vacated, depending on the course of ongoing litigation, the federal government will take no action to implement or enforce the COVID-19 vaccination requirement," the Safer Federal Workforce Task Force, a Biden-created group led by officials in the White House, Office of Personnel Management and General Services Administration, said on Monday. It noted its other guidance related to mask wearing, quarantine, physical distancing, travel and testing remains in effect. 
The Justice Department has already filed an appeal on the ruling to the U.S. Court of Appeals for the Fifth Circuit challenging the injunction and the White House said on Friday it was confident in its authority to issue the mandate. The case, brought by the newly formed group Feds for Medical Freedom, is one of more than a dozen still pending that are seeking to overturn the mandate.  
The pause will not have an immediate impact on the vast majority of the federal workforce. About 98% of federal employees were already in compliance with the mandate, while more than 93% had verified they were vaccinated. Still, about 40,000 feds were facing punishment, which is now paused. More than 100,000 civil servants had requested an exemption from the mandate. Agencies were still sorting through most of those requests, but that work is now paused as well. 
One of the largest federal agencies, the Veterans Affairs Department, is leaving its vaccine mandate in place for most of its workforce. All employees of the Veterans Health Administration, about 380,000 workers, will still be subject to a vaccine requirement. VA issued its own mandate for those employees in July, prior to Biden's executive order for the rest of the federal workforce.
In an email to staff on Monday, VA Secretary Denis McDonough said the injunction does not impact its authority regarding health care personnel. While the Supreme Court recently struck down an Occupational Safety and Health Administration rule aimed at large employers, it upheld a Centers for Medicare and Medicaid Services vaccine mandate for private sector health care workers.
"As I have said throughout the pandemic, ensuring the health and safety of our workforce and the veterans we serve is my highest priority," McDonough said. "The best way to protect you, your families, your colleagues and veterans from all variants of COVID-19—including Omicron—is to get the vaccine and any recommended additional doses and booster shots, which provide strong protection against infection, hospitalization and death."
While 98% of the VA workforce was already in compliance with Biden's order prior to the pandemic, only 89% had been vaccinated—one of the lowest rates of any large federal agency. McDonough had warned in certain medical settings the department would reject exemption requests, meaning those employees would have to get their shots or face discipline. VA is still sorting through those requests for VHA personnel.  
This story has been updated with additional detail on VA.