White House says 90% of feds are vaccinated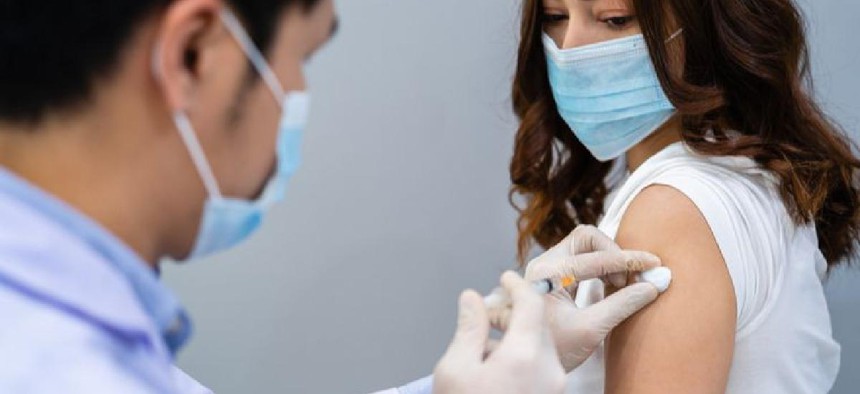 The deadline for the administration's mandate for feds to get vaccinated is here, but agencies still have to process exemption requests and go through the discipline process for anyone not in compliance.
More than 90% of federal employees have hit the Nov. 22 deadline for federal employees to comply with the White House's vaccination mandate, according to a senior administration official.
The milestone comes 75 days after President Joe Biden announced the requirement.
The "vast majority" of feds who have received at least one vaccine dose are fully vaccinated. When you add in feds with a pending exemption request or approved exemption for medical or religious reasons, that number goes up to 95%, the official said.
"These numbers make one thing perfectly clear: vaccination requirements work," the official said.
The deadline comes after a similar mandate for federal contractors was pushed back to early January, a move that prompted calls from the largest federal employee union that the feds' mandate also be pushed back to after the holidays, a wish that ultimately wasn't fulfilled.
More data will be coming in the days ahead as agencies process information from their employees. The Office of Budget and Management is going to release a summary chart with agency data on Wednesday.
The senior administration official also stressed that today "is not an end point."
"We continue to see more and more federal employees providing their information and getting their shots," they said.
The White House is also touting that so far, there haven't been disruptions to services, something that some pointed to as a potential effect if the mandate were to cause significant attrition from any who refuse to get the vaccine.
"There won't be disruptions to government services and operations. At each step of this process we'll see even more employees getting vaccinated," the official said.
Rep. Gerry Connolly (D-Va.), who chairs a subcommittee focused on the federal workforce and government operations, cheered the news.
"Federal employees remain ready to serve -- with public health at the forefront. Already, 95% of feds are in compliance with vaccine mandates that go into effect today. Some agencies are near 100% compliance," Connolly said in a statement. "Thank you, President Biden!"
What's next
Feds that still aren't vaccinated will either have requests for medical or religious exemptions processed or face disciplinary measures such as suspension and termination.
For exemption requests, that will be happening under the framework of reasonable accommodations for those who aren't vaccinated because of a disability, or because of a "sincerely held religious belief, practice, or observance," according to the White House's Safer Federal Workforce Task Force, which is directing agencies on the rollout of this mandate and other COVID-19 workforce safety matters.
What factors into that includes a long list: why feds are asking for the exemption; "the nature of their job responsibilities;" the effects of the claim on the agency operations, including the safety of other employees and the public from the pandemic, according to the task force.
There are circumstances where agencies can deny requests because the nature of the job means that "no safety protocol other than vaccination is adequate," the task force says.
Stephanie Rapp-Tully, a partner at Tully Rinckey who specializes in federal employment law, says that she's especially interested to see how agencies analyze religious requests, which generally aren't as clear cut as medical requests, which are supported by medical documentation.
The yardstick for religious requests is a "sincerely held religious belief." Rapp-Tully says she expects to see litigation on this front as agencies make decisions.
If the agency denies someone's accommodation request, feds will get two weeks to get a vaccine dose. If their exemption request is approved, they'll have to follow masking and distancing protocols for the unvaccinated. The task force's website also says that "additional guidance will be forthcoming regarding testing protocols for individuals who are exempted from the vaccination requirement."
Feds that haven't requested exemptions will be subject to discipline and possibly removal. That starts with five days of counseling and education, followed by a suspension of up to 14 days if there hasn't been any change in an employee's vaccination status.
Craig Carter, president of the Federal Managers Association and employee at the Norfolk Naval Shipyard in Portsmouth, Virginia, says that in his workplace, five-day education and counseling sessions are starting this week.
But exactly how this will affect his agency's operations, retirement rates, and more, if at all, is still unclear.
"I don't know how this is going to play out," he said. "We've never been through this. We don't have anything to compare it to."