Feds could see relief as Public Service Loan Forgiveness gets a reboot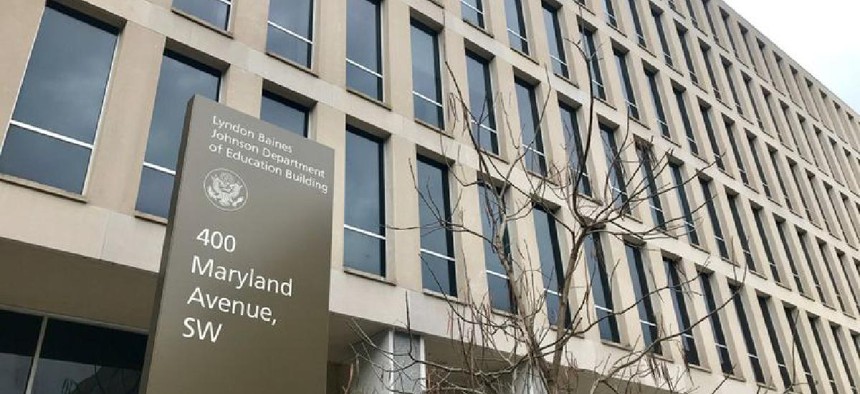 The program, meant to wipe the student debt of eligible public servants, has rejected the vast majority of applications it's received.
Image credit: DCStockPhotography/Shutterstock.com
The Department of Education is overhauling the poorly performing Public Service Loan Forgiveness Program.
The program is meant to wipe student debt for eligible public employees, but the overwhelming majority of applications are rejected – 98%, according to the agency's latest data, spanning Nov. 9, 2020 to April 30, 2021.
"To build back better we must fix the systems that have been broken for too long," wrote Secretary of Education Miguel Cardona in a tweet on Friday, Oct. 3 about the forthcoming changes, which were first reported by National Public Radio.
The department is simplifying the rules for the program, including more loan and repayment plans, and automating the eligibility process for feds and military. A new servicer is coming in to run the program, replacing the Pennsylvania Higher Education Assistance Agency.
The program, authorized by Congress on a bipartisan basis in 2007, has been the subject of mounting criticism for confusing eligibility requirements and mismanagement.
Under the rules of the program, individuals who are employed full-time by a U.S. federal, state, local or tribal agency or government who have direct loans and have made 120 payments on an income-driven repayment plan are eligible for loan repayment
But many have seen their applications blocked by administrative errors, been given inaccurate information about their own eligibility by loan servicers, or made ineligible because they didn't have the right type of loan to qualify.
Some of the changes will address a major group of borrowers affected by rules around what payments count towards that 120 mark.
Most borrowers who don't yet qualify simply don't meet that 120 month requirement, according to a quarterly report from this summer by Federal Student Aid, an office within the Education Department. Close to half of those don't qualify because of rules for older, non-eligible federal student loans, FSA said.
Although borrowers can consolidate ineligible loans those into direct loans, which are eligible under the program, the clock for 120 payments starts over when they do that, meaning that they don't get credit for any employment or payment on the old loans.
A new limited waiver program to address that. It will run through Oct. 31, 2022 and make all loan types and payment plans eligible for the program. This means that any prior payments made working for a qualifying employer will count, including those made to older Federal Family Education Loans before they were consolidated into eligible direct loans.
The department estimates that this fix alone will help over 550,000 borrowers.
The changes also include automating eligibility for the program for feds and military service members via data matching; giving a pathway for borrowers to correct application errors; and easing the ability for military service members to get credit for the program during service.
The Education Department also says that it is streamlining the application process and reviewing denied applications.
Rulemaking around the program is also in the works. The Department says it is considering using this to create a permanent reconsideration process for denied applications.
One thing the department isn't doing is matching the calls for it to automatically forgive the loans of student borrowers who've been in public service for a decade or more. The forthcoming changes come after mounting pressure from Democrats in Congress, unions, student and consumer groups and workforce organizations.
The American Federation of Government Employees and National Treasury Employees Union have each joined campaigns urging the Department of Education to cancel student debt for public service employees who've worked a decade or more.
"There is no doubt that the Public Service Loan Forgiveness Program encouraged more college graduates to put their talents to work for the American people by joining the federal workforce," said NTEU National President Tony Reardon in a statement to FCW. But "after keeping their commitment to that service for 10 years, it is reprehensible that nearly every applicant was denied and many more were misled into believing they did not qualify."
Both were also part of an organized effort via the Student Borrower Protection Center to submit comments to the department's request for information, which has garnered over 48,000 comments since it opened on July 26, 2021.
Ultimately, the program has the potential to attract and retain feds.
Earlier this week, Office of Personnel Management director Kiran Ahuja and Sen. Don Beyer (D-Va.) both praised the program. Beyer called it "the best retention tool we have."
Tech officials at the Department of Defense have also spoken about the potential of loan forgiveness as a recruitment tool, although the Government Accountability Office has reported that the program underutilized as a recruitment tool at DOD.