What will the new Digital Corps look like?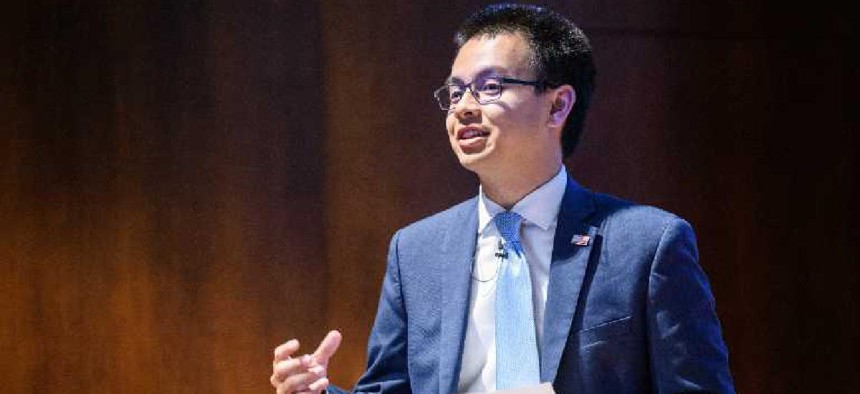 Technology talent with a desire to serve is out there, says Chris Kaung. There just aren't many places for them to get into public service early in their careers. The U.S. Digital Corps is meant to fix that.
When Chris Kuang was in college, he searched USAJOBS for an entry-level tech job in government. The only thing that came up was an unpaid position installing basic software.
He wants to change that with the new U.S. Digital Corps, a two-year fellowship set to launch with about 30 fellows in 2022, which he co-founded with the intention that it becomes an onramp into public service for young technologists.
Kuang already has experience founding initiatives to bridge divides between young tech talent and government. He helped launch Coding It Forward, a nonprofit aiming to create new pathways for social impact and civic tech for young people, and the student-initiated internship program, Civic Digital Fellowship.
Kuang spoke to FCW in a recent interview about the genesis of and goals for the program. The following conversation has been lightly edited for length and clarity.
FCW: What's the origin of U.S. Digital Corps?
Chris Kuang: In government, I think one thing that we've always seen is that opportunity hasn't always been available to folks who are just starting out their career.
If you had five or 10 years of experience, great, you had all of these opportunities and on-ramps. But if you're just coming out of school, perhaps, or you've completed a boot camp or apprenticeship program, and you're looking for your first or your second job, you were kind of out of luck. And it wasn't necessarily because there wasn't work for you to contribute, or that kind of background or level of experience wouldn't be valuable in government, the mechanisms didn't exist.
So where the Digital Corps came from is that realization that the need in government is significant, and that early career technologists have a way of contributing, whether they're software engineers or data scientists or really any number of technical fields.
FCW: How does it differ from other tech-centered "tour-of-duty" programs like the U.S. Digital Service, 18F and the Presidential Innovation Fellows program?
Kuang: The Digital Corps is designed to attract folks for whom it might be their first job, not just in government, but their first job, full stop. I think that is really unique. One of the long-term goals for the program is to be able to build a bridge for these folks to kick-start a career in public service.
Some of the existing programs have a tour-of-duty model, which has been very successful... One thing we hope to add to this ecosystem is perhaps that longer-term pathway.
We're looking at about 30 or so in our first iterations in 2022 with our cohorts and partner agencies, but … we believe that it can scale perhaps a magnitude higher than that to really be meeting the size of the gap in the tech workforce.
FCW: How are you planning on competing in a tight market for tech talent?
Kuang: What the federal government can compete on and has done a really fantastic job and been successful with for a long time is competing on mission, on impact and on the work that is possible only here in government.
We feel strongly that there's a unique opportunity, a moment in time, and I think a broader recognition than there has been in the past, that technology is crucial in the effective operation of our government. Its effect can be seen in really any interaction that folks are having today, and that impacts our view and our trust in our public institutions.
I think that is a mission and a line of work that a lot of folks will be attracted to. And I think that we're seeing that on college campuses, we're seeing that with the number of organizations that have been stood up in recent years, that folks who are studying technology are looking for these elements. They're looking for their work to be meaningful, and I think the Digital Corps is designed to bridge the supply of talent that's wanting and has been wanting to get involved and the agencies and assets of federal government that have been looking for this talent for a long time.
FCW: What will fellows work on? Will they have dedicated projects over their two-year stints, or will they work on multiple initiatives?
Kuang: We're hoping that the Digital Corps fellows will be working on high-impact projects, many of which might be aligned to priorities across government. So whether it's coronavirus response, or economic recovery, racial equity, cybersecurity -- a laundry list of items that touch technology.
We expect them over the course of their two years to have multiple opportunities on different areas within that agency to contribute on different projects or to understand different initiatives, but there also might be fellows who really find a niche and say, "hey this is project where I have a unique value add and I want to contribute for the duration over two years."
We don't necessarily have a preference, other than ensuring that the fellow has the opportunity to contribute in whatever way their skillset and interests would add the most value… It will vary from agency to agency, from project to project as it does, but we're confident that fellows will be working on really high-impact work and meaningful initiatives.
FCW: What details can you give about the benefits and pay will fellows get?
Kuang: Digital Corps fellows will be full time federal employees, so they'll have all of the federal benefits that are extremely competitive, as well as a competitive salary... So they will be coming in for those two years, if not, we hope, a lot longer.
FCW: If your goal is for fellows to stay in public service after their time in the Digital Corps ends, what support are you going to be giving to further that goal?
Kuang: The support for the fellows is really going to be end-to-end. It's going to start on day one, and most likely before they even onboard into government, in recognizing for many of our fellows this might be their first professional opportunity, full stop.
We'll have a dedicated learning and development curriculum over the course of the two years to make sure that fellows are growing not just as technologists, deepening as a software engineer or becoming a better designer, but feeling like we're also investing in them personally…
In the Digital Corps, we believe strongly and we've seen a lot of success in other programs with a cohort based model. We're not just going to have fellows scattershot across government, but they will be part of this cohort-based community… So really the support that a Digital Corps fellow is going to have is going to be high-touch, it's going to be intentional, really helping them acclimate [and] be effective over the course of two years.
FCW: Do you know if the program is going to be remote, in-person or hybrid?
Kuang: What we do know and what I will say is that [GSA's] Technology Transformation Services where all of us are hosted and where the Digital Corps is living has really been on the leading edge of building successful remote and distributed teams even before the pandemic. So I think we're hoping that we can learn from that experience, and learn from the shifts and the developments that we've seen in the last year and a half, to understand how we can best support not only the fellows that are participating but the agencies in getting value and impact out of the program.
What that looks like still remains to be seen. Obviously, there's kind of broader shifts that we are going to have to respond to, and I think we will continue to keep an eye on it.
FCW: And finally, what are your goals for the program, fellows and the agencies they work for?
Kuang: The goals of the broader program obviously are to bring in the next generation of technology leaders here in government … and ultimately for the agencies to really close some of their technology talent gaps.
So we're hoping that this will be a launching pad and a stepping stone for these fellows to bring their skills in to serve, and for really all folks who are starting out, to see themselves saying, "I can use my skills to advance kind of the work of our government and to serve the American public."