Labor Department seeks funding for staffing surges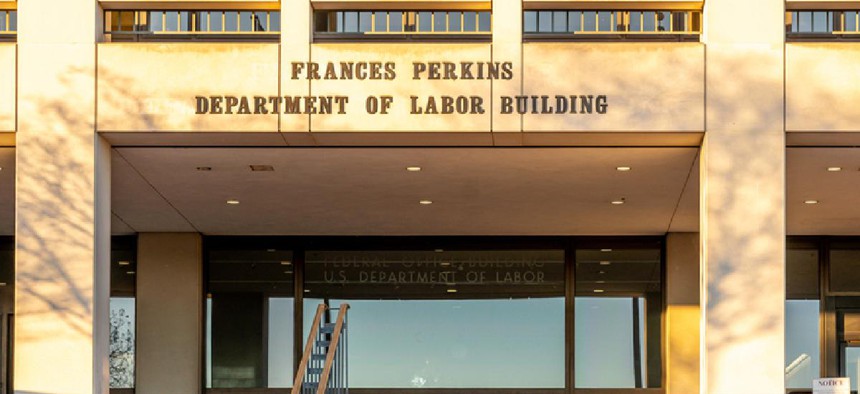 During testimony on the hill this week, Labor Secretary Marty Walsh also gave lawmakers insight into the department's work to combat unemployment insurance fraud.
The Labor Department wants to staff up to combat shortages across the department, including in worker protection agencies like the Occupational Health and Safety Administration, Secretary Marty Walsh told lawmakers at a July 14 Senate Appropriations subcommittee hearing.
The Biden administration's budget request proposes a 13.5% staffing surge at DOL, which would mean an additional 2,100 full-time-equivalent employees.
The department has around fewer 3,000 employees than it did four years ago, said Walsh.
"If we don't have the staff and don't have the employees to protect the workers, then we can't be on the job sites. We can't be checking wage and hours. We can't be making sure people are working in safe conditions," he told lawmakers. "Our intention with this investment that we're asking for today, and with the intention of the American Rescue Plan, is to staff back up to build back pre-four-years-ago level, but also enhance that."
The Department of Labor isn't the only civilian agency looking at a proposed staffing surge next year.
President Joe Biden's fiscal year 2022 budget request asks for an increase of over 50,000 full-time equivalent civilian employees in the Executive Branch. That increase is not uniform across agencies, though: some cabinet agencies would see decreases in staffing and others, increases.
Worker protection agencies within DOL in particular have lost 14% of their staff over the last four years, Walsh wrote in his testimony.
The Office of Federal Contract Compliance Programs is one worker protection agency at DOL. It enforces nondiscrimination laws for federal contractors.
It currently has 421 employees, as compared to a high of 755 in fiscal year 2011. Staffing levels have prompted reshuffling of the office's work so that it can "maximize … very limited resources," an agency leader told FCW.
The Occupational Safety and Health Administration, which enforces workplace health and safety standards, has also been "severely understaffed," Walsh said.
"Certainly we'd had a difficult time keeping up with the average volume of business, but when you throw COVID-19 and the atrocities of some of the workplaces in our country with COVID-19, it made it very complicated," he said. "We are currently in the process of hiring up and staffing up at OSHA so that we can have more inspectors who can go out to job sites."
An August 2020 DOL Inspector General audit of OSHA's inspection process found that it had severe issues in addressing increased levels of whistleblower complaints during the pandemic. OSHA is charged with enforcing various whistleblower protection laws, such as those that make it illegal for employers to retaliate against workers who report unsafe working conditions, along with other health and safety regulations.
"The problem we have with OSHA is that we have seen an increase in cases and we've also seen a decrease in OSHA inspectors," Walsh said. "We're seeing increased potential problems and we have fewer people to go out and investigate those problems, so we have a lot of cases that are going kind of unchecked if you will."
DOL wants to double the number of OSHA inspectors by the end of Biden's first term, Walsh said. The Department's budget lists 1,820 FTEs in FY 2020 and proposes 2,250 for FY 2022.
"So what we're doing here is making sure that we have enough inspectors out there that when an employee calls the office with a complaint, we're able to respond to that and not have it sit in a pile," he said.
DOL received $100 million in the American Rescue Plan for OSHA and is requesting an additional $73 million funding increase in its budget request.
The COVID relief funding will help restore the office to levels closer to five years ago, Walsh said, while new funds will enable to office to expand beyond that. Walsh said he wants the office to do more proactive work with businesses, as opposed to compliance.
Unemployment insurance
During the hearing, Walsh also elaborated on the department's plans to deal with a myriad of problems surrounding unemployment insurance, including fraud.
The agency is asking for $100 million in its budget request to develop unemployment insurance technology to deploy in states, which deliver the benefits. Many have antiquated information technology systems that struggled to scale up to meet rising demand during the pandemic.
DOL also received money in the American Rescue Plan to address unemployment insurance.
The agency is starting by sending teams into states to give technical assistance and learn what challenges exist. DOL will also focus on ID verification, technology modernization and grant-giving to states, Walsh said.
The budget request also states that the department will update the funding formula for state workforce agencies, a mechanism state officials have said inhibits tech modernization.