Small drones, training could be standard issue for service members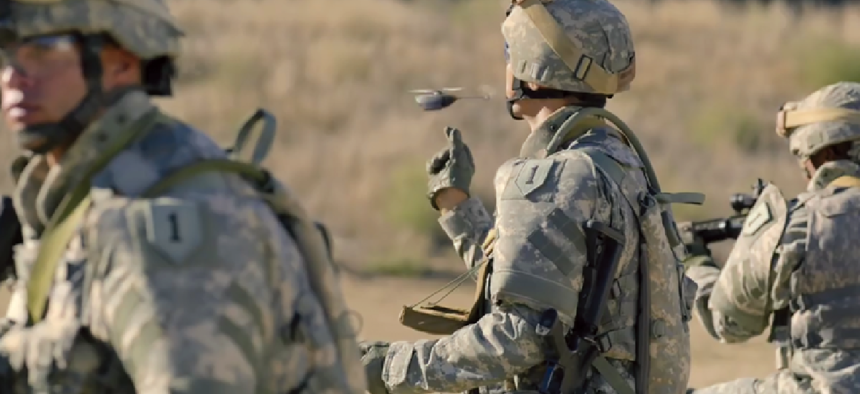 The Defense Department is planning to incorporate drone training for every service member as part of its counter small unmanned aerial systems strategy.
Small drones could become as ubiquitous as smartphones for service members as the Army leads the Defense Department's counter unmanned aerial systems strategy.
Col. Marc Pelini, division chief for capabilities and requirements for the Pentagon's Army-led Joint Counter Small UAS Office (JCO), said the idea is to make counter UAS job "agnostic."
"I think inherently the Army is really looking hard at making counter UAS a [military occupational specialty] agnostic platform where...anyone from a cook to a medic to an infantryman, tanker can operate the system," Pelini told reporters on Feb. 2.
As a result, the Army is looking to shape requirements and materiel solutions to have intuitive user interfaces, while also developing complementary training that can be "institutionalized and promulgated out to the force," he said.
Maj. Gen. Sean Gainey, who is the director for the JCO and Army Fires in the G3/5/7, said the Army is using the Army's Fires Center of Excellence to help create a Joint Counter UAS Center of Excellence, which will lead the training efforts for the military. A location for the academy is undecided but the new center would be stood up in fiscal 2024.
"We are consolidating training through Yuma where we have an academy [and] brought a majority of our systems out to, and we're inviting operators to come out...[obtain] orientation of the system and teaching them how to employ the system and maintain the system," Gainey said, adding that training has to be "embedded" even with leadership.
The comments come after the Pentagon released its counter small UAS strategy, highlighting the potential data siphoning and cyber threats posed by the devices' explosive growth.
The Army is also planning two industry demonstrations this year, the first of which is scheduled for early April at Yuma Proving Ground in partnership with the Air Force, focusing on low-collateral effect interceptor capabilities.
Gainey said the ultimate goal is to align existing counter UAS solutions for warfighter needs and use resources more efficiently.
"The cost of prevalence in this threat can be everywhere and affect every echelon," Gainey said, "you have to have that capability pretty much in as many locations as you can."