Manchin's opposition could sink OMB nominee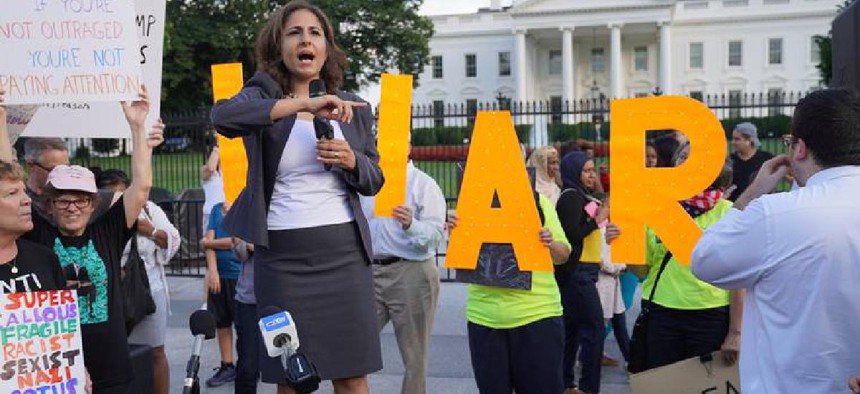 President Biden's pick of Neera Tanden's to head the Office of Management and Budget is in peril after a powerful centrist Democrat has announced his plan to vote no on the nomination.
Tanden addresses a rally outside the White House on July 17, 2018. (Image credit: Phil Pasquini/Shutterstock.com)
President Joe Biden looked like he was set to run the table on his cabinet picks after a slow start to the confirmation process, but that record is in jeopardy after Friday's statement from Sen. Joe Manchin (D-W. Va.) announcing his opposition to the nomination of Neera Tanden to serve as director of the Office of Management and Budget.
Tanden's selection was controversial because of her history of digital combat on Twitter when she served as president of the Center for American Progress, a liberal think tank in Washington, D.C. Tanden targeted powerful lawmakers and random policy wonks with pointed posts, often sent in the early morning hours.
Many of Tanden's tweets targeting lawmakers, including Senate Budget Committee Chairman Bernie Sanders (I-Vt.) and Sen. Mitch McConnell (R-Ky.), now the minority leader, have been deleted, but the content and tone of her posting was a major topic at her confirmation hearings before the Senate Budget Committee and the Senate Homeland Security and Government Affairs Committee.
"Senator, I must have meant them, but I really regret them," Tanden told Sen. John Kennedy (R-La.) of her mean tweets at a Feb. 10 Budget Committee hearing.
For Manchin, a Democrat from a state that voted for Trump by a margin of almost 40 percentage points in November, the record of incivility to fellow lawmakers was too much to swallow, according to his statement.
"I have carefully reviewed Neera Tanden's public statements and tweets that were personally directed towards my colleagues on both sides of the aisle from Senator Sanders to Senator McConnell and others," Manchin said in a statement released on Friday. "For this reason, I cannot support her nomination. As I have said before, we must take meaningful steps to end the political division and dysfunction that pervades our politics. At a time of grave crisis, it is more important than ever that we chart a new bipartisan course that helps address the many serious challenges facing our nation."
Initially, Tanden's nomination drew fire from the left wing of the Democratic party, because of her frequent policy battles with Sanders and his supporters.
"There were vicious attacks against progressives, people who I have worked with [and] me personally," Sanders said in his questioning of Tanden at the Budget Committee hearing.
Despite this history of mean tweets, Sanders appeared poised to support Tanden's nomination. However, even before Manchin's announcement, it looked as if the vote would be far closer than most of Biden's other successful cabinet nominations. Defense Secretary James Lloyd Austin was confirmed on a vote of 93-2; Veterans Affairs Secretary Denis McDonough won approval on a 79-7 vote; Treasury Secretary Janet Yellin was approved on an 84-15 vote. The closest vote so far was the approval of Alejandro Majorkas to lead the Department of Homeland Security by a vote of 56-43.
With Manchin as a no vote, Tanden will need the approval of every Senate Democrat plus at least one Republican vote to win on a tiebreaker, assuming the nomination goes forward.
On Friday, Biden told the White House Press pool that he wasn't going to pull the Tanden nomination.
"I think we are going to find the votes and get her confirmed," Biden said according to a pool report.
"Neera Tanden is an accomplished policy expert who would be an excellent Budget Director and we look forward to the committee votes next week and to continuing to work toward her confirmation through engagement with both parties." Jen Psaki, the White House press secretary, said in a statement issued after Manchin announced his intention to vote no.
There's already speculation about possible candidates to replace Tanden should she withdraw or lose her nomination vote. The potential snag comes at a tough moment for OMB, which is more behind than usual in the creation of the Biden administration's first budget proposal because agency officials under President Donald Trump declined to meet with or cooperate with transition staff.
The OMB director also plays a key role in steering the president's management agenda and overseeing multiple interagency councils, as well as the management of federal CIO and the heads of federal acquisition policy and regulatory policy.