Temporary Excused Paid Leave sounds good but is hard to come by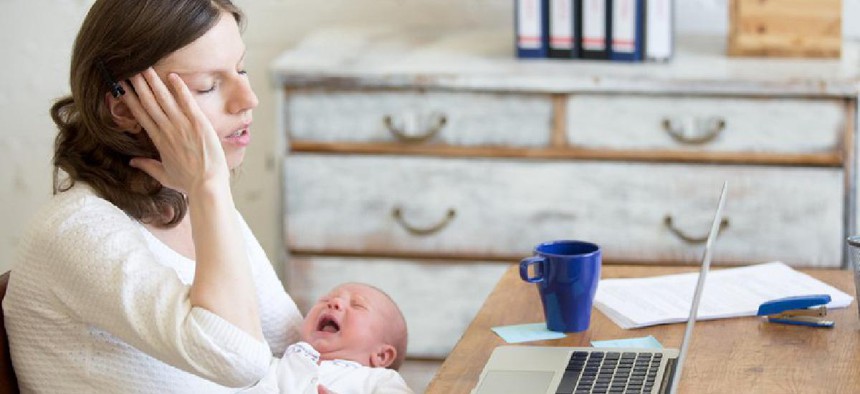 The federal government is allowing agencies to grant caretaker employees Temporary Excused Paid Leave in limited circumstances during the coronavirus pandemic, but employees at many agencies are experiencing obstacles obtaining the benefit.
The Office of Personnel Management published a fact-sheet last month that advised agencies to grant federal workers flexible work schedules to accommodate any caregiving duties.
Federal agencies are permitted to extend the excused leave to employees required to telework who have dependent care obligations under certain circumstances. There are a few hoops to jump through: typically, employees are required to exhaust annual leave, sick leave, the paid leave supplied under the Families First Coronavirus Response Act and maxiflex telework schedules before the Temporary Excused Paid Leave comes into play.
Feds are able to request, at least according to one participating agency, 20 hours per pay period capped at four hours per day and 10 hours per week of excused paid leave. The policies are expected to be evaluated during every pay period that includes mandatory telework due to the coronavirus pandemic.
The excused paid leave provision covers challenges related to school and daycare closures, dependent care lapses, and taking sanitary measures such as cleaning and sheltering-in-place to ensure compliance with local health measures due to the coronavirus pandemic.
Despite the measures that the federal government has taken to ensure that remote work is possible, agency employees say that the excused paid leave provision is not being rolled out evenly, burdening workers who have children and dependents.
FCW has learned, for example, that the Interior Department has so far not extended the benefit to its employees.
At the Environmental Protection Agency, federal employees have apparently been waiting for weeks for a decision to be made.
The American Federation of Government Employees' Deputy General Counsel Cathie McQuiston said that the EPA was considering implementing a temporary paid leave policy for its caretaker employees, but that the agency continued to put off making a final decision despite unions' requests for the provision weeks ago during bargaining sessions.
EPA briefed agency unions on April 9, McQuiston told FCW in an interview, and the paid leave option was discussed.
"They kept saying they were looking into it. We said, 'You've been looking into it for a while. It [feels] like you're trying to run out the clock and let the pandemic be over while you're still thinking about it.'"
Joyce Howell, Vice President of AFGE Local 3631, which represents EPA workers in Philadelphia, echoed the same sentiment.
She said that while EPA has been more flexible on things such as hours of work and start/stop times, they've put up roadblocks when it comes to relieving strapped parents or those who have elderly relatives to care for.
"EPA has not elected to utilize administrative leave or weather/evacuation pay to give relief to caretakers. Our bargaining unit members who are caring for small children, elderly parents and disabled dependents are suffering," she said in an email to FCW. "They have enormous integrity, they put in the work hours for which they are paid. But the net result is sleep deprivation."
Bethany Dreyfuss, the President of AFGE Local 1236, which represents EPA attorneys in the Bay Area, said that part of the issue was that the EPA said it could only make a blanket decision at the national level.
"We're being told it's a national thing and we have to wait for the [Washington] D.C. headquarters to make a decision," she said in an interview. "At the same time, my members are using up sick leave, personal leave, and using leave banks [leave donated by other agency employees] to make up the difference."
Dreyfuss said she had polled her bargaining unit and found that most respondents wouldn't use the leave.
"Any fear that it would be taken advantage of is unfounded. There are a number of people for whom a few hours a week would make an enormous difference, and for some 10 hours a week would be life-changing."
Dreyfuss noted that IRS invoked an evacuation order weeks earlier that allowed their care-burdened federal employees to take temporary leave.
A request for comment to EPA was pending as of publication time.
Employees at the Department of Veterans Affairs report similar concerns.
Sheila Elliott, the President of AFGE Local 2328 in Hampton, Va., said that in addition to ongoing concerns about a lack of personal protective equipment and unsafe working conditions, the VA was slow to implement policies for healthcare providers seeking relief, including parents and caregivers.
"I had one member who had taken temporary leave to take care of her son at home. Her supervisor called her and told her that if she didn't report back to work, she would be terminated."
FCW obtained a March 23 memo from the Veterans Health Administration Executive-in-Charge, Richard Stone, to agency leaders clarifying that no leave was available to excuse employees who were tasked with caring for children or other dependents.
"There is no authority to approve Weather & Safety Leave or Excused Absence for childcare," Stone wrote.