The government reorganization plan: There may be a pony in there after all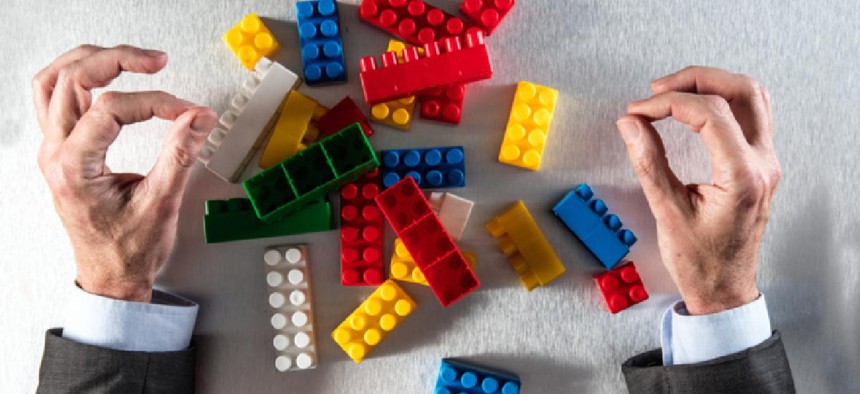 Attention and criticism have focused on the proposed org-chart changes, Alan Balutis notes, but the real opportunities lie elsewhere.
Office of Management and Budget Deputy Director for Management Margaret Weichert faced significant skepticism regarding the White House's plans to reorganize the federal government during a recent House hearing, with members of both parties pushing back on key parts of the plan. Most of the attention, as has been noted, focused on the 1950s-era, box-shuffling parts of the plan -- merging the Departments of Labor and Education, privatizing the Postal Service and reorganizing the Office of Personnel Management. Yet lawmakers neglected to ask the more important questions.
Reorganization remains a popular prescription for many of the ills of government. But the simple fact is that we know very little about what types of reorganization promote efficiency, whether proposed reforms will do what they sponsors say they will, or whether major adjustments in structure or processes will make an agency a better place in which to work, a more effective institution or a more responsive organ of government.
Reorganizations also can have traumatic effects on an organization and its employees. And, many argue, unwarranted emphasis should not be placed on efficiency as grounds for reorganizations. Economy as grounds for reorganization is a will-o-the-wisp. The simple fact is that public administrators and organizational theorists know very little about what types of reorganization promote efficiency.
So perhaps it might be better to turn our attention to other elements of the plan – those that have drawn less attention and criticism but may present the greatest opportunity to achieve the intended end stage: a 21st century American government.
Several observers have already noted key ideas that didn't make many headlines:
Evidence-based policy to strengthen the quality of information and to increase the capacity of federal agencies to conduct evaluations
The creation of a non-governmental, public-private partnership to develop new approaches for government to meet the needs of citizens -- the Government Effectiveness Advance Research (GEAR) Center
A push to end paper record keeping by the end of 2022
Standardization of cybersecurity personnel recruitment
A strong cross-cutting call to improve the customer experience for Americans and to create a citizen-centric government
IT as a force multiplier and at the heart of government service delivery models.
Like the President's Management Agenda released earlier this year, the reorganization plan promotes the use of modern technology to improve service delivery as a central tenet.
Since the plan's release, another idea has resurfaced – reinstating the president's reorganization authority, an expedited procedure that prohibits filibuster. That authority was available to the White House up until 1984. In 2012, when then-President Barack Obama proposed a major trade reorganization, similar legislation was proposed in a Democrat-controlled Senate. But – like some of the restructuring elements – such legislation may require a greater degree of trust and comity than currently exist in Washington.
So next steps? Here is a five-part plan to advance us towards a 21st century government
First, move smartly on the six not-headline-making elements noted above, as well as any other parts of the plan that can be accomplished without congressional approval. But do so in partnership with the legislative branch, federal employee unions and other interested parties.
Second, establish a 21st century Hoover Commission to rethink government today . Private-sector management is dramatically different than it was 50 or 60 years ago; it's different than it was even 10 to 15 years ago. But government is largely the same -- wedded to old ways of managing its people and its processes. It is time for a fundamental rethinking of how government is organized; how it partners with the private and nonprofit sectors; and how it manages its processes, its people and the like.
The original bipartisan Hoover Commissions, headed by the respected former president, were appointed from 1947-1949 and again from 1953-1955 to find ways to reduce the number of government agencies and increase their efficiency in the post-World War II and post-Korean War periods. The commissions were composed equally of Democrats and Republicans; aided by a body of experts, they reviewed the entire federal government and made recommendations for streamlining and trimming costs. The challenges today are no less daunting, and there hasn't been a similar broad look at our government in more than 60 years.
Third, commission a study with title "Government Worker: 2025" -- perhaps modeled after the excellent Gartner Group reports on this topic. Few government agencies make lists of the "Best Places to Work." But government needs to become an employer of choice; one with well-defined career paths, access to the right tools and technologies, training and development programs, work-life balance, fair performance evaluation processes, and all the things that make an organization a desirable place to work.
Fourth, provide early-out authority across government, to encourage the remaining baby boomers to retire from public service . Why do such a thing? The average age of government employees continues to rise. And while employee loyalty and staff retention rates in the federal government can only be envied by the private sector, a changing of the guard is long overdue.
Again and again, when we are asked what the government needs in order to change, the answer is not new legislation, or regulation, better systems or another presidential initiative -- although all are important. The common answer is, "We need to change the culture." And to change the culture, we need to change old thinking, old ways of doing business, old management styles. We need to change many of the senior people. It is time for them to go. It is time for them to go so that a new generation can take root and begin to lead the government to a more mission-oriented, solution-minded, enterprise-wide approach to current challenges.
Finally, find new models for government. Heavily indebted and increasingly broke, the federal government needs new approaches. That may mean doing more with less, a reduced role for government; vesting communities and individuals with fresh powers, and peddling a new era of volunteerism. The weakness of the current bureaucratic, 20th century government in dealing with accelerating changing is only part of the multi-flanked attack on traditional notions of government management.
The strategy consultant Gary Hamel is a leading advocate for rethinking management. He's building a new, online management "laboratory" where leading practitioners and thinkers can collaborate on innovative ideas for handling modern management challenges. No new model has yet emerged, either for corporations or for that Fortune One company, the federal government. This much, though, is clear: It will need to be flexible, agile, able to quickly adjust, and ruthless in relocating resources to new opportunities and challenges.
Power and decision-making will need to be pushed down the organization as much as possible, rather than concentrated at the top. Traditional bureaucratic structures must be replaced with ad-hoc teams of peers, who come together to tackle projects and then disband. Information gathering will be broader and more inclusive. New mechanisms will need to be created for harnessing the "wisdom of crowds." Feedback loops will need to be built that allow services to constantly evolve in response to new information. And change, innovation and adaptability all must become the norm.