As disability claims mount, VA needs to ramp up automation, lawmakers say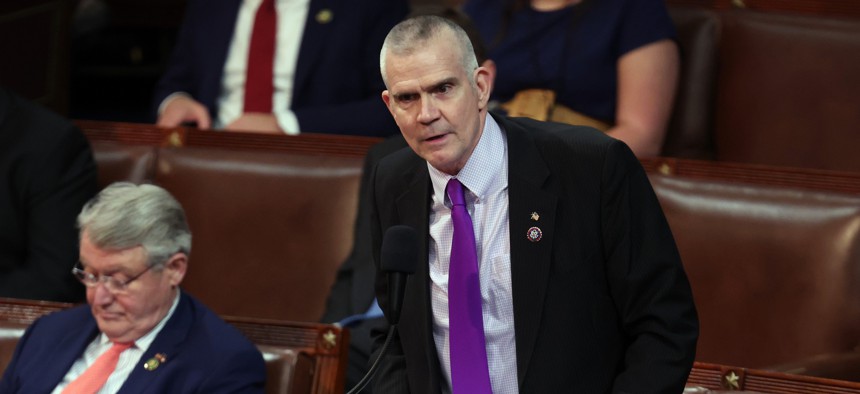 The Department of Veterans Affairs is working to enhance its processing of veterans' benefits claims by employing automation and other technologies, but lawmakers are concerned that the department will be bogged down by new claims before modernization efforts can enhance VA's benefits management system. 
During a joint hearing held on Tuesday by the House Veterans' Affairs' Disability Assistance and Memorial Affairs Subcommittee and Technology Modernization Subcommittee, lawmakers discussed VA's efforts to upgrade its Veterans Benefits Management System — or VBMS — to better meet the needs of veterans submitting claims to the Veterans Benefits Administration.
VBMS, which was established in 2012, transformed VA's benefits claims process from a paper-based system to one that existed in a digital environment. That transition — and other modernization and optimization efforts to the system in the ensuing years — better positioned the department to process claims across different IT systems and offices.
The Honoring our PACT Act of 2022, which President Joe Biden signed into law last August, further expanded eligibility benefits for veterans who were exposed to burn pits and other toxic substances during their military service. 
The law also included a provision requiring VA to submit "a plan for the modernization of the information technology systems of the Veterans Benefits Administration," including outlining how automation can be used, in part, "to increase the speed and accuracy of claims processing decisions."
Rep. Morgan Luttrell, R-Texas — who chairs the Disability Assistance and Memorial Affairs Subcommittee — said VBMS "was an important step for VA to dig them out of the last claims backlog crisis," but added that the Veterans Benefits Administration "has not kept pace with the private sector, resulting in unreliable and outdated systems" — particularly as the department moves to modernize its benefits claims process amid the increase in PACT Act-related claims. 
During a media roundtable last month, VA Undersecretary for Benefits Joshua Jacobs said that VA has received roughly 30% more claims since the PACT Act was signed, and expects its claims backlog to grow "potentially up to 400,000" next year as a result of the law's expanded benefits eligibility. 
"I was encouraged by [the Veterans Benefits Administration's] five-year modernization plan that we are here to discuss today," Luttrell said during the hearing. "As part of this plan, VA is piloting automation technology to help decrease the time to process a claim from months to days, and hopefully hours. I understand that this technology may not be able to meaningfully reduce the backlog until two years from now. However, some veterans don't have two years to wait for this technology."
Raymond Tellez, VA's acting assistant deputy undersecretary for automated benefits delivery, said that lessons learned during the COVID-19 pandemic — which led to a temporary increase in VA's claims backlog — underscored the need for "increased digitization of relevant paper records and evidence, leveraging of data and utilizing existing medical evidence to avoid ordering unnecessary exams."
In December 2021 — prior to the PACT Act's passage — he said the Veterans Benefits Administration "established a proof of concept for automated decision support," which included automating administrative tasks and workflows in the claims process "by determining eligibility, gathering evidence and auto-ordering exams when necessary for consistent, accurate and timely decisions." The automated capabilities were further expanded to "additional medical conditions," as well as eight regional offices. 
As of Tuesday's hearing, Tellez said that "57 automation-eligible diagnostic codes, including all 26 PACT Act presumptive conditions, have expanded to 16 regional offices." He added that the Veterans Benefits Administration "is on track to expand automation to an additional 103 diagnostic codes related to some of the most frequently claimed conditions, such as hearing loss, mental health and musculoskeletal conditions."
Tellez highlighted in his written testimony that VA is now automating roughly 68% of veterans' initial claims through the department's Evidence Intake Center, which digitizes paper mail for inclusion in VBMS. Since May 2020, he said that mail automation "has established over 2.7 million claims representing over 7.6 million individual contentions."
Tellez said that "I think there will be some increased time" in processing as a result of an expected uptick in PACT Act claims, but added that, "as we are deploying more and more automated decision support tools, adopting more technology, I hope to prevent that happening for more [claims]."
Rep. Matt Rosendale, R-Mont. — who chairs the Technology Modernization Subcommittee — noted VA's shift toward automation in the past few years, which he said "is, without question, the right approach." But he warned that the automation employed by the department today "is closer to the state-of-the-art 1990s, rather than 2023."
"The only way to avoid another major claims backlog is to give employees advanced automation tools to eliminate menial tasks and boost productivity," he said, adding that "we need to close the gap very quickly in order to handle the tidal wave of claims stemming from the PACT Act and prevent another huge backlog."
Even as VA is working to hire more employees to process veterans' claims, some of the department's personnel voiced concerns about the shift toward more automation — both for current staffers, as well as for the reliability of the overall claims process.
David Bump — national representative for the National Veterans Affairs Council and a vice president of the American Federation of Government Employees' Local 2157 in Portland, Oregon — said AFGE was "concerned about the negative effect on veterans of replacing human processors with technology."
"To make sure that all claims have to be reviewed at some point during the process by human claims processors, it is important that our collective approach to the use of technology emphasizes that information technology supplement, and not supplant, the [Veterans Benefits Administration] workforce," he added.