Maloney Introduces Presidential Records Reform Bill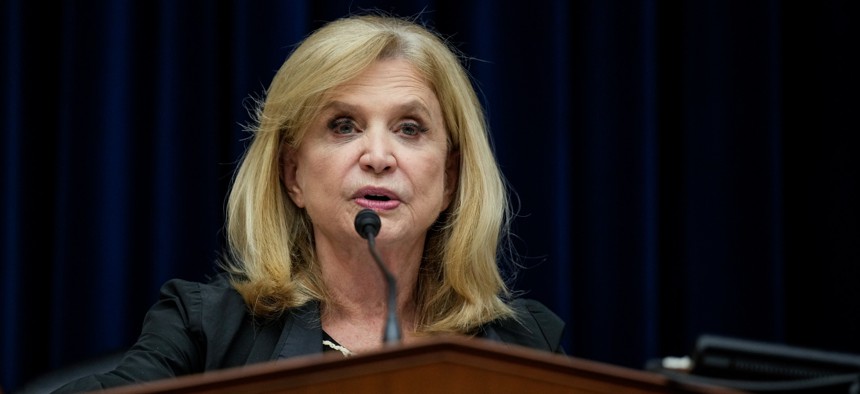 Outgoing House Oversight and Reform Committee Chair Carolyn Maloney (D-N.Y.) has a new bill meant to beef up compliance with White House records requirements.
House Oversight and Reform Committee Chair Rep. Carolyn Maloney introduced a bill to strengthen accountability around presidential recordkeeping requirements in the wake of ongoing legal battles over White House documents taken by former President Donald Trump after leaving office. 
FBI agents raided Trump's Mar-a-Lago club and residence in Florida in August to retrieve more than 20 boxes of records, including classifed material. The Justice Department has an ongoing probe into the situation. 
"Even as we continue to investigate the full extent of this troubling conduct and the damage it has caused, it is clear that our law needs reform to prevent future abuses," Maloney, a New York Democrat, said in a comment about the new bill, which she called "a commonsense step towards increasing accountability."
Called the Presidential Records Certification Act, the measure would require future presidents, vice presidents and other White House staff to annually certify that they are complying with record-keeping requirements and will do the same on their way out of office. It would also set civil penalties up to $50,000 for willful violations of this certification requirement.
The measure is meant to beef up accountability around the Presidential Records Act, which marks official presidential records as public property to be managed by National Archives and Records Administration.
Maloney has been leading an ongoing investigation into Trump's recordkeeping for months. Her Senate counterpart Sen. Gary Peters (D-Mich.) has also previously expressed interest in legislating around recordkeeping, although he has yet to introduce anything on the measure.
Now Maloney, a 30-year veteran of the hill, is on her way out of Congress after losing a primary race against Rep. Jerrold Nadler (D-N.Y.) in a redrawn congressional district. It's not yet clear which Democrat will take the helm of her committee in the next Congress, which oversees public records in addition to a slew of other government issues, or which party will control the halls of the House and Senate.