Treasury chief: IRS modernization is coming soon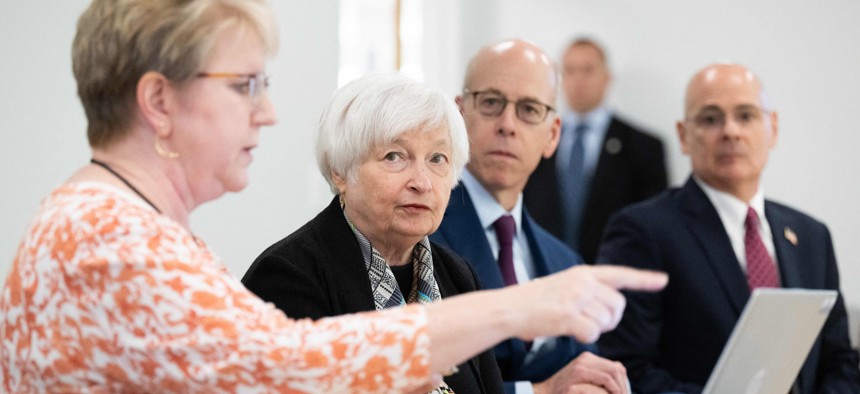 Treasury Secretary Janet Yellen pledged to improve customer service for taxpayers by increasing the IRS workforce and modernizing obsolete technology in a speech to agency employees in Lanham, Maryland on Thursday.
Yellen said the tax agency plans to tap $80 billion over the next 10 years included in the Inflation Reduction Act, signed into law last month. 
"The American public - and you - deserve an IRS that meets its expectations in a modern society," she told agency employees, according to a copy of the speech provided by the Treasury Department. "That includes getting phone calls answered, solving problems online and receiving refunds more expeditiously. America deserves an IRS that has first-rate technology instead of half-century-old programming language as the backbone of its systems. And tax filing should be simple."
One big piece of the plan is implementing digital upgrades. In six months, Yellen said, the agency will deliver on automating scanning of paper tax returns to reduce the amount of paper handled by employees. Additionally, Yellen said that the IRS will build out online tools that will allow Americans to "fully interact with the agency digitally.
Currently, the IRS remains largely a paper-based agency, with employees manually entering paper returns into IRS systems – a fact that contributed to the IRS' backlog of unprocessed returns in recent years.
The agency has seen its overall funding go down by 18% in real terms since 2010, said Yellen. That's taken its toll on the workforce and modernization efforts. At the same time, she said, Congress has charged the IRS with new work outside of its core mission in recent years, using it to deliver stimulus checks and enhanced child tax credits. 
The funding infusion is designed to help the IRS hire as many as 87,000 employees over the next decade, although up to 50,000 of those new hires will simply be backfilling employees lost to attrition, according to reporting in FCW's sibling publication Government Executive.
In the most recent filing season, the IRS only had around a 10 to 15% level of service, meaning it answered less than two of every 10 calls, said Yellen. The goal is to achieve an 85% level of service, and shorter waiting times, in the upcoming tax season. Yellen also wants in-person tax assistance centers to be fully staffed in the next tax year.
The funding infusion also calls for an IRS report on the cost and feasibility of the agency running a system for Americans to file their tax returns electronically with the IRS itself. The IRS has previously said that such a free filing system wouldn't improve "taxpayer experience," although Yellen has told lawmakers that a free file program "will happen" when the IRS has more resources.