DHS Tests New Tech that Could Bring Emergency Alerts to Vehicle Screens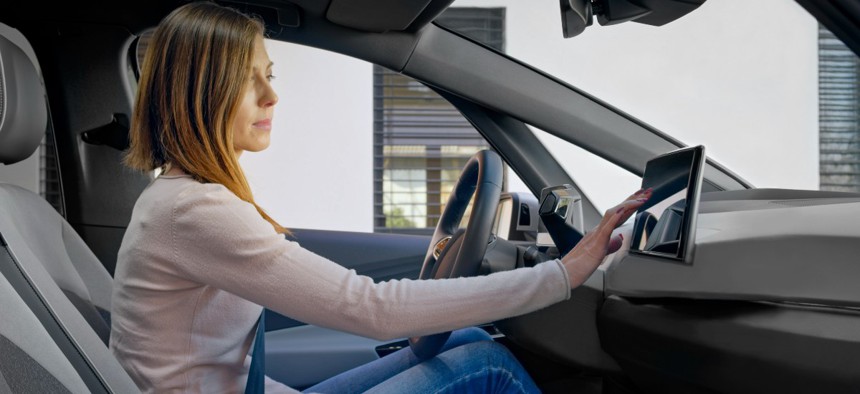 The technology works with the Federal Emergency Management Agency's Integrated Public Alerting System to display hazard and evacuation alerts on the center console. 
Emergency alerts for hazards and evacuations could be coming to vehicle infotainment screens in the future, as emergency communications technologies become increasingly interconnected. The Department of Homeland Security's Science and Technology Directorate tested the Wildland Urban Interface integration model on Tuesday as part of an incorporation with the Federal Emergency Management Agency's Integrated Public Alert & Warning System.
This will allow authorities to disseminate Wireless Emergency Alerts "with new capabilities, such as displaying hazard and evacuation alert information on the 'infotainment' screens in vehicles." The new integration between IPAWS and technologies like GPS navigation will allow for the almost real-time dissemination of critical information to the public in their vehicle's center console screen. 
According to FEMA, the WUI is "the zone of transition between unoccupied land and human development. It is the line, area or zone where structures and other human development meet or intermingle with undeveloped wildland or vegetative fuels." As a result, it is important to have reliable WUI alerting systems for emergency authorities to disseminate critical information, according to DHS.
"The IPAWS Program strives to find new methods and paths to effectively communicate emergency information to people that enables emergency managers to reduce the loss of life, personal injury and property damage of disasters," Antwane Johnson, FEMA IPAWS division director, said. "The WUI integration model will develop connected platforms capable of delivering lifesaving evacuation notifications and digital alerts from emergency officials to drivers on the road during emergencies."
Consulting firm Corner Alliance, Inc. was awarded a $100,000 contract in June for this project through S&T's Long-Range Broad Agency Announcement Program. It is working with HAAS Alert, a business that specializes in digital vehicular alerts and vehicle connected safety solutions. HAAS Alert will integrate its Safety Cloud platform with FEMA's IPAWS OPEN networks system to receive alerts from authorities and deliver them to vehicular screen systems and various map applications. 
"Effective communication of emergency fire information and evacuation routes to people in an endangered area is a necessity for first responders striving to manage emergency operations and guide safe public response actions," Norman Speicher, DHS S&T program manager, said. "Connecting emergency management tools to situations in WUIs will help emergency management officials achieve better routes and procedures by utilizing cutting-edge technologies that help define, share and manage the status, and communicate evacuation routes and safety zones in real-time."
This new tool is a product of the partnership between S&T and FEMA to further public safety.
The demonstration simulated real-world events and was conducted in Fairfax County, Virginia. It was conducted at the Fairfax Emergency Operations Center and at a county field location in cooperation with FEMA's IPAWS, Fairfax County Office of Emergency Management and HAAS Alert, Inc.
The newly demonstrated system comes after DHS worked to develop a similar tool to warn car systems about emergency vehicles approaching. In July 2021, DHS issued a report about the emergency vehicle alert system.