SSA seeks $2.4B in IT funding and looks ahead after 5-year modernization plan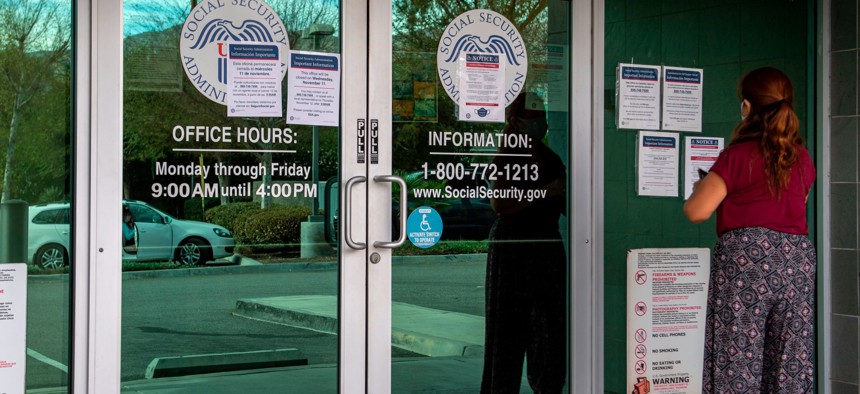 The Social Security Administration will complete a five-year IT modernization plan in 2022 and is looking to expand digital and automated services next year. In its 2023 funding request, the agency is seeking $2.4 billion in overall IT budget authority with more than $1.5 billion going to IT services – a 40% increase over the previous year. 
The budget request includes plans to add more customer centric portals and introduce new mobile applications as part of an effort to modernize the way users interact with SSA, in addition to improving mobile check-in services and expanding the number of forms which can be completed online. 
A spokesperson for the agency told FCW the agency will implement self-service options for the public to schedule and manage appointments at Social Security offices as part of the next phase of its modernization plans, as well as mobile-friendly options to electronically submit forms. SSA Public Affairs Specialist Nicole Tiggemann said in a statement the agency is focusing on digital modernization "to improve the customer experience and reduce barriers to SSA service."
"Digital modernization will accelerate business process and technology modernization to enable simple, seamless, and secure service," she added. 
In a letter accompanying the budget request, SSA Acting Commissioner Kilolo Kijakazi said the new funding will help the agency "design and deliver services that are more user-friendly, easily accessible, and more equitable and effective, especially for those who have been historically underserved."
The agency unveiled its IT Modernization Plan in fiscal year 2018 to both reduce burden on the public and streamline workflows for SSA employees, with a focus on providing faster and more efficient customer-centric systems and services. According to a progress update published in 2020, the modernization plan has allowed the agency to improve the speed and accuracy of its decisions, while providing new online notices and an enhanced interactive voice response system on the national SSA phone line for automated self-service. 
On Monday, the agency said in its budget request that it was planning to build on the plan with lessons learned throughout the COVID-19 pandemic with increased online and remote services, while also expanding in-person service and resuming in-person hearings. 
The agency said it also plans to increasingly enable the public to obtain Social Security card replacements without visiting field offices, while transitioning to a new platform called the Next Generation Telephony Project to improve the customer caller experience.
In an interview this week with the GovernmentCIO Media podcast GovCast, SSA Chief Information Officer Sean Brune said the agency had made "great progress" in expanding the use of digital self-service tools to access social security benefits since launching its IT modernization plan.
"What we're looking to do going forward in our next phase of digital modernization is to focus on improving the customer experience by reducing the burden on the public we serve," he said. "We'll do this by looking at changes in our workflows to eliminate requirements in our policy where we require a person to visit in person … We're also going to look at reducing the need for presentation of hard copies of documents."
The agency's strategic plan also outlines long-term performance goals which include an increased use of secure digital services and an expanded number of available forms on secure digital platforms to further reduce burden on the public. To ensure the SSA is meeting its goals, the agency also included plans to implement an enterprisewide "Voice of Customer" feedback method which allows users to provide real-time feedback across service channels.