OPM faces uncertain funding prospects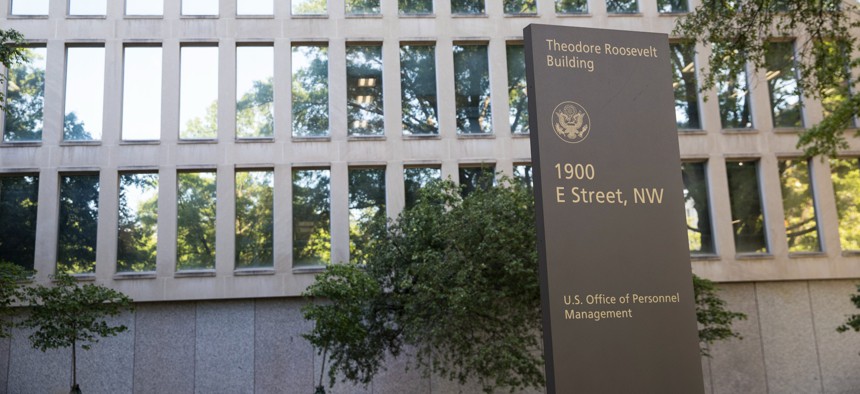 The federal government's human resources agency is still dealing with budget shortfalls arising from moving background checks to the Department of Defense, and the prospect of a full-year continuing resolution could exacerbate existing pressures.
The Office of Personnel Management is still coping with the loss of ownership of the background check function for the federal government as a consequence of the devastating 2015 hack that resulted in the theft of more than 20 million personnel records. 
The federal government's human resources agency is facing budget shortfalls and challenges to ongoing technology modernization efforts as a result of the Defense Department's Counterintelligence and Security Agency taking on background checks. The challenges will only intensify as DCSA completes building its own IT system for managing the background check process.
DCSA is currently tapping OPM support services as it builds its replacement for legacy IT systems under a "buyback" program. The buyback fees plus additional appropriations from Congress have thus far kept OPM from running a shortfall.
An October report from OPM's Office of Inspector General flagged the situation with OPM's budget: "the problem remains, and a long term solution is necessary," it reads. It also pointed to the impact on OPM's ability to pursue its own IT efforts.
When the National Background Investigations Bureau was shifted to DOD, OPM's infrastructure and budget didn't shrink proportionally, according to a FY2021 budget document. Shortfalls have shrunk since the initial move but remain. 
"Many of OPM's administrative functions have fixed costs and other requirements that do not scale immediately or proportionately with the transfer of NBIB functions to DOD," the document states. "Certain contracts and interagency agreements have firm fixed prices to which OPM will continue to be bound in spite of the agency's new, smaller size," it continues.
In FY 2021, OPM predicted a shortfall of $60 million and asked for $25 million to cover it in combination with DOD buyback programs.
According to a Democrat appropriations aide, last year Congress had to appropriate additional funds outside budget requests to cover the loss of revenue.
In FY2021, increases in appropriations "didn't increase OPM's mission capacity," but "merely replaced funding to stabilize and sustain current operations in our mission support areas," an OPM spokesperson told FCW.
The FY 2022 budget request says that at this point, the support agreement yields few "shared efficiencies." It references "administrative funding gaps" caused by the move of the background check function.
The agency says that there won't be a shortfall if the budget is enacted as requested. The FY 2022 request from the agency declares, "it is time to right size resources to cover fixed costs that did not decrease proportionately when NBIB transferred to DCSA."
Funding structure
The House and the Senate are not on the same page when it comes to funding OPM. A House bill passed in July delivers on the agency's request; a Senate draft bill falls $11 million short.
Another wild card is whether and when full-year appropriations will be enacted. Currently, the government is on temporary stop-gap funding through Feb. 18. A full year continuing resolution without a special provision for OPM would result in a budget shortfall.
DCSA is paying OPM nearly $49 million for FY2022. Christopher Bentley, media relations chief at DCSA, told FCW that OPM is giving "support to the legacy background investigations systems for network, infrastructure, cyber, and help desk support functions." 
When DCSA assumed ownership of the OPM legacy systems, it assumed "much of the cost of operating, securing and maintaining them," Bentley said. DCSA expects those costs to decrease in the future with the transition to the National Background Investigations Services system, he said. 
Currently, DCSA is building the new system, which will replace "a number of legacy IT systems," Bentley said. The current timeline is for NBIS core capabilities to be deployed through 2023 and the legacy systems to sunset in 2024. 
OPM's overall funding structure has a role to play in the agency's current plight, said Peter Levine, one of several authors of a 2021 report on the agency by the National Academy of Public Administration.
"If Congress wants OPM to be the premier human capital organization for the government, they're going to have to resource it to do that," Levine said. "If you're concerned about the core mission of providing human capital leadership, that's not a place where other agencies are going to be paying for you. That's something Congress has to fund."
OPM has a fee-for-service model, something NAPA urged that the agency move away from. Money brought in by agencies paying for OPM services, which is funneled into a revolving fund, is one of the agency's largest sources of funding. Background investigations brought in more than $2.24 billion in revenue to OPM in FY 2019 alone, according to the IG report, an amount far larger than the agency's annual congressional appropriation.
"OPM was already stressed in its ability to perform the kinds of policy work that we want to see it performing even without this cut. My hypothesis is that that would become even more problematic with the gap in funding" Levine told FCW. "It was my understanding that OPM was essentially underfunded for its core functions even before that gap, so there's a real risk in it."
IT modernization
OPM's tech modernization efforts will also likely suffer from the budget shortfall and the loss of the background check function. 
Technology operations at OPM have historically been supported through the background check function. In FY2019, the background checks contributed approximately $18 million more in shared IT services than it cost, "which essentially subsidized IT services for other OPM program offices," the IG report states. Even under this arrangement, OPM's IT program has been "hampered" by "inadequate funding and resources for many years," the report says.
OPM is still supporting NBIB infrastructure, an arrangement that "distracts OPM's attention away from implementing its [IT] plan, as well as diverting limited OCIO resources to support the effort," the IG report says.
"The challenge for OPM is to fund projects ensuring its IT platform can meet OPM's basic technology needs, as well as formulate its budget to adequately address the modernization needs of the various program offices," it says.
OPM is seeking support for a new agency revolving fund for IT as authorized by the Technology Modernization Act of 2017. That request was included in the House-passed FY 2022 appropriations bill as well as the Senate draft funding bill. OPM has also submitted a request for funding from the Technology Modernization Fund.