JWCC is not a cloud 'competition'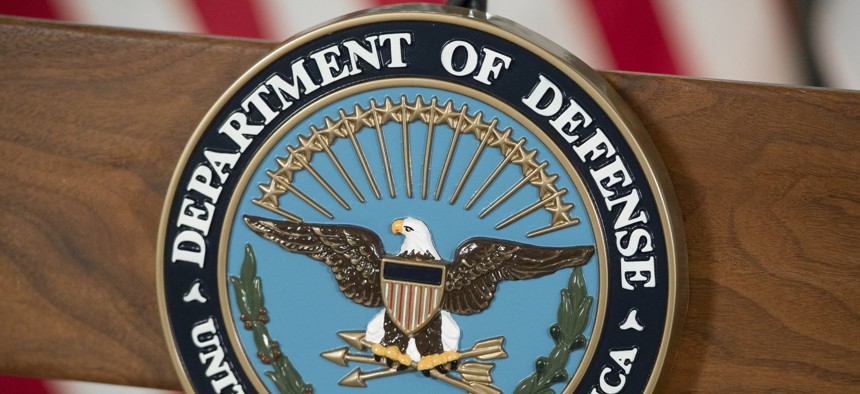 The Pentagon's latest multi-cloud effort could change how the department buys enterprise services, according to a top defense IT official.
Sharon Woods, the executive director of the Defense Information Systems Agency's cloud computing program office, said the Joint Warfighting Cloud Capability (JWCC) program doesn't compete with other defense cloud efforts and that ultimately, it could make it easier for DOD components to get the enterprise services they need to fulfill their missions.
"JWCC is not in competition with other cloud efforts. It is augmenting and filling for gaps and because of the relationships [between DISA and the military departments]...we're able to collaborate together to figure out how do we best meet the requirements that are very complex across the department," Woods told reporters Dec. 14, following an AFCEA DC event on the DOD's joint cloud strategy. "And that means using a variety of capabilities, not just one contract, not just one capability. It needs to be an orchestrated suite of capabilities, if you will."
Woods said that once JWCC is awarded, DISA's collaboration with the military departments will become more critical as they work to figure out what needs exist.
"I think it's important to remember the capability gaps that JWCC is solving for in the first place. There are capability gaps that are unmet in the areas of all classification levels out to the tactical edge, inclusive of built in, accredited, cross domain solutions that are available over a number of different vendor platforms," Woods said during the event.
"I think there's a lot of undiscovered territory on the tactical edge. I think the Navy provides some really important use cases. But if we can't make JWCC work for the Marine Corps or for the Navy or for the Army -- think about Space Force and satellite-as-a-service and all these things -- if it doesn't work, JWCC failed. I mean, that's really what it's there for."
Earlier this year the Defense Department abandoned its plans to pursue the $10 billion Joint Enterprise Defense Infrastructure contract, which was awarded to Microsoft but heavily contested in lawsuits. JWCC is a strategic pivot designed to be multi-vendor focused from the beginning. DOD announced the four contending cloud providers invited to compete for the contract on Nov. 19: Amazon Web Services, Google, Microsoft and Oracle.
Woods said the new direction with JWCC aims to "remove a lot of the barriers that have slowed down mission owners: contracting, acquisition, task orders, how the funding flows" and build a clear vector or "superhighway for mission partners to be able to quickly place orders and get capability" without having to go through their own months-long acquisition process.
The cloud director said connecting across classification levels, especially outside of the continental U.S., is crucial for JWCC to work.
"And this is where industry's transport fabric is; it is global. So I think that when I'm talking about capability gaps, that's the issue. It's not that the technology doesn't exist, it's that DOD hasn't really had a pathway for the entire department," Woods said.
When asked about DISA's contingency plans in case JWCC doesn't materialize, Woods said focus stays the same.
"The [Hosting and Compute Center (HaCC)] is responsible from data center to on prem cloud to commercial cloud and so we are investing time and energy and making sure that those capabilities are modern, that they are continuously onboarding improved capabilities," Woods said, "and that focus will persist regardless of what contract or acquisition is in flight."