DOD names cloud contenders in JEDI replacement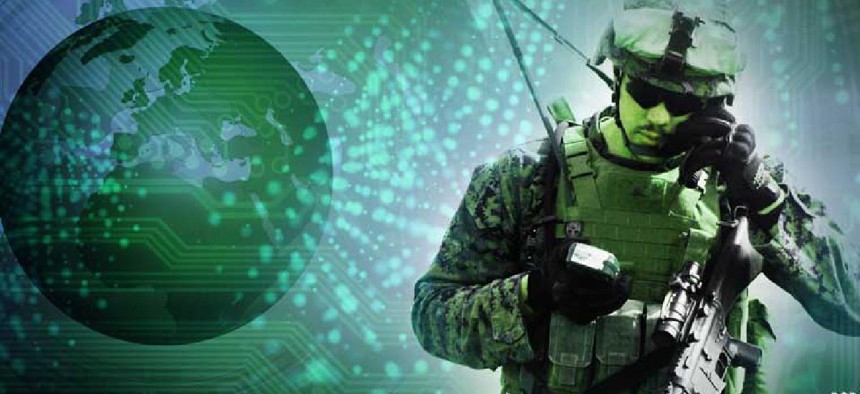 The Defense Department has invited Google and Oracle to compete for its massive warfighter cloud program alongside Amazon and Microsoft.
According to a presolicitation notice updated Nov. 19 the Defense Department has selected Amazon Web Services, Google, Microsoft, and Oracle as candidates for its potentially multibillion-dollar Joint Warfighter Cloud Capability (JWCC) program.
"The Government anticipates awarding two [indefinite delivery, indefinite quantity] contracts -- one to Amazon Web Services, Inc. and one to Microsoft Corporation -- but intends to award to all cloud service providers that demonstrate the capability to meet DOD's requirements," DOD wrote in the notice.
The contract would start with a three-year base period with two one-year extension options. Ceiling costs for the cloud program were not listed but DOD "anticipates that a multi-billion dollar ceiling will be required" with the contract ordering ceiling to be "included in any directed solicitations issued to vendors," according to the notice.
The Joint Enterprise Defense Infrastructure contract, which JWCC replaces, was estimated at $10 billion.
The announcement comes after Google Cloud CEO Thomas Kurian spelled out the tech giant's intentions to bid, if invited, on the JWCC. Kurian wrote in a recent blog post that while Google wasn't technically capable of meeting JEDI's requirements at the time, it's ready now after taking up various defense cloud programs requiring high levels of security.
"When the JEDI RFP was issued, Google Cloud was not in a position to bid" because of "various classification levels and other technical requirements necessary to compete," Kurian wrote, adding that the single award structure of JEDI meant that "there would be certain projects the DOD would pursue that were incompatible with Google's AI Principles."
Microsoft was originally awarded the controversial JEDI cloud program contract that Amazon Web Services and Oracle contested in subsequent lawsuits. DOD announced earlier this year its plans to pivot away from JEDI and switch to a multi-cloud, multi-vendor approach with JWCC.
"Market research indicates that a limited number of sources are capable of meeting the Department's requirements. Currently, the Department is aware of only five U.S.-based hyperscale CSPs," the solicitation states, adding that right now only AWS and Microsoft are capable of meeting DOD's security classification requirements.
The Nov. 19 presolicitation invites Google and Oracle to submit proposals for the JWCC. The final hyperscale cloud service provider, IBM, is not mentioned in the announcement.
Deborah Hellinger, senior vice president at Oracle, said that the company "is delighted to be included in the Joint Warfighter Cloud Capability RFP." She added: "We are committed to delivering the highest level of security, performance, and value in enterprise cloud applications and cloud infrastructure in support of DOD's warfighter mission."
Oracle was the first to protest the JEDI contract, after it had been eliminated from contention before the final decision in a down-selection process that narrowed the field to AWS and Microsoft in 2019.
Rob Carey, former Navy CIO and deputy DOD CIO, told FCW that the format of the acquisition could mean protests down the line for the potentially multibillion-dollar cloud contract.
"I like it, but I fear it will just bring the ire of the next tier down," said Carey, who is now the president of Cloudera Government Solutions, which helps organizations migrate to the cloud. "By doing an invitation-only, you're already pre-defining your field...there's always somebody in this space that thinks they should have been invited to come in."