Unfunded mandates in the cyber EO?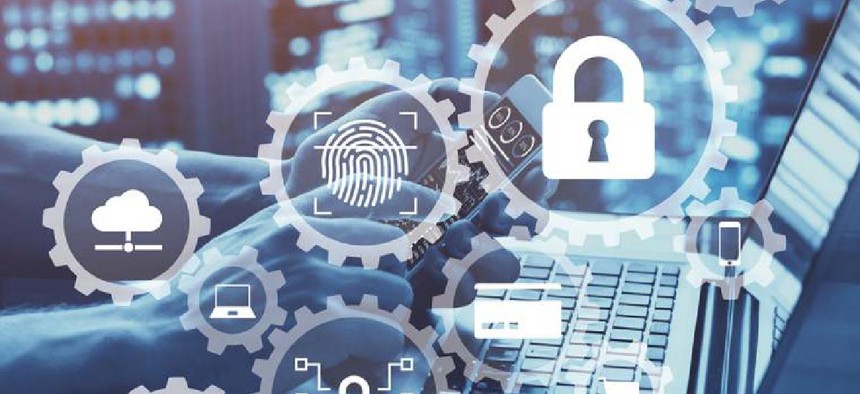 Tucked inside President Joe Biden's cybersecurity executive order is a plan to modernize and streamline federal procurement policy, which experts said lacked critical funding and resources to adequately implement within its ambitious timeframe.
The order in part seeks to overhaul a current patchwork of regulations and guidelines for the private sector and commercial marketplace around federal contractor cybersecurity requirements. This plan will require agencies and contractors to address numerous issues at once under short timeframes, from developing standards for software supply chain security to removing barriers to sharing threat information.
While private sector leaders expressed enthusiasm for improving cybersecurity requirements governmentwide as outlined in the order, they said the new policies may also yield duplicative, burdensome requirements and potential pitfalls in areas like information-sharing.
Megan Petersen, senior director and counsel at Information Technology Industry Council, said federal agencies will "almost certainly" need additional appropriations in order to implement a new multi-sector cybersecurity standard.
"On the whole, federal agencies have woefully underinvested in modern and secure technologies — instead relying on legacy systems that may be incapable of complying with cybersecurity best practices," Petersen said. "Many agencies have also neglected developing mature data and access management policies and procedures, or they exist largely on paper."
The cybersecurity policy goals outlined within the order will also require "significant investments in modern, commercial technologies and the adoption of commercial best practices across government agencies," Petersen added.
The White House released discretionary budget requests for fiscal 2022 in April which featured a $750 million reserve for federal IT enhancements. However, the administration has not provided additional details on how those funds would be spent.
But even with that reserve, the government remains unequipped in its mission to overhaul cybersecurity and procurement policy across the board, according to Matthew Cornelius, executive director of the Alliance for Digital Innovation and a former senior advisor for technology and cybersecurity policy at the Office of Management and Budget.
"Given the timing of the cybersecurity executive order, it seems unreasonable to expect that the forthcoming President's Budget will have any resources directly tied to agency implementation," he said, describing the issue as an "unfortunate and unforced error."
"Even if there is some $750 million for the cybersecurity 'reserve fund' mentioned in the previously released 'skinny budget,' that money is not going to help the entire executive branch accomplish the several dozen objectives outlined in the executive order," he added. "That said, there is plenty of support in Congress for providing robust, necessary cybersecurity funding."
Should Congress choose to appropriate additional funding to support the cybersecurity order, the government would still be forced to grapple with tight deadlines amid a sea change for daily operations in most agencies.
In one example, the order outlines a 60-day deadline for the Office of Management and Budget to review the Federal Acquisition Regulation (FAR) and Defense Federal Acquisition Regulation Supplement contract requirements, then provide recommendations for requirements and language in contracts with IT and OT service providers in consultation with agency leaders. In another, the Secretary of Commerce has just 30 days to solicit input from the government and private sector to develop criteria which can be used to assess software security and evaluate various security practices.
Some experts said coordination between sectors will effectively determine whether the Biden administration can successfully reform government cybersecurity practices in such short notice, at a time when both the federal government and industries are increasingly becoming the target of major cyberattacks.
"This executive order lays out a lot of different rules and responsibilities for government agencies in very short time frames, so in order to be successful, we have to find a way to be more successful than we are today," said Alan Chvotkin, partner at Nicholas Liu LLP and former executive vice president and counsel of the Professional Services Council (PSC). "It will start with meaningful outreach to the private sector, government contractors and the commercial marketplace to see what kind of short-term and longer-term solutions we can find."
David Wennergren, CEO of the American Council for Technology and Industry Advisory Council (ACT-IAC), said that while industry is "eager" to work with the government to develop consistent cybersecurity approaches which leverage best practices from across the private sector, he noted "collaborating with industry will be crucial to the success of this work."
Wennergren added: "Changes in technology, to include moving to the cloud, IT modernization, operating in a virtual world, mobile solutions and the rapid adoption of new technologies all require that government collaborate with industry to understand best practices and new approaches, like zero trust."
Industry leaders said they were excited about the prospect of collaborating between sectors to establish new rules and regulatory structures. The National Defense Industrial Association (NDIA) has already formed an internal task force to respond to the executive order and provide feedback throughout the implementation process.
"Coordination between public and private actors and coordination across the public sector will be equally important to achieving the executive order's goal of increasing cyber fortifications," said Corbin Evans, principal director for strategic programs at NDIA. "This order has a lot of aspirational goals that are going to require a lot of work by the regulators to successfully implement."
The Office of Management and Budget declined to provide comment on the question of additional funding to support the implementation of the executive order.