Solving for DOD's AI education gap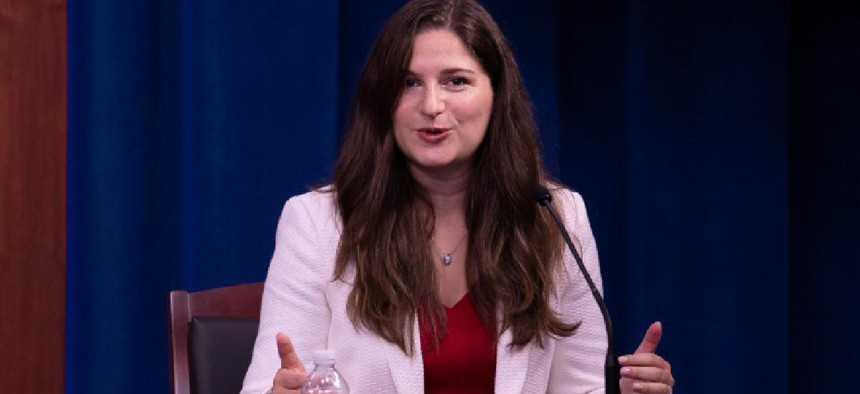 Officials at the Pentagon's Joint Artificial Intelligence Center said the department needs to improve education to build up AI readiness while improving data collection and data standards.
Dr. Jane Pinelis, the JAIC Chief of Testing and Evaluation in the Pentagon Briefing Room, Sept 10, 2020. (DoD photo by Marvin Lynchard)
The Defense Department has an education problem when it comes to artificial intelligence, and it won't be able to widely use the decision-support tools it craves without addressing it.
Jacqueline Tame, the acting deputy director for the Joint Artificial Intelligence Center, said DOD needs "enabling services" that disseminate AI capabilities that are pursued within the military departments and other DOD components. But there's a tangle of policy and cultural norms that have to be addressed before AI is truly operational.
"Culturally we still have over...several thousand security classification guidance documents just in the Department of Defense alone that basically ensure that people can say that they own data," Tame said during an AFCEA NOVA event Feb. 10. "That is antithetical to the idea that data is a strategic asset for the department."
Tame said DOD is missing a lot of the "connective tissues between all of those capabilities that are being researched or deployed."
Tame said part of that education means pushing for emerging technologies, like predictive maintenance, to be considered in every line of effort and what that means for the current infrastructure, she said.
"This is a warfighting issue," Tame said, "in terms of making [AI] effective for warfighting applications, we have to stop thinking about it in these limited stovepiped ways."
Unifying data standards is integral to that, according to Jane Pinelis, the chief of testing and evaluation for the JAIC.
"Standards are elevated best practices and we don't necessarily have best practices yet," she said, adding that the JAIC was working on collecting and documenting best practices, as well as leading a working group on data collection and tagging with the intelligence community.
Pinelis said data readiness has been one of the biggest impediments for the JAIC and Defense Department overall, which is why the center is working to provide a data readiness assessment contract service for DOD organizations.
In a separate event Feb. 9, Pinelis said the JAIC is preparing multiple award contracts for test and evaluation and data readiness expected in February.
The Defense Department's Acting Chief Data Officer Clark Cully said decision support tools will be some of the first that DOD will invest in but it needs to make sure everyone is on the same page data-wise.
The first step, he said, is to "publish and describe what it is we have and what we're doing...what are the data assets, what are the interfaces, what are the labels and metadata tagging procedures that are being used," he said during an AFCEA DC event on AI and machine learning Feb. 9.
Cully said the office is looking at executive analytics, decisions that can affect an entire organization, and is building descriptive behavior models.
"Then, as we aggregate that data, as we improve the data quality, [we begin] to test and evaluate the utility of these models for making predictions about what's going to happen," Cully said.
"And then as we gain experience with that, begin to make … interventions: moving from what's happening, to what's happening next to what should I do about what's happening next."